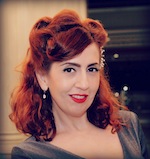 Most lovers of fashion know certain eras are represented by certain looks. But did you know that many fashion trends were influenced by films and their costume designers? Kimberly Truhler of GlamAmor made a career out of studying the history of film and fashion. She teaches a class on it at Woodbury University and offers her vast wealth of knowledge on her website GlamAmor and now in her "Style Essentials" series of lectures and webinars.
I attended her recent event, "The History of Fashion and Film 1960s-1970s" at the Annenberg Beach House in Santa Monica where she covered the some iconic looks from films from that period. It's fascinating to learn what influenced the style of the characters and how the looks influenced future fashion. In order to know your fashion, it's important to know its history. You might think a look is new but it might actually be something that came from a film, created by a costume designer. Kimberly knows her stuff, that's why she's often called upon as an expert consultant for Turner Classic Movies and Christie's of London.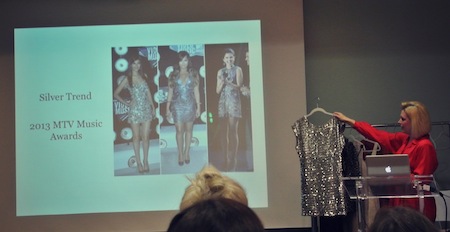 Kimberly's lecture features a slideshow with image of movie stars in their stunning costumes and trends they sparked. She brings a clothing rack from her own carefully curated vintage collection to show similar pieces to those seen onscreen. She also joked that many of the iconic looks from film where featured on characters that were call girls and criminals – I guess those are the ones who could take a few more fashion risks!
Here are some highlights:
Breakfast at Tiffany's (1961)
Designer Givenchy, Edith Head costume supervisor
"Every woman at some point in their life has tried to channel Audrey," said Kimberly and she's not wrong. The iconic sleek black dress and updo has been repeated in fashion over and over. Hepburn's character of Holly Golightly may have been a call girl but her elegance and style made her an aspiration. See the full details on GlamAmor.
Cat on a Hot Tin Roof (1958)
Costume designer Helen Rose
Elizabeth Taylor's character of Maggie dresses in classic, tailored lines. Her double v-neckline white dress became a hot seller known as "The Cat" dress. And oh, that white slip! With a juxtaposition of innocent and sultry all in one, it became the signature look from the film. See the full details on GlamAmor.
Butterfield 8 (1960)
Costume designer Helen Rose
"The coats were their own character," Kimberly commented on the style of this film with Liz playing yet another sophisticated call girl character. And we again see another sexy white slip that spoke volumes in "Cat on a Hot Tin Roof." The little black dress she wore became so iconic, copies sold out and the cut became known as "The Butterfield 8 Dress." See the full details on GlamAmor.
http://youtu.be/8nBIgfecD5Q
Love Story (1970)
Costume Designers Pearl Somner and Alice Manougian Martin 
Winter wear never looked so good! Ali MacGraw made school-girl prep a classic look with a salute to turtlenecks, mini-skirts with tights. Ali also added her own knit cap, which became an instant trendsetter. See the full details on GlamAmor.
Network  (1976)
Costume Designer Theoni V. Aldredge 
While the '70s ushered in extreme looks of hippies and disco, Network was drenched in the color brown, perhaps to offer a counter of conservativeness and ground the era of extremes. Faye Dunaway's character, with her tie-neck look can still be seen in fashions of today. See the full details on GlamAmor.
So many iconic films, so little time. There were many, many more films and trends covered in this lecture. It's such fun seeing the chain of influence in fashion. Check out GlamAmor's events and Style Essentials series to get a quick education – you might be surprised where some of you favorite looks have come from!
To fashion,
Kastle
I am not affiliated with or sponsored by any advertisements shown below. They are placed by WordPress.
Tags:
Breakfast at Tiffany's
,
Butterfield 8
,
Cat on a Hot Tin Roof
,
Fashion
,
film
,
glamamor
,
Kimberly Truhler
,
Love Story
,
Network
,
style essentials