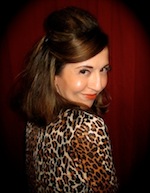 As mentioned in my previous post, "Rock of Ages" just opened in theatres, so I felt compelled to put a little '80s glam metal into my look just for the occasion. I had to giggle with delight when I spotted the "Rock of Ages" nail product in the store – an assortment of peel-on polishes by Sally Hansen in rock-worthy designs such as leopard, lace, stars, guitars and more. I opted for the silver and black zippered look and mixed it up by putting them just on a few nails and  solid black polish on the other nails.
Now I just have to bust out my teasing comb and Aqua Net to get my big hair on and I'm ready! For more tips on how to get a "Rock of Ages" fashion sense, check out this slideshow article in The Blush.
Paradise City, baby!
Kastle
Products mentioned in this blog were purchased by the author.  See Disclosure.
'80s fashion
,
'80s style
,
LA Fashion blog
,
nail polish
,
Rock of Ages
,
Sally Hansen