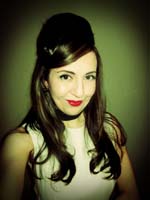 If there is one icon of the '60s, it's model Peggy Moffitt – the face, the eye makeup, the poses. When you see an image of her from that time, it immediately takes you back to that colorful era of the youthquake movement and the fashion, oh the fashion – bold colorful prints, mini skirts, angular shapes and cut-outs. I love it so much!
The Museum of Modern Art (MOCA) just put together a retrospective collection of Peggy Moffitt photos and films that focuses on her collaboration with fashion designer Rudi Gernreich and her photographer husband William Claxton. "The Total Look" exhibit is two full floors of eye candy at MOCA's Pacific Design Center location that will send any '60s lover to the moon with walls lined with Peggy's famous photos (some never seen before!) mannequins wearing the actual garments and films of her doing her famous moves. We get a look at her inspiring makeup (that she reportedly did herself), and of course that cutting edge Vidal Sassoon haircut.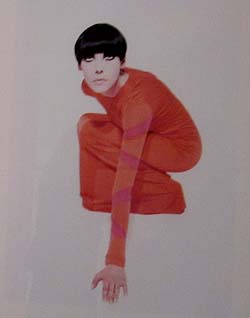 Opening night was packed with MOCA members, retro hipsters, fashion's elite, and those who were part of the '60s scene such as hairdresser-to-the-stars/ "Upper Cut" author Carrie White. Just as I thought my eyes were overwhelmed with all the fabulous imagery and clothing, Peggy Moffitt herself walked in the door! I couldn't believe it. She still looks as amazing as ever – though in her elder years, she's slim, still sporting her blunt black haircut and dark eye-makeup and dressed ever so stylish. Crowds swarmed around her as she made her way through the exhibit with her son, Christopher Claxton, as her escort.
All I can say is thank goodness Sabino from Clever Vintage showed up and was brave enough to ask her for a photo because I was so star-struck I couldn't do it myself! Thank you Sabino! By the way, I did wear a Clever Vintage '60s frock to the event!
Click the image below to see the slideshow of the night: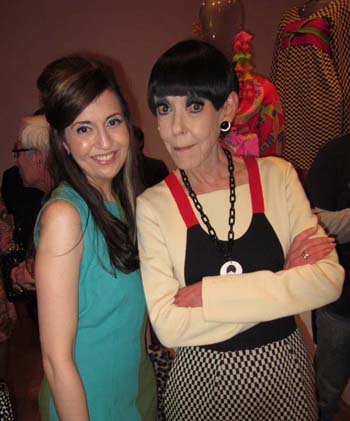 What a spectacular night. Thank you MOCA for putting this together and thank you to the fabulous Peggy Moffitt – forever an icon!
The Total Look: The Creative Collaboration Between Rudi Gernreich, Peggy Moffitt, And William Claxton is on display through May 27 at the MOCA Pacific Design Center. 
Swing it!
K.
Carrie White
,
Fashion
,
Kastle Waserman
,
Kastle Wasserman
,
LA Fashion blog
,
Museum of Modern Art
,
Pacific Design Center
,
Peggy Moffitt
,
Rudi Gernreich
,
Stiletto City
,
the '60s
,
Vidal Sassoon
,
William Claxton