Party Time with NicCoCo Creations Hair Flowers
August 9, 2015
by stilettocity — Posted in Fashion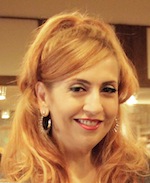 Every fashion look can use one or two accessories to really make it pop and give it a touch of your own personality. A hair flower accessory is often the piece of choice for the retro pinup crowd and can be worn by anyone who wants to add a pretty flair to their outfit.
Nicolle Saccone of NicCoCo Creations has been making beautiful custom hair flower accessories for three years. While she can be found on Etsy like so many other crafty folks, she held a party to celebrate the launch of her own website.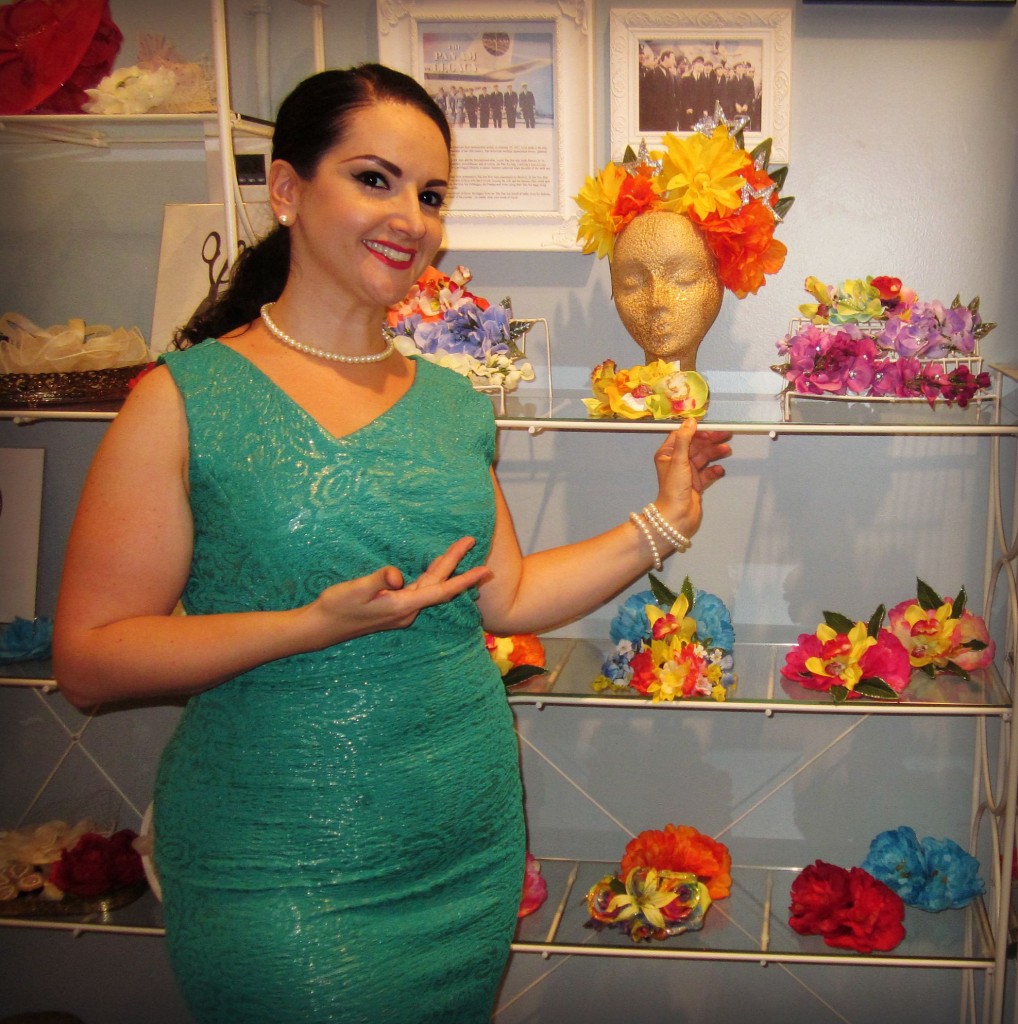 I went to celebrate her big launch and catch up with her for few questions on how she started her business:
What inspires your hair flower pieces?
"Definitely retro/pinup style because the flower piece should become a part of the whole picture of the look you are going for. Also the burlesque scene – I love me some glitter and rhinestones!"
How did it start, was it a hobby or did you always plan for it to be a business?
"Total hobby/extra income. I work a full time stressful job so it was almost my therapy. An escape."
Your pieces are really popular with the pinup lifestyle crowd. When did you feel it was taking off?
"Well thank you. I still don't feel like it's 'taking off.' It's always a pleasant surprise when someone loves my pieces or say that they follow my social media pages. I'm like, 'I just make hair flowers!'"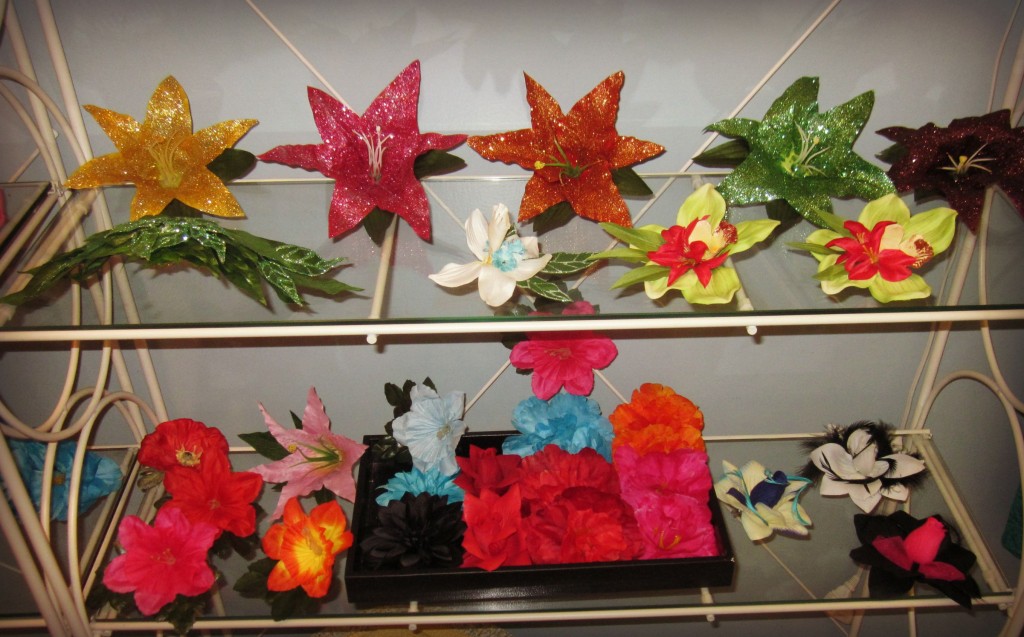 Held at the at Audrey K. Boutique in Burbank, a super cute little store where her hair flowers can also be found, local friends and customers of Nicolle's showed up – many dressed in their pinup finest – to celebrate with her and witness a hair demo by Miss Rockabilly Ruby, who gave Nicolle a fancy update, accessorized with some NicCoCo Creations, of course!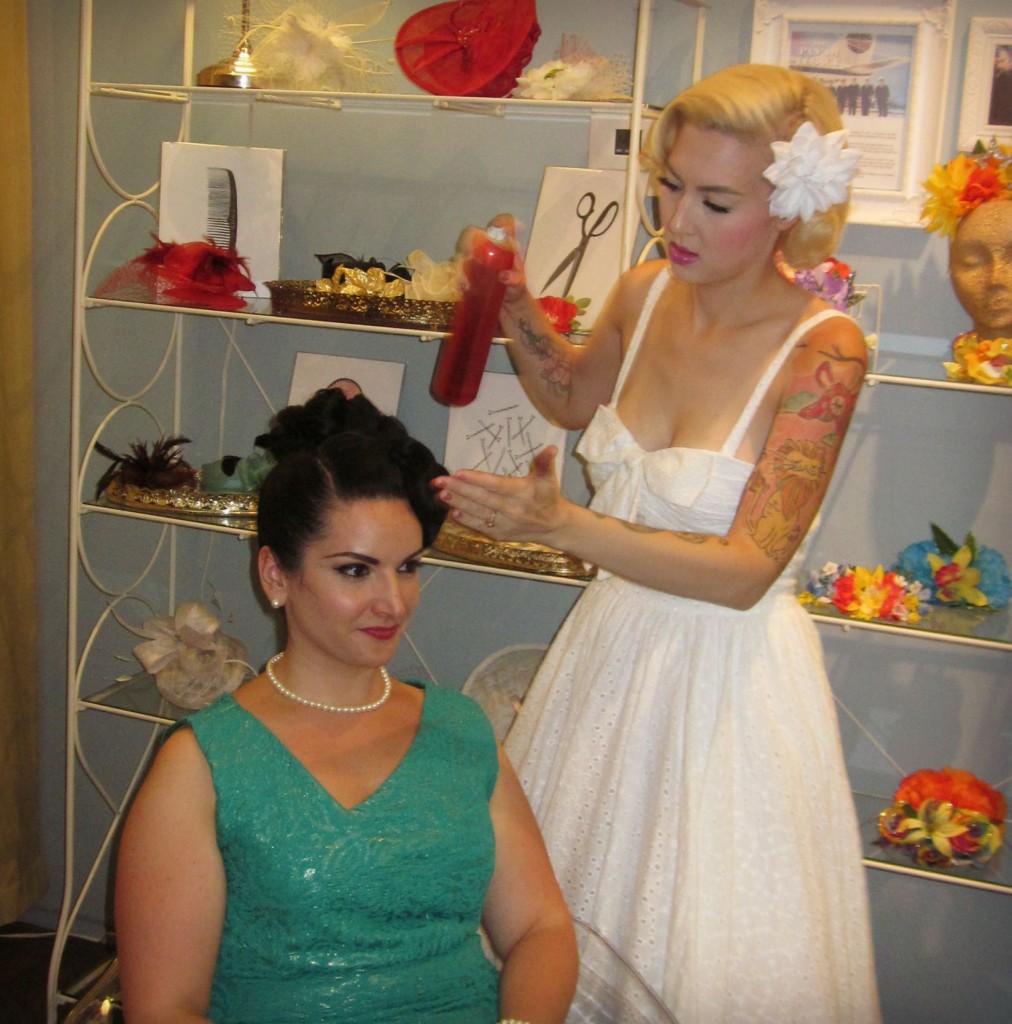 What I Wore
For Nicolle's party I wore a floral '60s vintage dress that I paired with a vintage purse, jeweled sandals and one of Nicolle's double hair flower combs.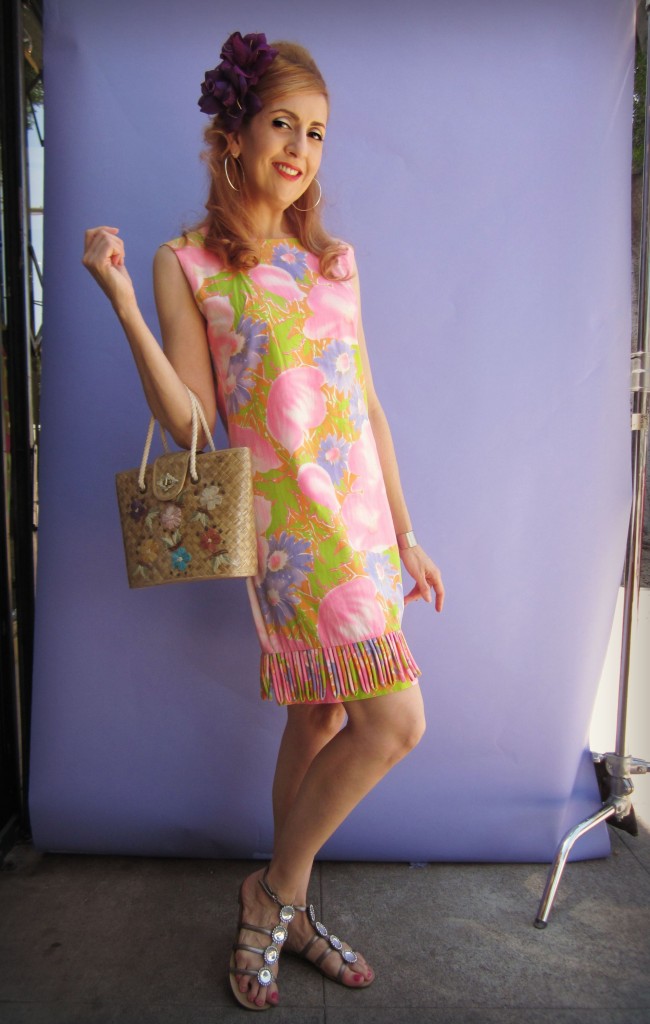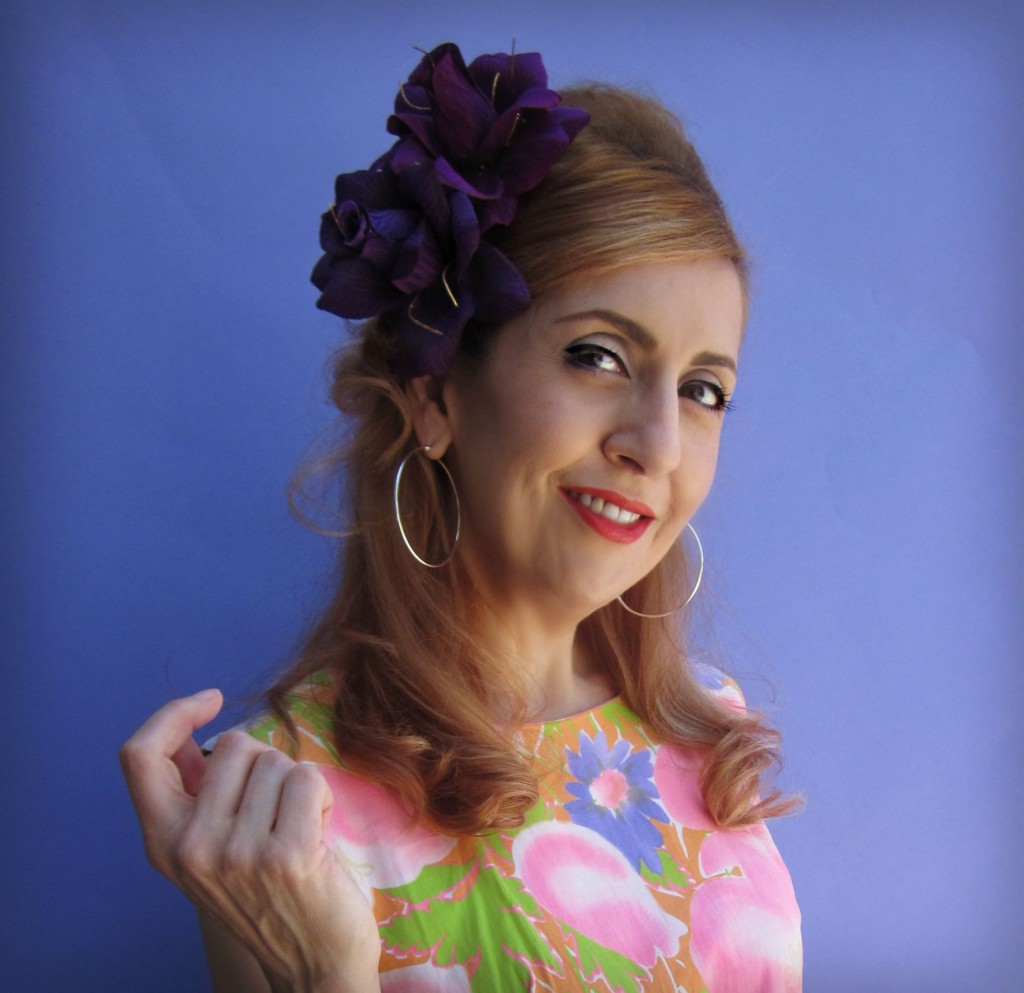 How To Wear Flower Hair Accessories
Here's how to put together some fashion looks with NicCoCo Creations hair flower accessories. (Click the links to shop* the look!)
Pinup Look
Pair the fluffy Elle Peony Princess Flower with a nautical-style dress that says 1950s with a modern flair.
Tiki Look
The fruity Holiday Flower pairs perfectly with a pineapple print maxi dress that will leave you longing for the islands.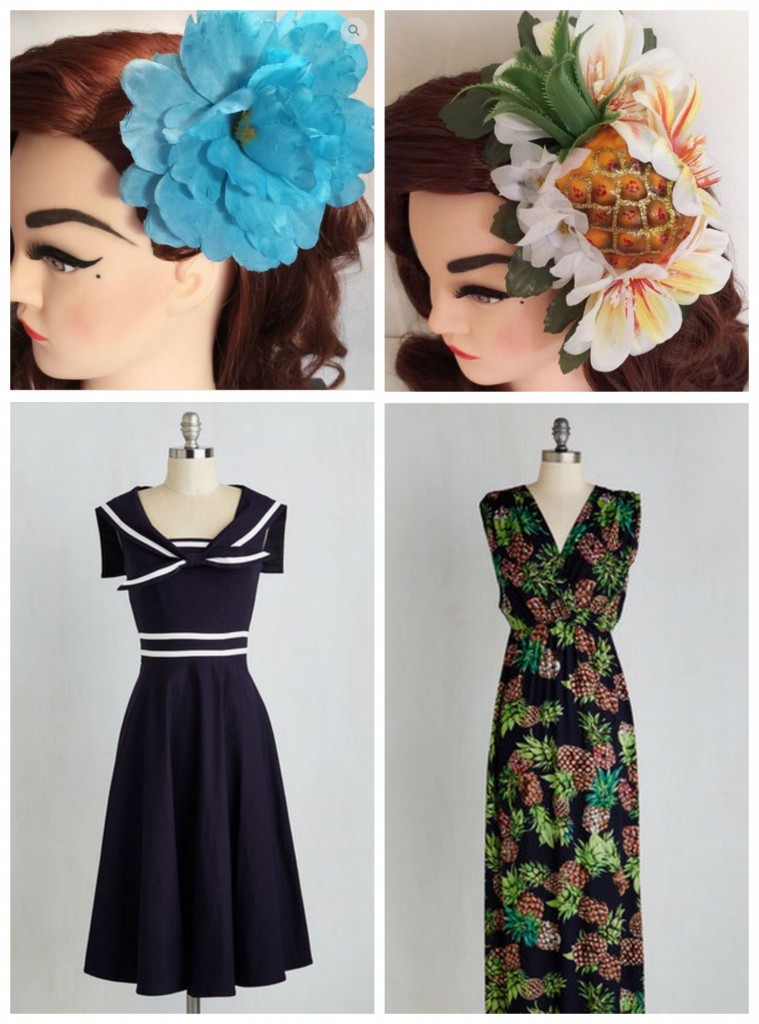 Feminine Date Night Look
Delight your date in the flirty Laughy Daffy Hair Flower paired with a colorfully feminine floral print dress.
Little Black Dress
Jazz up a little black dress with a pop of color wi
The Southern Belle hair flower will jazz up a little black dress with a pop of color and pearl accents.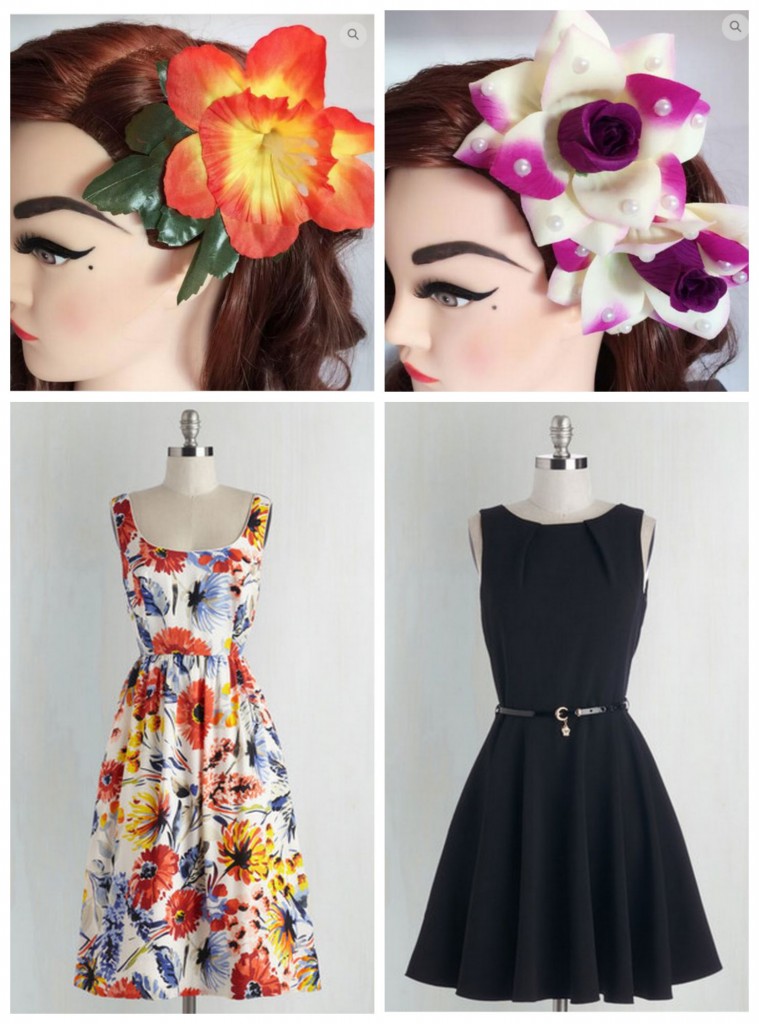 Up your fashion game with hair flowers!
Kastle
Photos edited with PicMonkey*: fearless photo embetterment. Get it!
Tags:
designer interview
,
hair
,
hair accessories
,
Kastle Waserman
,
Niccoco Creations
,
pinup style
,
retro style
,
shopping in LA