What's Striking at Highland Park Bowl
May 16, 2017
by stilettocity — Posted in Fashion, Where to Go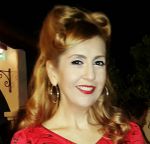 Bowling has always been a friendly way to hang out with friends for a little competitive spirit, drinks and snacks, and let's not forget the funny shoes!
Recently, Highland Park Bowl reopened with a new take on an old classic. Known as LA's oldest bowling alley, the venue dates back to 1927, when the bowling alley was a clever front for serving alcohol during Prohibition. From there it went through several incarnations from a blue-collar bowling alley to the band venue Mr. T's featuring punk and hip-hop indie bands playing in front of the shuttered bowling lanes throughout the 1990's. The then owner passed away in 2003 and the place staggered on until 2014 when it shut down.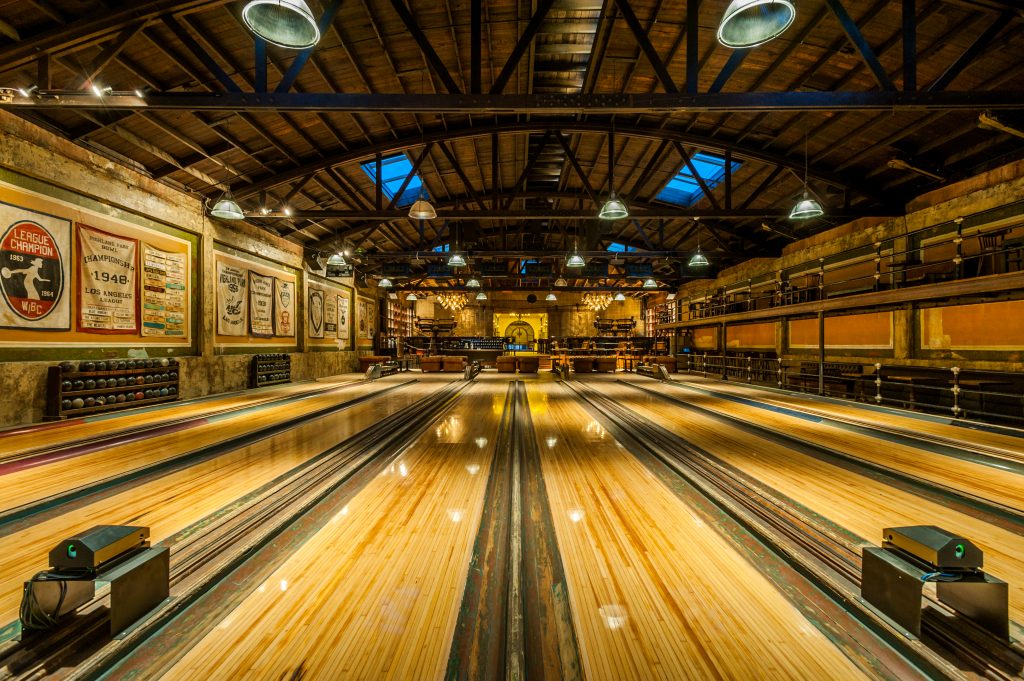 Thank goodness for the 1933 Group, who have brought many LA historical venues back to life, including the Valley's Idle Hour, and created gorgeous vintage-inspired hangs such as Harlowe and Sassafras. They swooped in and gave the bowling alley a much-needed makeover to restore its antique beauty.
Now it's simply breathtaking – from the front bar to the bowling area that features enormous horseshoe-shaped bars, bowling pin lamps, restored wood details and the original pin machines. Once again teams of fun-lovers fill the alleys and balls roar down the restored wooden lanes.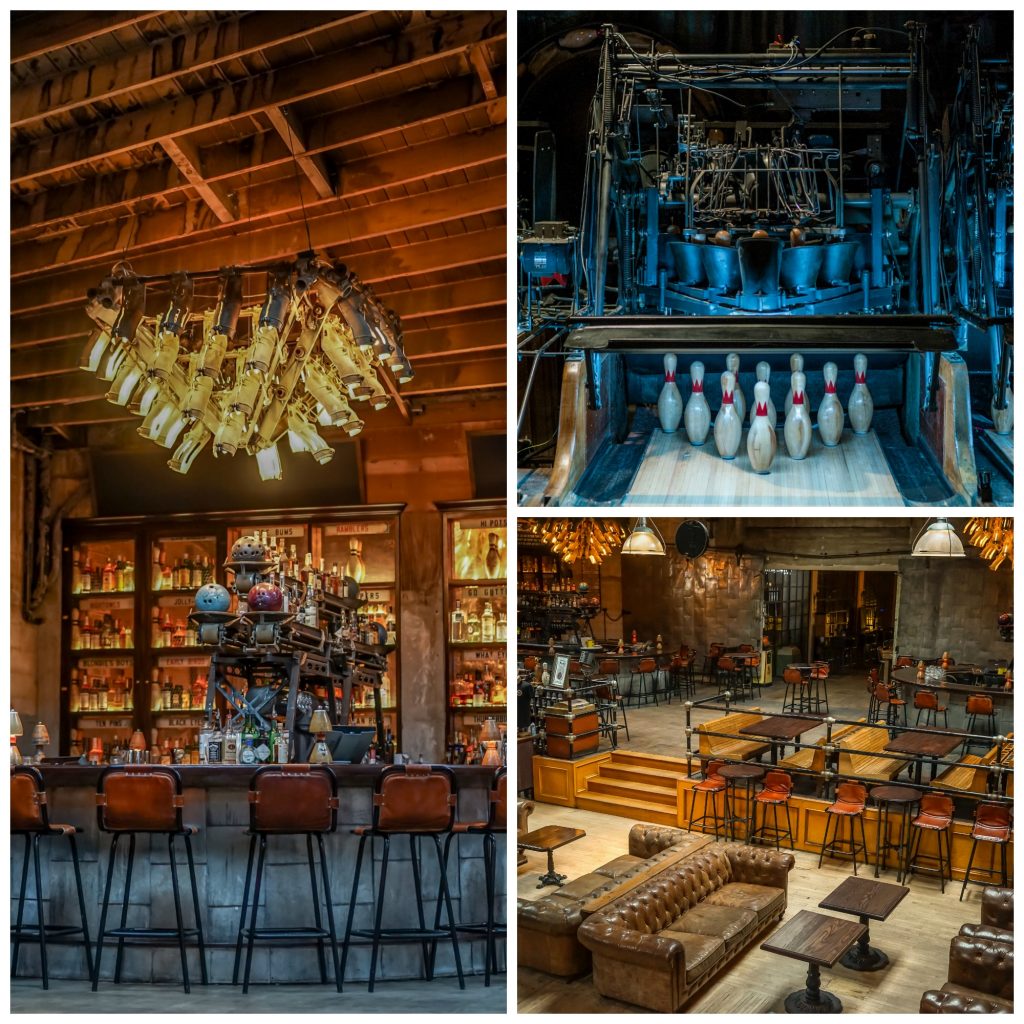 Even if you weren't planning to play ball, the place is just an elegant hang and the perfect spot to flaunt your vintage wear. Indulge in signature cocktails, craft beers, pizza, salad and nibbles as you wallow in the ambiance. The Highland Park Bowl may have working class punk in its blood, but it definitely cleans up real nice!
What I Wore
Who says girls can't bowl in a dress? While I didn't plan to hit the lanes, I definitely could have in this velvet vintage repro dress in shades of dusty pink and brown with a zig-zag pattern. The full-skirt provided volume and enough fullness to comfortably bend if I decided to bowl a strike! But I decided to keep my t-strap shoes on and indulge in good company and cocktails instead!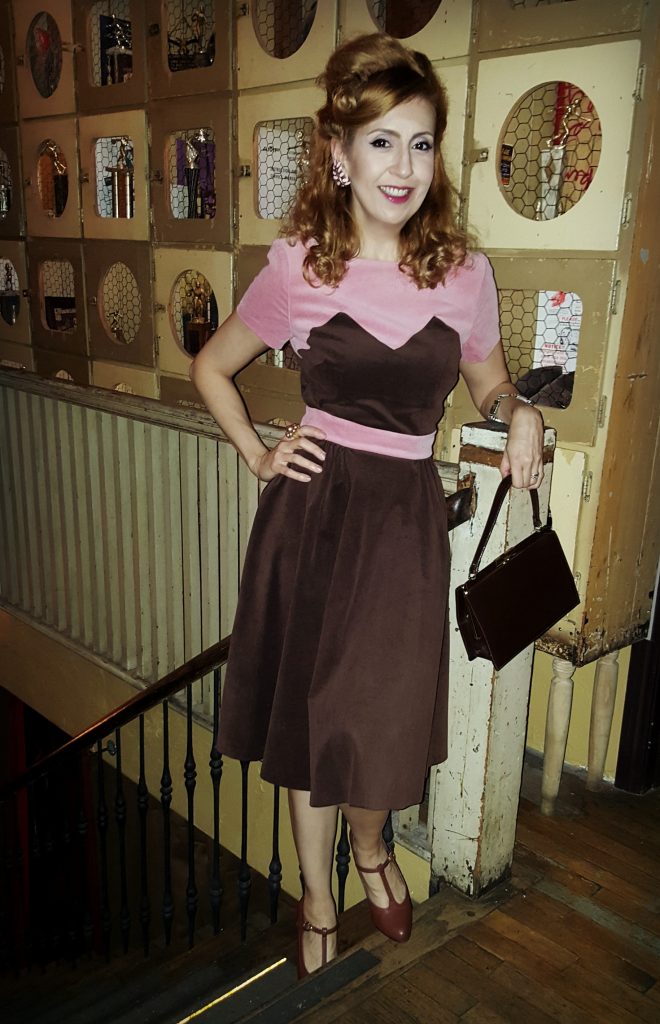 What to Wear
Whether you plan to bowl or just hang out in the lovely setting, you'll be ready to roll in a flirty jumper and sweet pink blouse with Peter Pan collar. Add some pinky retro-inspired heels and antique-style handbag and you are good to go! Click the links to shop this look!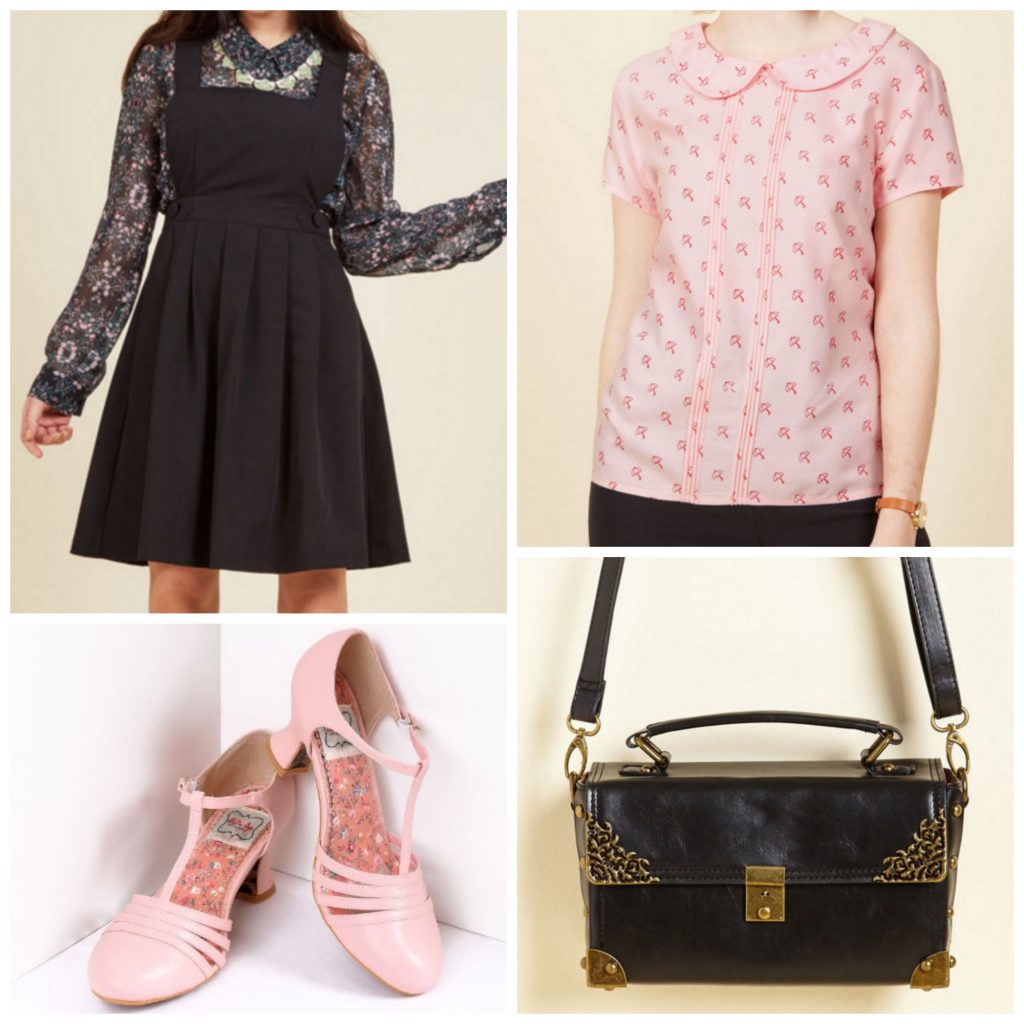 Highland Park Bowl is located at 5621 N Figueroa St, Los Angeles, CA 90042
Rock 'n' roll!
Kastle
Venue photos by Danielle Bernabe and Wonho Frank Lee courtesy of Highland Park Bowl