Vintage Hair Accessories from Chatter Blossom
November 10, 2014
by stilettocity — Posted in Fashion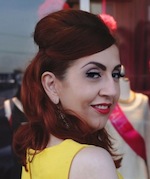 A few weeks ago I was scrolling through Facebook when I noticed a post of some beautiful hair pieces. I saw the word "vintage" and I had to click through. It led me to the Etsy shop of Chatter Blossom and a whole collection of gorgeous floral headbands, fascinators, crowns and clips.
Soon, I was in possession of the "Spiced Cider" gold and brown leaf headband to celebrate my love of the fall season.
I contacted shop owner Jamie Lee to find out more about her collection. Turns out she makes all of the pieces out of vintage materials and started her Etsy shop 2 ½ years ago, as well as vending them at swing dance events in the North Carolina area where she is based. I asked her about what inspired the pieces and her background in millinery.
What inspired you to start creating these vintage hair pieces?
I was inspired by my grandmother in the beginning. She rooted a deep love of antiques in me and taught me to treasure their craftsmanship. As I continue, I find inspiration in old photographs and in the flowers themselves. The silks, rayons, and velvets used were gorgeous and they would make nearly everything by hand, right down to the tiny plaster dipped and painted stamens of the flowers.
The materials are vintage – do you collect them? How old are they? Where do you find them?
All of my pieces have a vintage or antique component. Most of my headpieces are made with vintage millinery flowers. Some are made with modern flowers but with vintage and antique button centers. There is a wide mix, which makes it interesting and varied for me personally. Most of my buttons are 100 years old! I have thousands in my collection and love all the details and stories they depict. My vintage millinery flowers are mostly from the 1950s with a few from as far back as the 1920s. I found the largest portion of my collection in a single warehouse, all in their original boxes with tags. It was incredible!
Do you have training in design or millinery?
I am definitely a self-taught artist. I've always been resourceful and creative. Luckily, the very talented people making the millinery flowers decades ago have given me great bones to work with, so I just have to figure out a way to make them wearable now.
Be sure to check out her shop. They make great holiday gifts, I know I have a few on my wish list!
Chatter Blossom Shop
Chatter Blossom Blog
Live pretty,
Kastle
Photos compliments of Chatter Blossom. Headband featured in this blog was purchased by the author.
Tags:
designer interview
,
hair accessories
,
Kastle Waserman
,
vintage style