The Velveteen Lounge Kitsch-en: I'll Drink to That!
October 10, 2012
by stilettocity — Posted in Event Reviews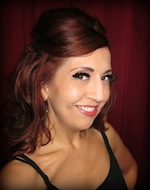 When I was at Tiki Oasis, I picked up a postcard for a YouTube show called The Velveteen Lounge Kitsch-en. I loved the name and the look of the card so I decided to check it out. What I found were little campy clips basically showing how a good cocktail and retro party dish (think Spam and Jello) can help make any of life's mundane tasks a bit more festive – after all, we gotta clean the house, do taxes, entertain unexpected guests and so on. I loved the clips so much I watched every single one of them and they made me laugh out loud more times than I could count – and I learned some great drink recipes along the way! I especially love the host's '60s-era outfits and the ever-changing memorabilia in the backdrop. Check out the latest on how to survive election season:
The Velveteen Lounge Kitsch-en was created by actress/writer Kelly Camille Patterson and  video producer Paul Spencer.  So sit back and enjoy their most recent video and more on their YouTube Channel HERE.
Cheers,
Kastle
Camille Patterson
,
cocktail recipes
,
Kastle Waserman
,
Kastle Wasserman
,
Kelly Velveteen Lounge Kitsch-en
,
Paul Spencer
,
Stiletto City
,
Tiki culture
,
tiki lifestyle
,
Tiki Oasis