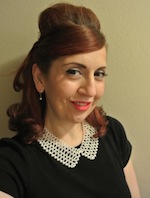 With just a few days to go before the premiere of Season 6 of Mad Men,  I figured it was time to let you in on some secrets I know in how to live the Mad Men lifestyle – mainly how to dress and drink like our favorite characters. Today's blog post will let you in on how to shop for the looks seen on the show.
While I have always love '60s fashions for their fun silhouettes and bold colors, Mad Men has brought those styles back with a distinction all their own. Now when I go out in my best '60s era vintage I'm told,  "you dress so Mad Men," which I of course take as a compliment because I love the show so much.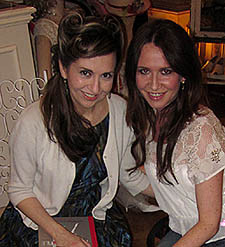 Part of the reason I love it is the care they've taken to get every detail right to recreate the decade of so many cultural shifts. Part of that credit goes to costume designer Janie Bryant, who I had the pleasure of meeting during a book signing at my favorite vintage store in Burbank:
 The store not only has supplied some of the amazing vintage seen on the show but it is such a joy to shop in. It's in a gorgeous space with frescoed ceilings, the clothes are tagged by era, everything piece is in nearly perfect condition, they have a HUGE inventory of women's and men's wear at fantastic prices and the staff is super friendly and helpful.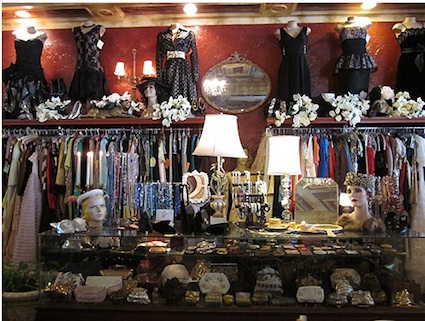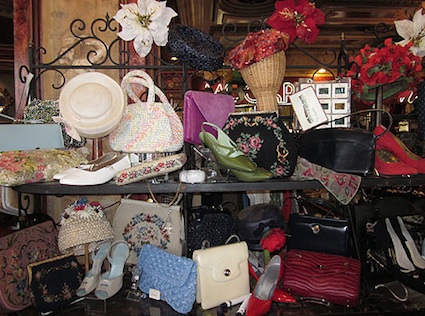 Another vintage source that has amazing owners is Clever Vintage who I've frequently featured in this blog because not only are co-owners Dave and Sabino so knowledgeable about their fashion history and doing custom styling, the are also fabulous party pals! Dave and Sabino travel all across the country to curate their vintage treasures. You can purchase their fine pieces at one of the many shows they participate in, including Helm's Design District Vintage Boutique and Burbank Pickwick. Check the events page on their website for upcoming dates or make an appointment at their downtown showroom.  They did wardrobe for Peggy and Betty in two separate episodes. Remember these outfits?
It was a genius move of marketing to get a major department store to work with Janie Bryant to design a line of contemporary clothing with a retro feel and make it accessible to everyone.  Banana Republic has been launching a new Mad Men collection at  the start of each season for the past few years and this one is no exception. Bold patterns and rich colors are featured here.  And these are great pieces for me to wear to work and still have a mod feel since I don't dare subject my delicate vintage to long office hours.
Check out their inspiration and behind the scenes of the collection here.
And get 25% off through April 30 with this coupon.
Now, even your best vintage won't look authentic unless you have the right undergarments.  Want to look and walk like Joan? Put yourself into one of these corsets and not only will you have an hourglass figure like you've never seen, but you'll just WALK in a different way, a SEXY way!
What Katie Did specializes in designs influences by the glamour of the '40s and '50s film stars but with contemporary fabric and structure. Plus, were else can you find a gorgeous bullet bra these days?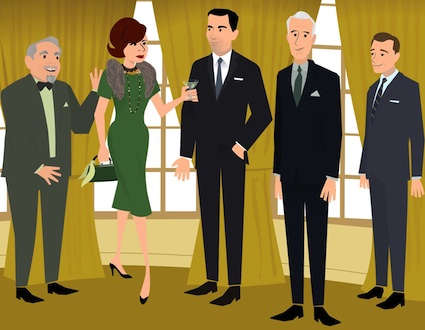 So if you'll excuse me, I'm going to go get dressed up and mix a cocktail. Can't wait for Season 6, starting on April 7th!
Stay tuned for Part II of Mad Men series next week where I show you more of how you can live the Mad Men lifestyle!
Now go shop!
Kastle
Photos of Vintage Playclothes by Kastle
Photos of Clever Vintage, Banana Republic Mad Men Collection, What Katie Did via Pinterest
Clever Vintage Clothing
,
Fashion
,
fashion blog
,
Janie Bryant
,
Mad Men
,
vintage fashion
,
Vintage Playclothes