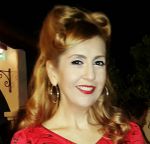 T-shirts are a staple of any wardrobe, but a good graphic design on them really makes statement. From bands to brands, what you wear on your T-shirt reveals a special hint about who you are and what you're into. It's like a signal to another like-mind, 'Hey, this is who I am, do you get it? Then we should be friends!" Plus, wearing a graphic T-shirt, as opposed to a plain one, can add texture and personality to any outfit.
Atomic Swag T-Shirts have been growing in popularity among the retro set for their authentic vintage reproduction designs. The T-shirts themselves have a vintage look with a natural, cream tone and extra softness like some of your well worn, favorite tees or treasured vintage finds.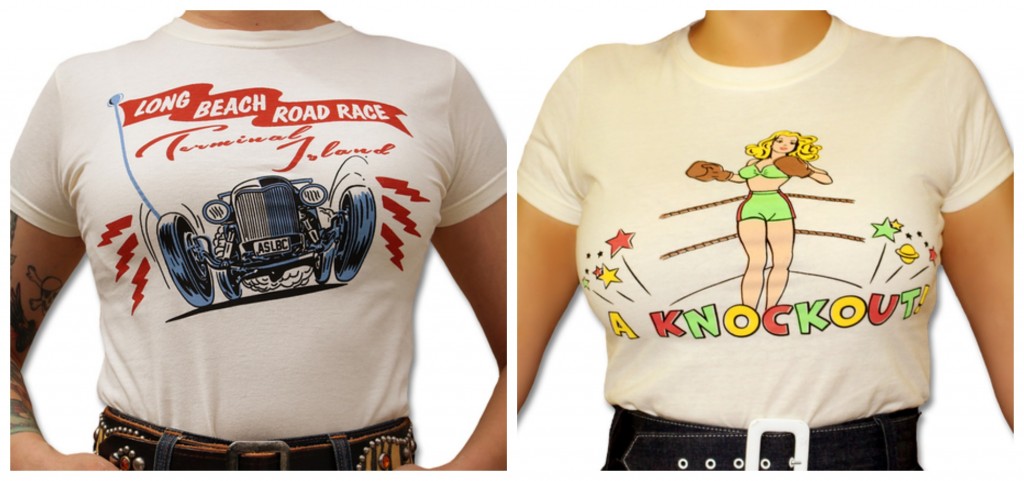 Atomic Swag was founded in 2008 by the team of Michelle Griffin and Brian "Shorty" Poole, a creative couple with deep roots in the rockabilly scene. We caught up with Michelle to find out the origins of the company and what makes their T-shirts so special.
How did Atomic Swag start?
We first started out as an online retro boutique in 2008, selling everything from Tiki décor, jewelry, some rockabilly record label tees and motorcycle/hot rod racing tees. Then we started making 1940's reproduction Hawaiian playsuits and some 1950's Hawaiian reproduction dresses.
As much as we love wearing vintage clothing, I hated making dresses! There's so much work, time and frustration in making them. I realized it wasn't my real passion.
What made you decide on T-shirts?
We looked at what we sold most online and found out that T-shirts were our number one seller and one of our favorite parts of our business. Shorty worked in the T-shirt merch industry at the time. We were already printing T-shirts for our friend's bands like Deke Dickerson, Big Sandy, as well as Don the Beachcomber restaurant and the Viva Las Vegas Rockabilly Weekend.
We're vintage collectors and love vintage novelty print anything, so the math wasn't hard to do. Also, I saw a huge empty space in the retro T-shirt market. No one was doing reproduction design T-shirts. So we had a very definable niche with no one else in the arena.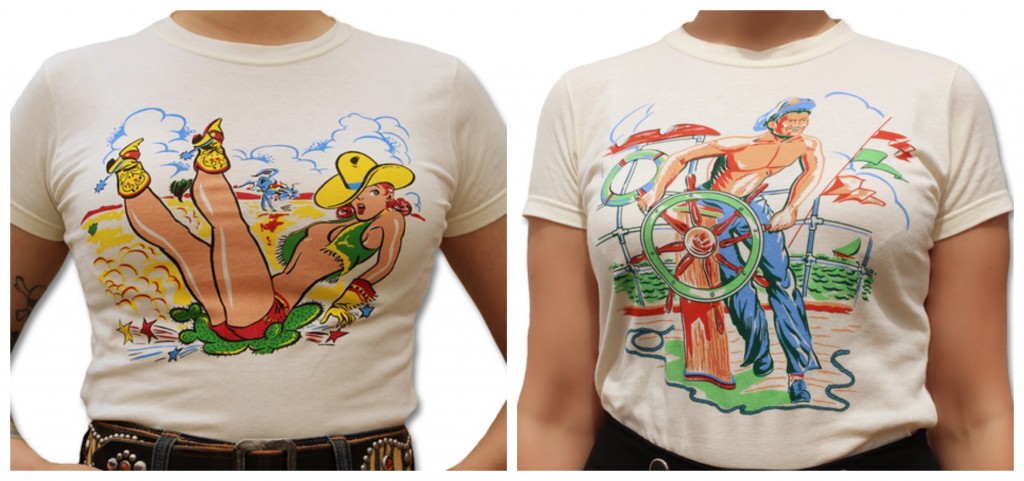 What is your background in fashion design?
I have no formal schooling. I home sew for myself. I've learned from eight years of hands-on experience and from my boyfriend's vast and deep knowledge of graphic design, T-shirt printing and merchandising. We know the best fabrics to use, and which inks and activators give the T-shirt that bright vintage look and feel, mesh counts, layout design, and the best printing techniques to use, along with many other factors that go into T-shirt production.
Do you use original images or do you license and reproduce vintage imagery?
Most of our designs are exact reproductions with no copyright on them. In the past, Shorty would design some and I would design some as well. But I can only come up with an idea, gather vintage elements or influence and then hand them to Shorty to put together.
This year we've hired some new artists to do designs. We're very excited about these designs because each artist has very distinct drawing techniques that are strictly '40s/'50s style. They don't specialize in any other style.
The T-shirt material and look has a very vintage feel. How did you achieve that?
Black T-shirts didn't become popular to print on until the 1970's and not everyone is a fan of white tees. So we started using cream/natural colored tees years ago because they look more like an aging vintage tee. Plus, vintage art wasn't created to go on dark colors – only white, so just sticking it on a black tee doesn't seem very authentic vintage to us.
Are the shirts cut in a specific way?
In the 1950's there really wasn't a "ladies" fit tee. They were all unisex, so we use a modern fit ladies T-shirt. I prefer the longer length so you can tuck your shirt into your jeans or skirt.
Our men's shirts are a basic T-shirt cut. The sleeves are slightly shorter for most modern fits today, and we chose this T-shirt cut because the sleeves are closer to the vintage men's sleeve cut, but not as short. Vintage men's T-shirt seem to have a really short sleeve that most men today would view as feminine, so we chose these two cuts for men and women very carefully.
What about the inks for the graphics?
We use the same inks as the 1950's inks they used to print cotton tees, making our prints actually "pop" a lot more on our 100% cotton tees than a lot of the stretchy, man-made material T-shirts that a lot of retro companies out there use today. Our prints are bright and crisp, not like the "muddy" or "murky" looking tees that are faded to look vintage. We make our tees bright on purpose so they resemble an actual 1950's freshly printed T-shirt.
What I Wore: Atomic Swags Latest Designs
The folks from Atomic Swag were kind enough to let me give their latest T-shirt designs a spin around the city.   First up, the Aloha Tee with hip shakin' hula girls. I paired this with my tiki-print skirt and hibiscus hair flower and it was the perfect outfit for cocktails at my favorite Tiki bar.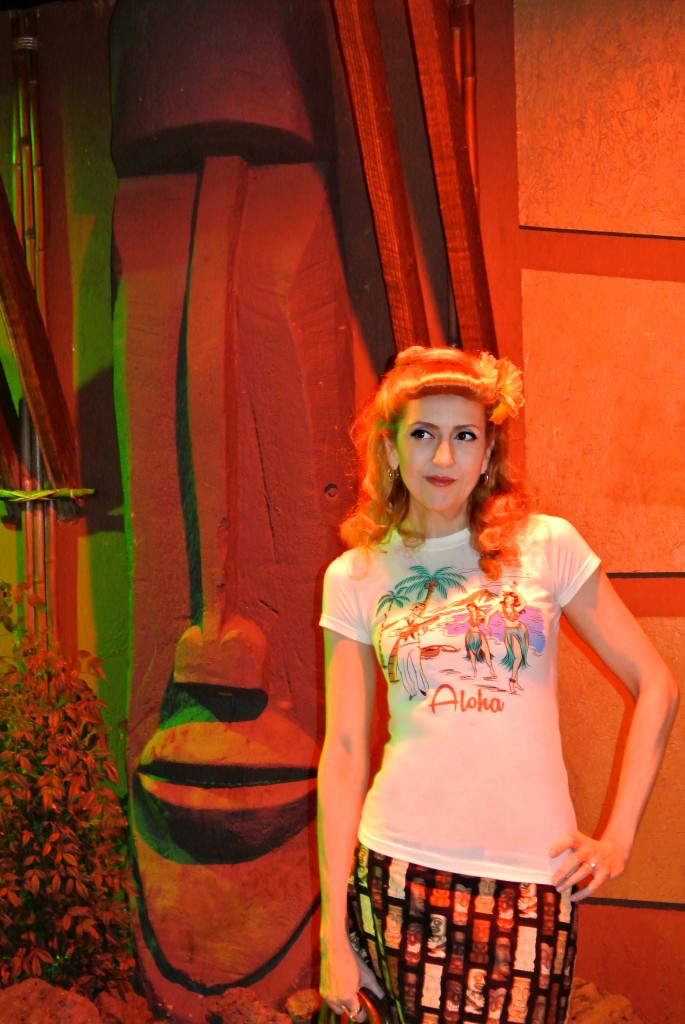 Next up the, Square Dancers Tee with a swingin' couple decked out in Western attire. I paired this one with a pencil skirt, my old, trusty, cowboy boots and red bandana headscarf to head out to the local chop house for a good steak!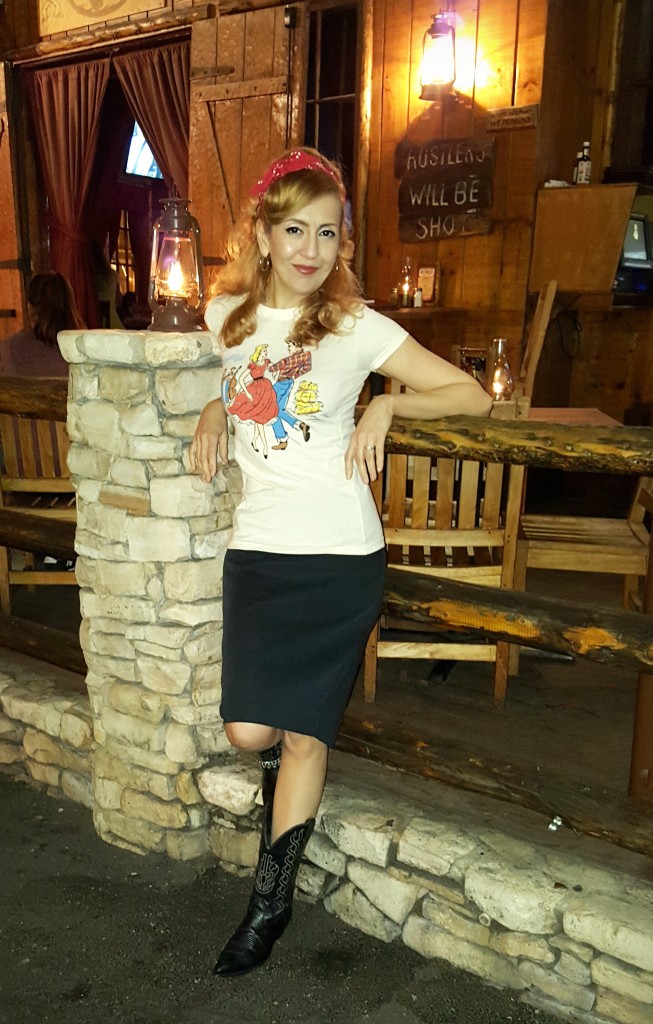 Atomic Swag's new designs are also perfect for upcoming events such as Nashville Boogie and Tiki Oasis!
How To Wear It
A graphic T-shirt can add personality almost any outfit. Use it to top off your favorite jeans for a casual look or go bold and juxtapose it with a fancy skirt. Here I paired the Aloha Tee with a pair of denim capri pants and Tiki-print wedge shoes. I like to wear my tees untucked to elongate the torso, but if you like to tuck in your shirts, add a wrap belt in a go-with-anything neutral color that lets the graphic of the T-shirt be the star of the show! Click the links to shop* this look!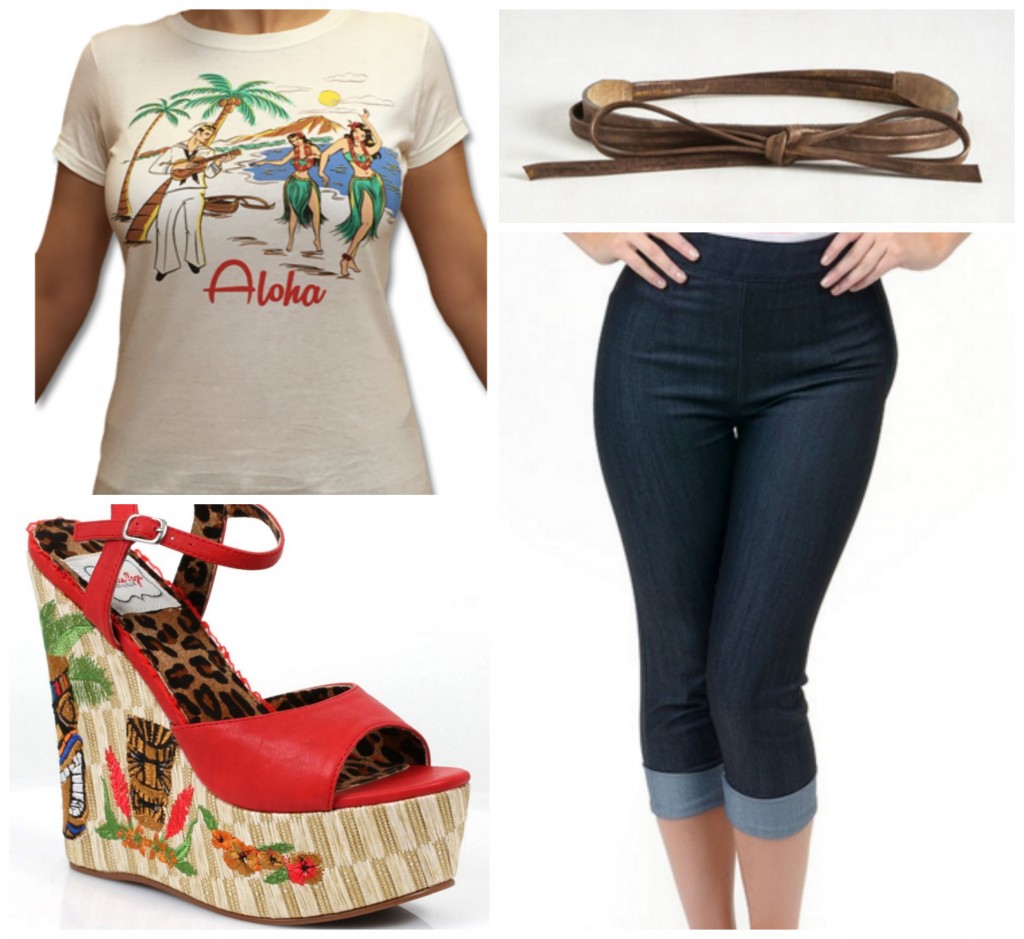 Shop Atomic Swag T-shirts online.
Tee-off,
Kastle
Photos edited with PicMonkey*. Get it!
Shirts modeled here courtesy of Atomic Swag.
Tags:
designer interview
,
Kastle Waserman
,
retro style
,
T-shirts