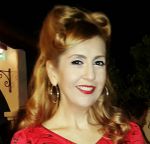 Sometimes you just have to get out of town to escape the craziness of life. For me, a quick, budget-friendly, road trip up to Denver did the trick. I've had this city on my travel wish list and I was eager to experience some real winter weather (which we never get in LA!)
Denver seems to be on everyone's radar lately, with the legalization of marijuana and lots of neighborhood rejuvenation, particularly in the downtown area, but it's the beautiful mountain scenery and entrepreneurial spirit that drew me there. Craft beer is big, the art and media scene is booming with lots of creative energy, and big ol' Google is moving into nearby Boulder.
There's even a vintage scene for little ol' me. I found some great vintage shopping along South Broadway, picked up a vintage purse at Night and Day Vintage and a lacy slip at Boss Unlimited. I checked out the punky alt styles at Fashion Nation where I met retro-lovin' scenester and hairstylist Polly Rockett (be sure to check out her handmade hair flowers!).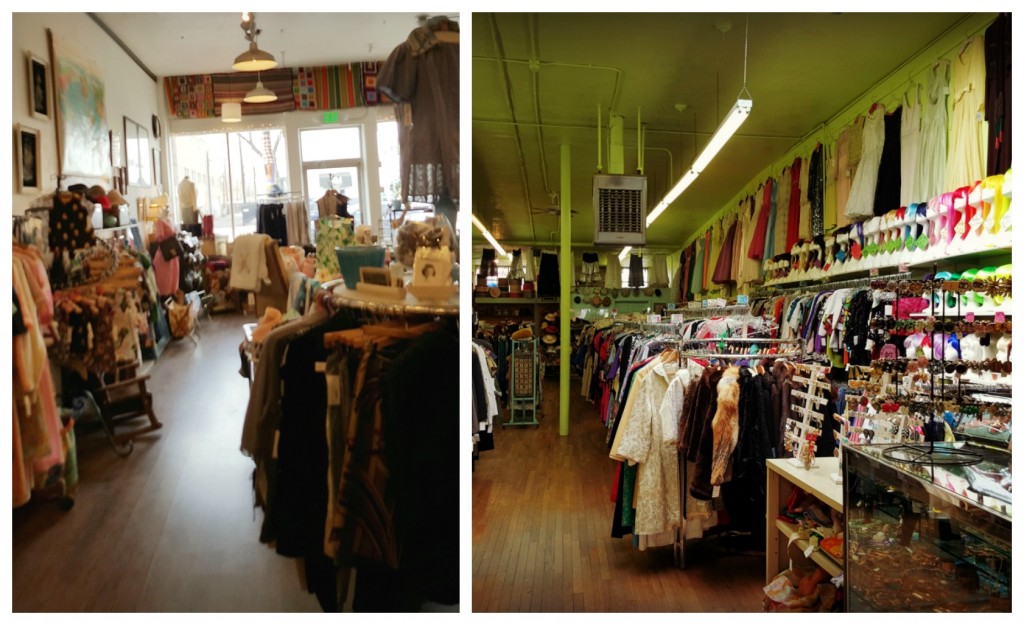 A hipster Goodwill store, which was super clean and organized, came to the rescue when we were surprised by an incoming snowstorm. I scored a snow-protecting winter coat and brand new waterproof snow boots on the cheap because this LA girl didn't have warm enough clothes! After running my new-to-me coat through a dry cleaner, it kept me toasty warm while hurling snowballs at my man!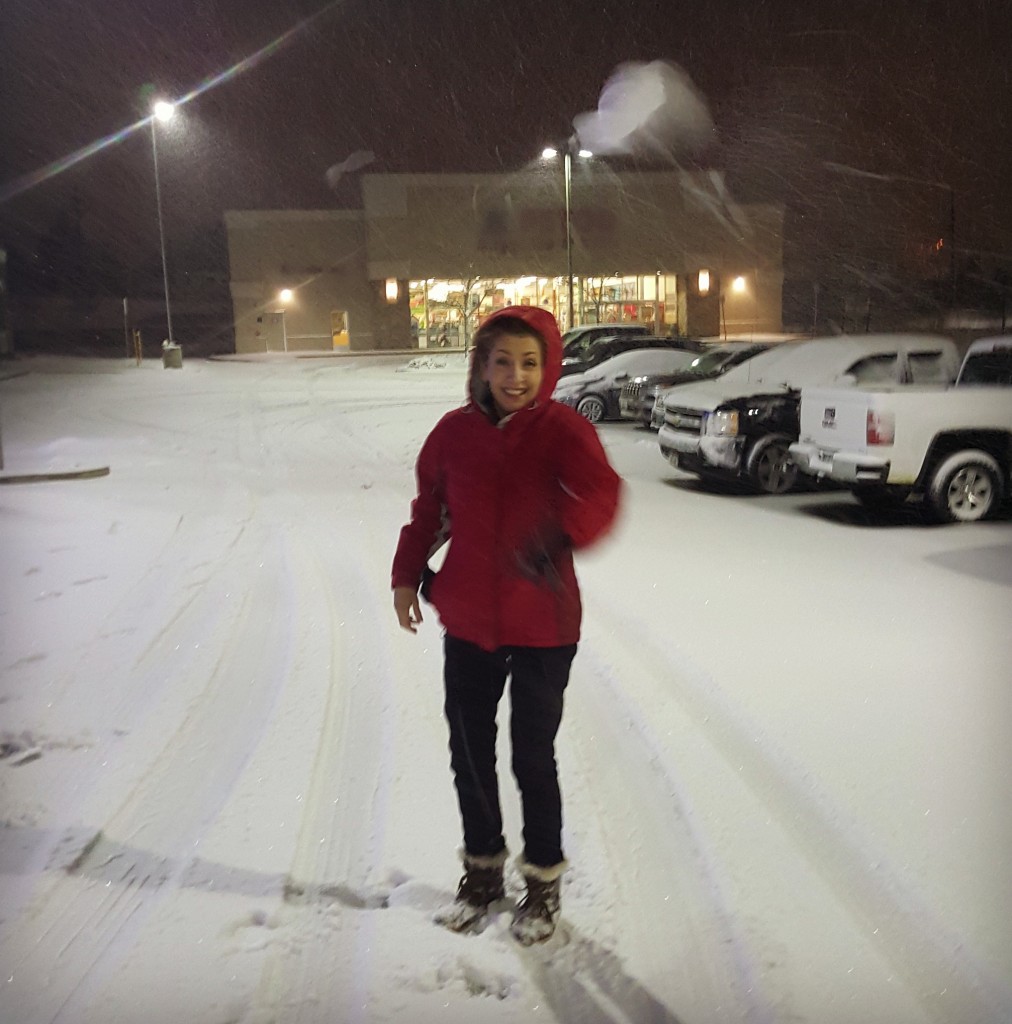 SoBro, as they call it, is bustling at night with youthful energy and plenty of bars and restaurants. But it was the rockabilly hangs that I was interested in. We had dinner at Gary Lee's Motor Club and Grub, crazy ice cream flavors at Sweet Action, popped our heads in for some live music at the Skylark Lounge and had cocktails and donut holes at Adrift Tiki Bar.
We explored other areas around town including strolling Larimer Square and 16th Street Mall, which is magical at night with sparkle lights and horse drawn carriages, One of my favorite stops was Union Station, a beautiful, historical train station, lovingly preserved, which felt ultra elegant, safe and clean, with lots of shops and cafes. That's how travel should be everywhere!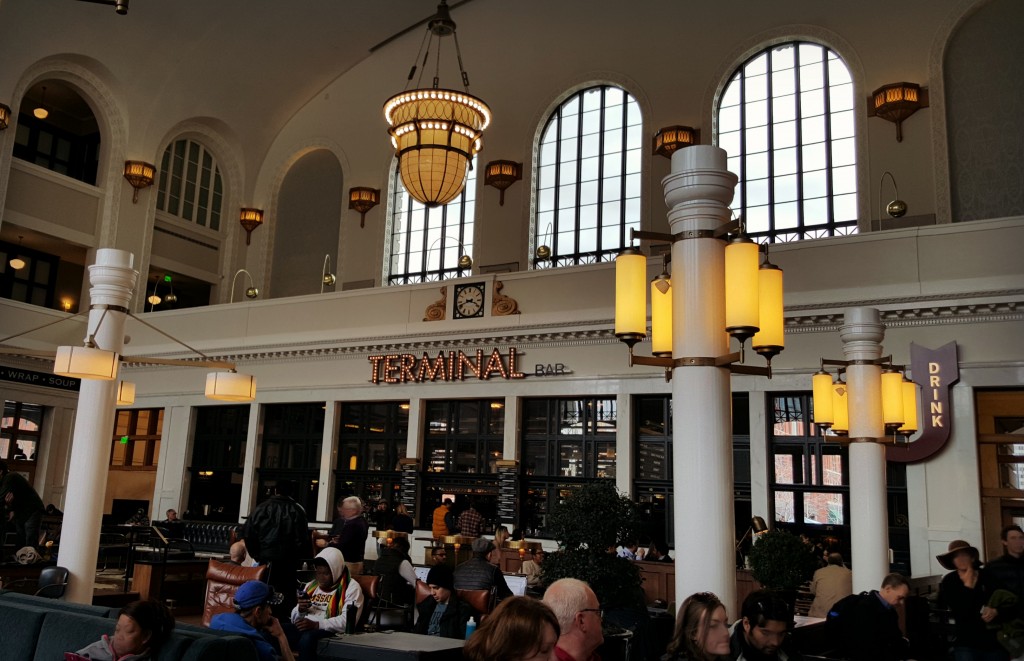 I had pure food joy when we stopped for dinner at Ted's Montana Grill, a restaurant owned by Ted Turner, where I tried bison meat for the first time. What a pleasant surprise! It's a very light meat, a little sweet, low fat and ultra healthy. Not only that, it was cooked perfect medium rare. I'm a fan.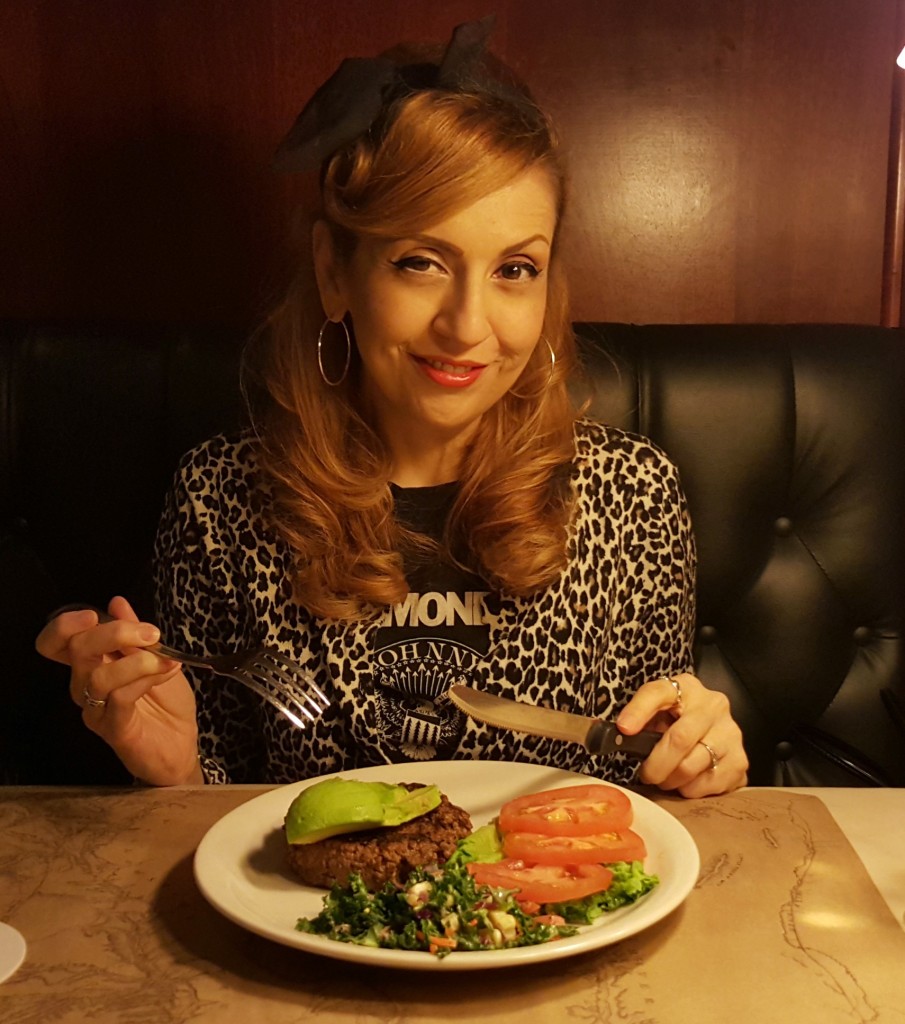 I also discovered the wonder of Voodoo Donuts, I spotted a girl carrying a box of them and immediately hit Google until I tracked it down and had me a giant sugar rush with a "McMinnville Donut" (raised yeast shell filled with Bavarian cream, topped with maple frosting and a set of eyes and mustache.) I had heard about this crazy donut shop when it opened in Portland and was excited to find one on our trip – it's worth waiting the ever present long lines to get that fix!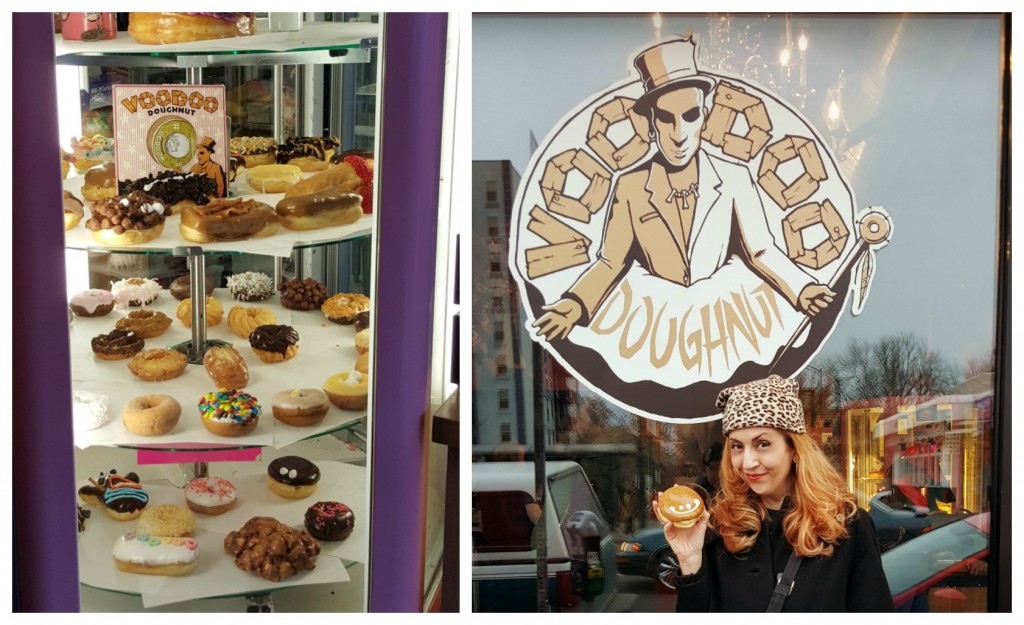 What I Wore
For someone who lives in a warm climate, I'm always a little puzzled on how to look cute and sleek while bundling up. While the clothes I brought on my trip didn't quite make the cut when Colorado's temperatures dropped suddenly, they served me as best they could. I paired a mod striped black sweater, over a t-shirt and some skinny black jeans over thin base layer leggings, and pointy ankle boots. My e-tip gloves let me use my phone while keeping my hands warm, and a cute, cherry-print scarf kept my hair in check and added a festive pop of springtime color to counter all the black.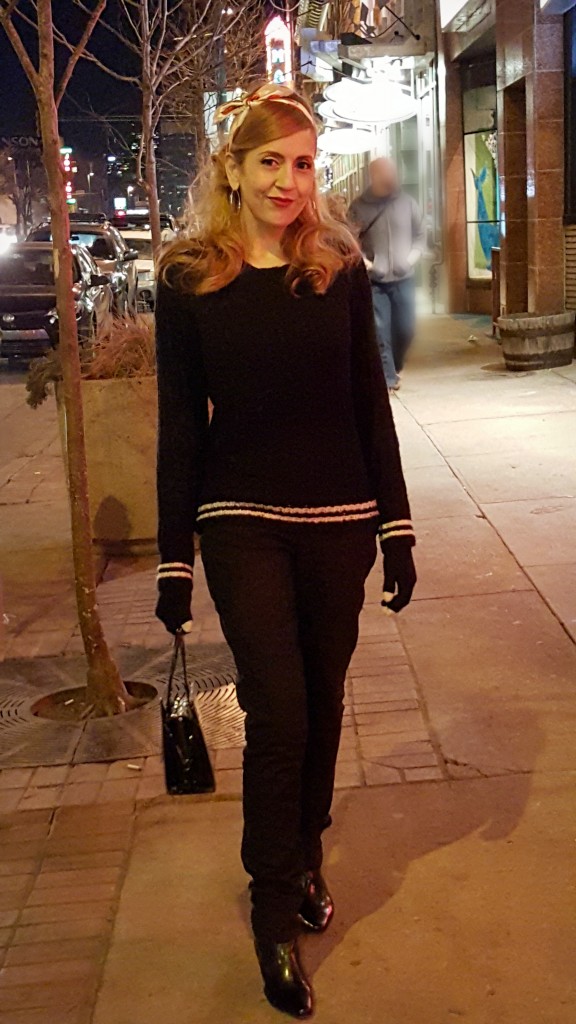 Wearing a Layered Look
In Denver, the snowiest month of the year is March. So while everyone else is celebrating the arrival of springtime, Denverites can find themselves digging out of a blizzard, followed by very mild days. So what's a girl to wear? A layered look! And just because it's still cold at the turn of spring doesn't mean you can't bust out some colorful florals, like this botanical print full skirt. Pair the bold floral with another bold print of a striped sweater with sweet bow tie to create a strong yet playful look. You can always take the sweater off to reveal a statement-making t-shirt such as this book lover's tee (Denver is home to many bookstores!) And don't leave home without a jacket to stay warm when the temperature suddenly drops. This storm-ready trench coat in bright red does the trick and adds to the overall look rather than just being practical for warmth. Click the links to shop* this look!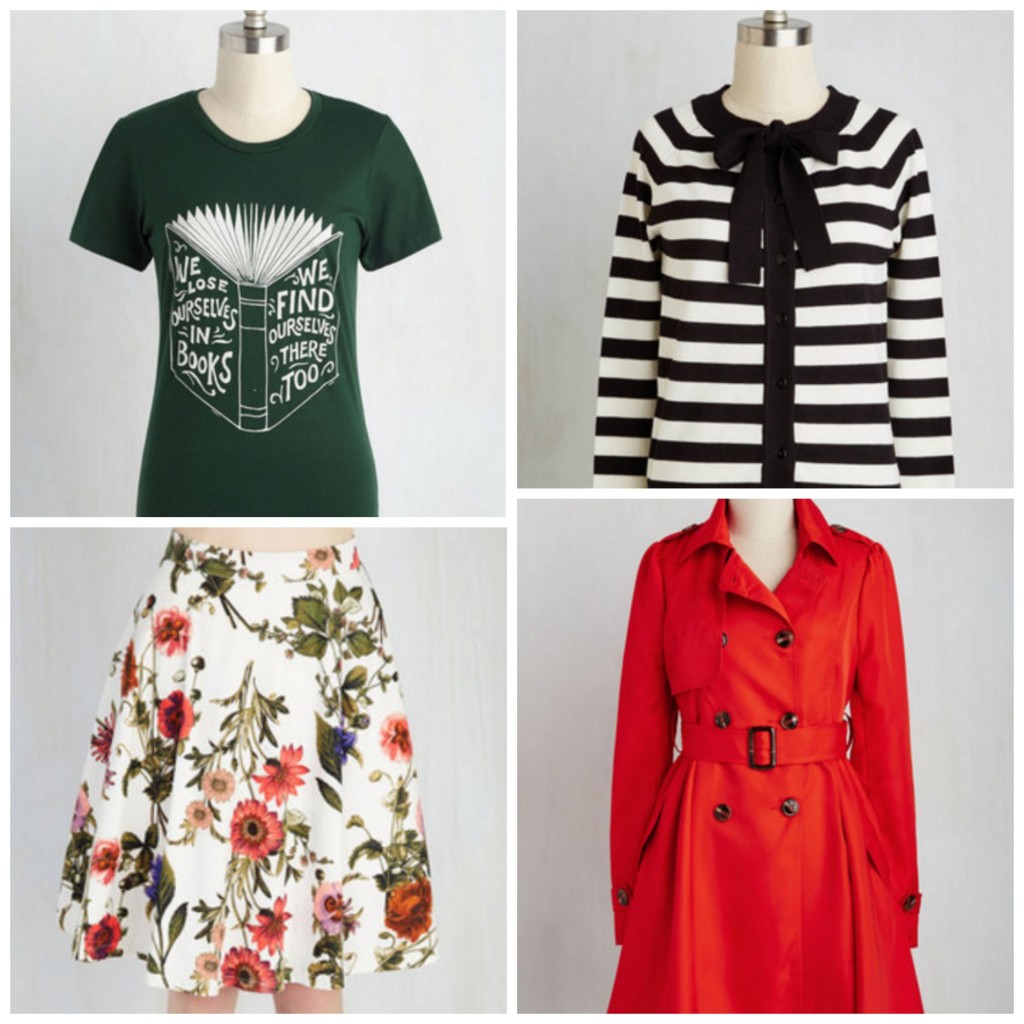 So even if spring throws you a surprise cold front, you'll be ready.
Layer on,
Kastle
Photos edited with PicMonkey*. Get it!
Denver
,
Kastle Waserman
,
layered look
,
South Broadway
,
Travel