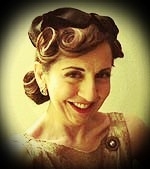 If you ever wanted to step back into 1920s, a time of decadent speakeasies, illegal cocktailing and underground gaming, the closest you can get are films or events by organizations such as the Art Deco Society. Aside from their monthly cocktails in historic places, the Art Deco Society throws a big bash a couple of times a year. A few weeks ago, it was Casino Moderne, a "Boardwalk Empire" inspired night of legal gaming for raffle tickets, legal cocktails and  vintage fashions so divine they should be illegal!
Check out all the action and interviews with some of the night's scenemakers:
[youtube http://youtu.be/h4-L6fwBLtQ]
Click the image to see a slideshow of photos:
For more information visit the websites for:
It's only a paper moon,
K.
1920s
,
ADSL
,
Annamarie Von Firley
,
Art Deco Society Loo Angeles
,
Boardwalk Empire
,
LA Fashion blog
,
Los Angeles Athletic Club
,
Nathan Smythe
,
Nicole Loretta
,
Paper Moon Vintage Photography
,
prohibition era
,
Sari LeSueur
,
vintage fashion