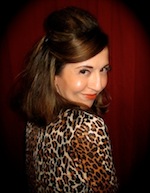 In continuing my "Rock of Ages" celebration, I had to write a review now that I saw the movie over the weekend.
The film is fun. I know the critic's reviews have been mixed. I think you have to have a rocker spirit for this – have either been on the Sunset Strip at the time or wish you were. I'll admit the opening scenes of the movie are a little too musical-cheesy and had me worried, but it definitely hit its stride and rose to the occasion to rock. So on with the review:
Tom Cruise – I've never been fan. I always thought of him as too mannequin-esque, no edge. But man, he did his homework on this, he truly embodied it. I loved the bravado, the moves, the sex, the well-timed comedic moments, and those scenes where a mere hand gesture carried so much attitude. Mr. Cruise you won me on this one.
Buff boys – most of the guys back in the day were rail thin, pre-middle age spread and many were drug addicts. Few were as fit as our leads in the movie. (I can only think of Bret Michaels and Glenn Danzig as looking like they hit the gym.) It's hard to believe Cruise is age 50 playing Stacee Jaxx. Most 20-year-olds don't look that good. Dang!
The songs – great to hear some of the big hits of the time from Def Leppard, Poison, Warrant, Twisted Sister and GNR but some of the soundtrack was a little too early '80s – I could have used less Pat Benatar and Jefferson Starship and more Aerosmith and Motley Crue, which were bands who helped inspire that time. I also would have liked to have seen some punk and death rock in there since those scenes were still happening a bit. I did think the mashups were brilliant however!  Read more about the bands from the Strip that I was listening to at the time: http://yhoo.it/KAv4lN
Russell Brand – IS a rock star, he lives it and makes me laugh so hard every time he's on screen. The scenes with him and Alec Baldwin had me literally buckled over! I would party with him ANY time!
Julianne Hough – OK, her singing was ultra auto-tuned (especially compared to Mary J. Blige who can bust it out!) but she was totally believable as that farm fresh girl off the bus (hello, that scene is completely taken from the Gun N' Roses video for  "Welcome to the Jungle".) So fun seeing her look go from sweet to big hair and big boobs. I was expecting to see her to show off her well-known moves in a big dance scene in the strip club but we only got a mere swing around the pole. I loved the shots of her up in the hills overlooking the city lights and dreaming. I did that when I moved from Texas to LA – classic!
Art direction – an A+! Perfection on the little touches such as the Michael Monroe and Jetboy (great band of that scene by the way) posters, the hairspray and bathroom hand dryer (yes, I did that) and Stacee Jaxx rolling up on a Harley (which every band member had back then, pre-helmet law.)
The rock article interview – as a budding reporter at that time, boy did I have those difficult interview moments. It's not all glamorous! I guess I will have a write a book now!
The end – while I get that soundtracks are subject to obtaining the rights to the songs and many are here because the song lyrics fit the story and everyone can sing along, Journey was way over by the time the Strip was rocking. The ending should hinted at the grunge movement, which began to form in '87 and rose to KILL the Hollywood rock scene in the early '90s.
Overall, "Rock of Ages" really rocked! Just the right amount of comic humor, camp, musical cheese, spot-on styling and a fantastic tribute to a wild and ruckus time. I would totally go see it again.
Who's with me?
Kastle
Def Leppard
,
GNR
,
Guns N' Roses
,
Julianne Hough
,
Mary J. Blige
,
Poison
,
Rock of Ages
,
Russell Brand
,
Sunset Strip
,
Tom Cruise