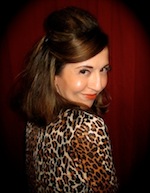 The last thing I do before I leave the house is give myself a spritz of perfume. A scent can be as much of an accessory as your favorite pair of heels. I discovered a perfume that combines both – Nine West's Love Fury. This bottle of perfume literally stopped me in my tracks when I spotted it in a store window – the cap is actually a stiletto heel! I would buy it just for the bottle but thank goodness it smells great – a blend of fruits and florals with mild notes of amber.  A great smell is one thing, but do you know how to correctly apply perfume?
Video: How to Correctly Apply Perfume
Once you find the scents that appeal to you and represent your personality, it can only go so far if you don't know how to apply perfume to get the most out of it. And here's a tip, you don't have to use much. Learn more in my video on how to apply perfume correctly:
Kick up those heels!
Kastle
Products mentioned in this blog were purchased by the author.  See Disclosure.

Tags:
How to apply perfume
,
Kastle Waserman
,
LA Beauty Blog
,
Love Fury
,
Nine West
,
perfume
,
vlog