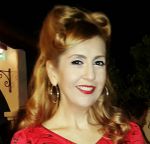 There's nothing like a trip halfway around the world to feel like a true getaway. I recently returned from my honeymoon (see wedding fashion news HERE) in the land down under. We took the very long flight to Sydney, Australia, which we found to be beautiful, clean and safe. There was so much to do; it kept us busy day and night. We got almost a daily eyeful of the stunning views of the Sydney Opera House and Harbour Bridge as we ferried to different areas to explore. We could not have been luckier with the weather, though it was wintertime there, it didn't get too cold – a refreshing 60 degrees during the day and clear blue skies. I did need to buy a few warm clothes for nighttime when it got down to the 40's, and that's nippy when you're from L.A. and out walking around seeing the sights!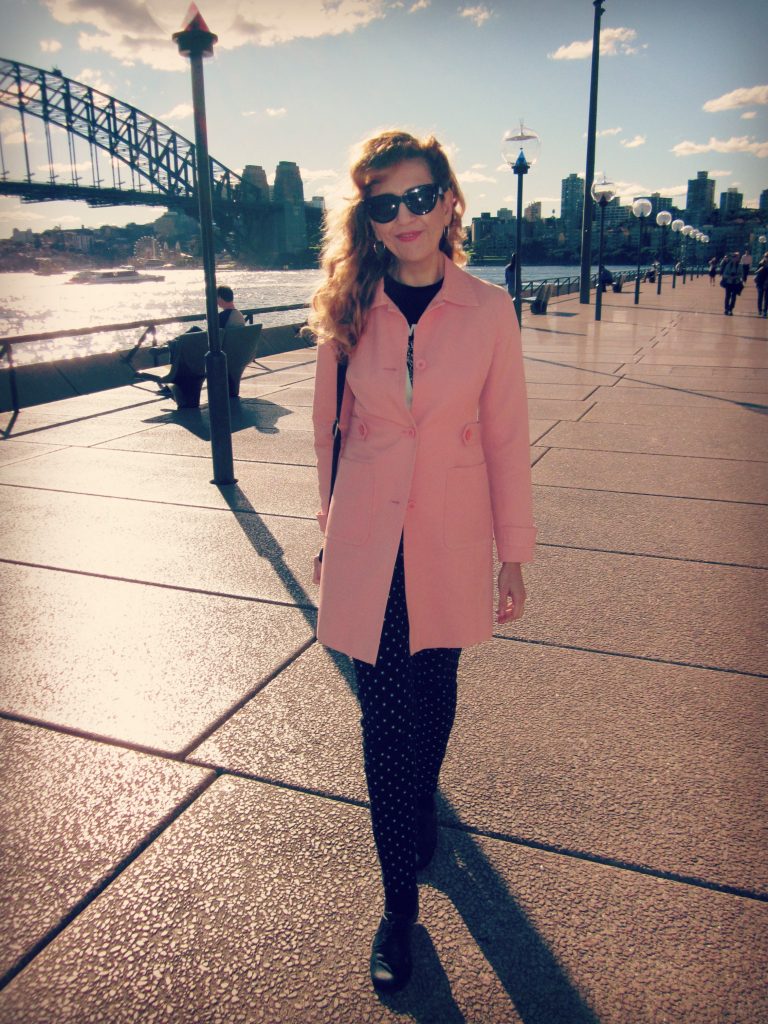 We stayed in a hotel right along the appropriately named Darling Harbor, surrounded by sparkling water. We happened to be there the week of the Vivid Festival, a week-long, citywide celebration of arts and lights. We caught some of the light shows along the harbor and went to events for the Clipped Music Festival, the first festival dedicated to the art of music videos. The event took place at the multi-use space, The Works, where cheerful staff members served up coffee and snacks on the main floor. Upstairs was a theater space and lounge where you could see music videos on the big screen. By day, the top-level offices buzz with activity from resident production companies. The location was along Glebe, which is an increasingly trendy area of cafes and shops with a boho feel and an awesome Saturday market.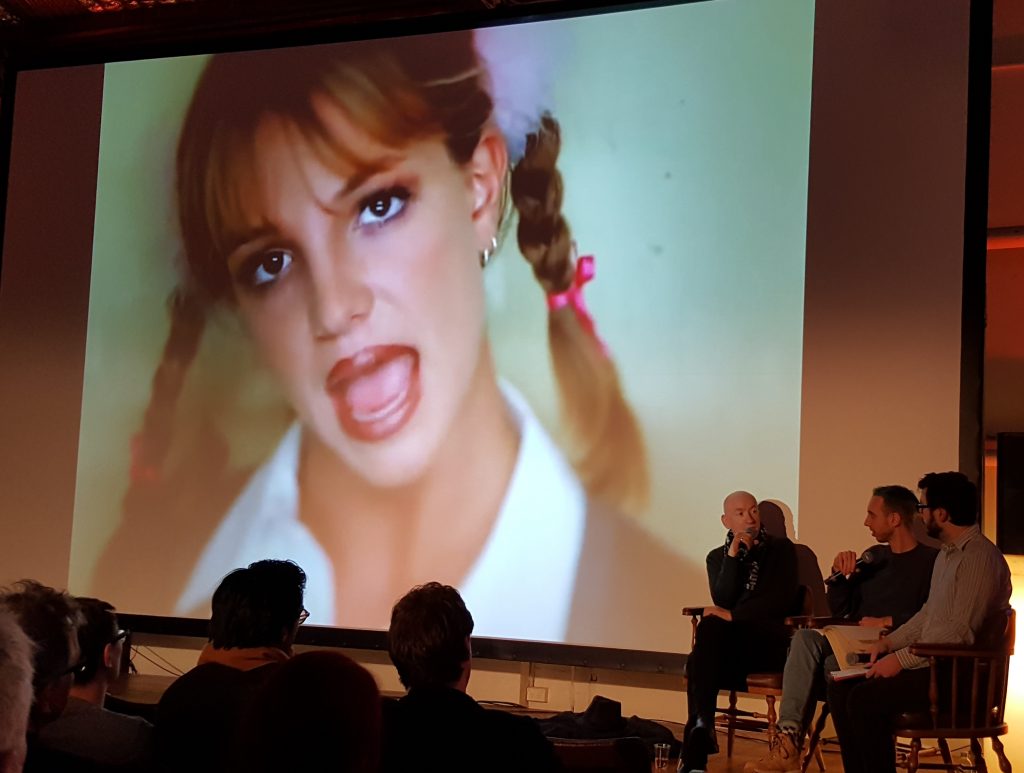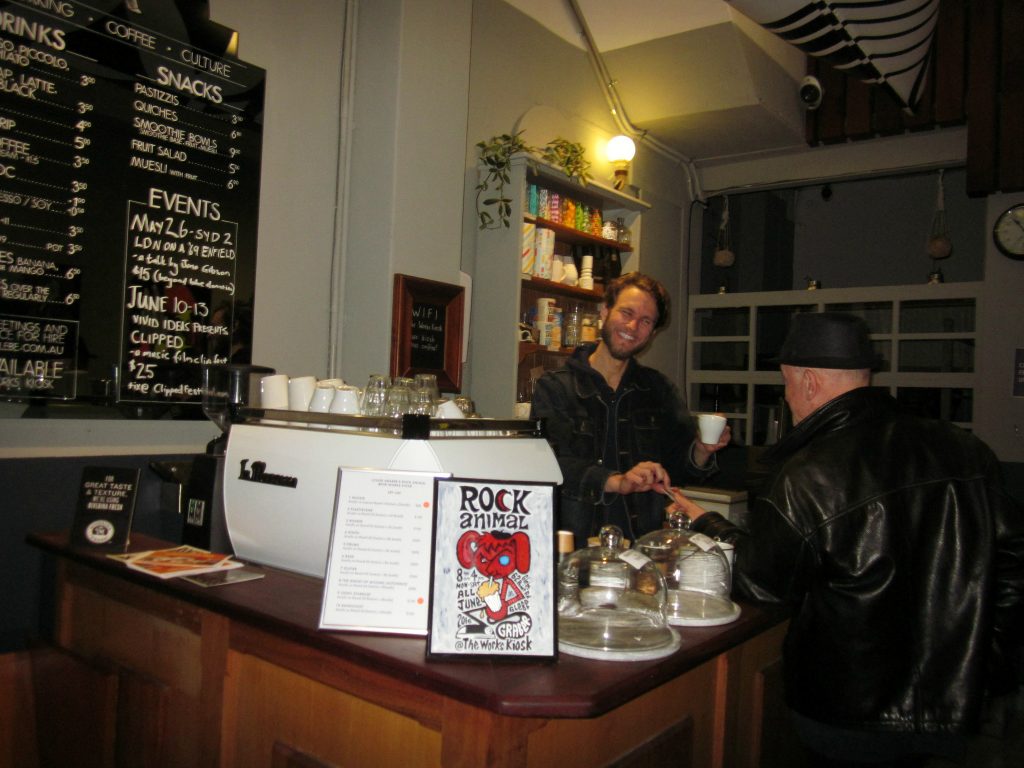 I had one main mission on my trip to Australia, and that was to meet a Koala. Unfortunately, I learned that petting or hugging Koalas is now forbidden due to the fact that they can spread some contagious nasties, and it actually really stresses them out. (OK, I guess I'll just look at them.) But we went out to the Koala Park Sanctuary where you can get really, really close and they are absolutely adorable.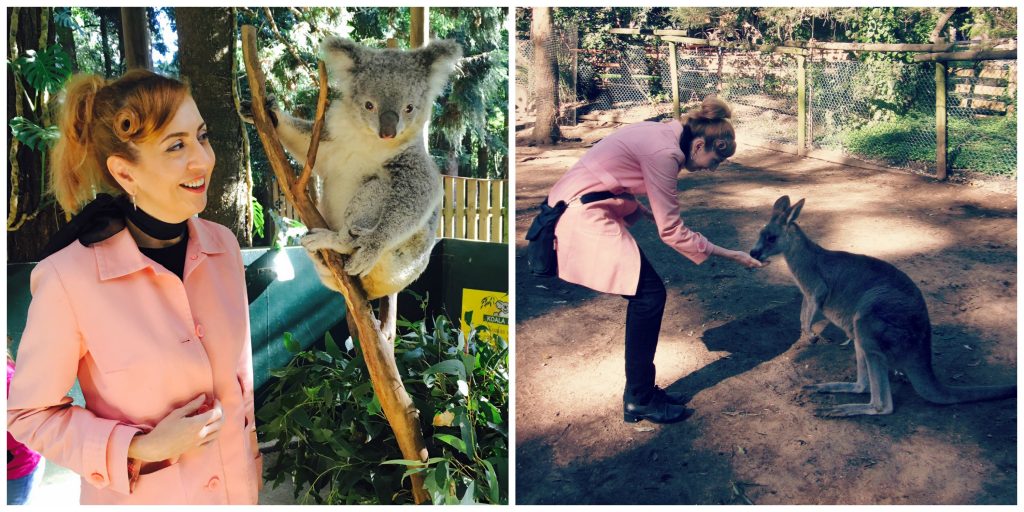 While there, we did get to pet and feed kangaroos, which was just as exciting. The venue has an enclosed kangaroo yard space, and you just walk in. The roos will come right up to you looking for a treat (which you can purchase at the entrance.) I was hesitant at first, putting a little bit of the dried grass snack in my hand. But my new friend just nibbled it right out of my palm and licked my fingers. Then looked at me with big brown eyes and funny little buck teeth for more. After I let him eat a bit I got up the nerve to pet him and found, much like my cat, he loved a good chin and neck scratching!
We also visited the famous Taronga Zoo to see even more animals and take in the amazing views from up on the hills that serve as a backdrop for the giraffes (my favorites!) and the cable car ride from the box office to the ferry.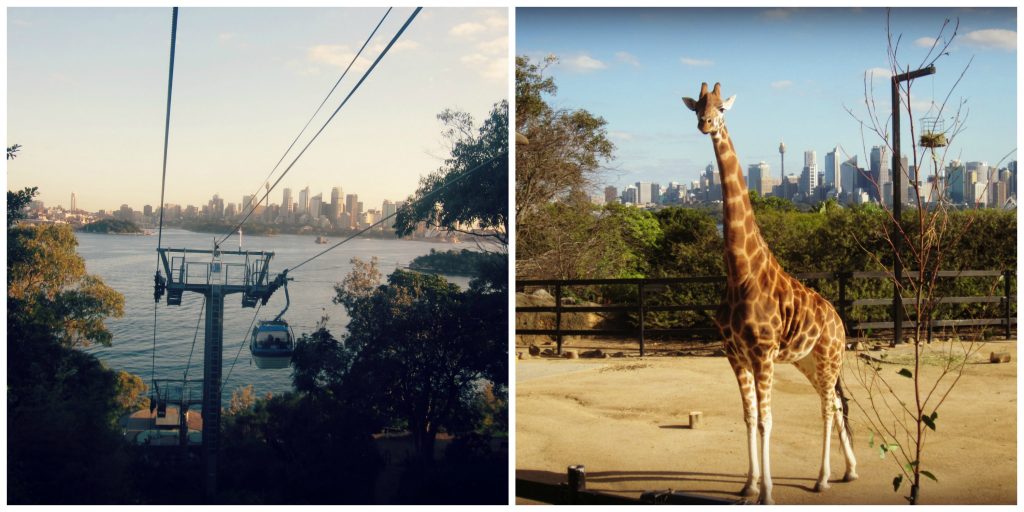 I managed to get in a little shopping while I was there, picking up some souvenirs at the market at The Rocks, some vintage earrings in Newtown (which is the equivalent to LA's Silver Lake in terms of underground hipster vibe), an awesome  furry black jacket in Chinatown's Market City, and a fantastic hot pink, long, wool coat for ten bucks at the Glebe Market.
While we were in Chinatown, we also stopped for some authentic Chinese cuisine and picked up some sweet buns that were so good I'm still thinking about them!

Whenever I travel, I always check out the local vintage shops. I didn't find too much vintage I liked in Sydney; most carried a lot of denim and boots and items from the '80s and '90s. One store I liked was Zoo Vintage Emporium in Surry Hills, which had great stuff from earlier eras.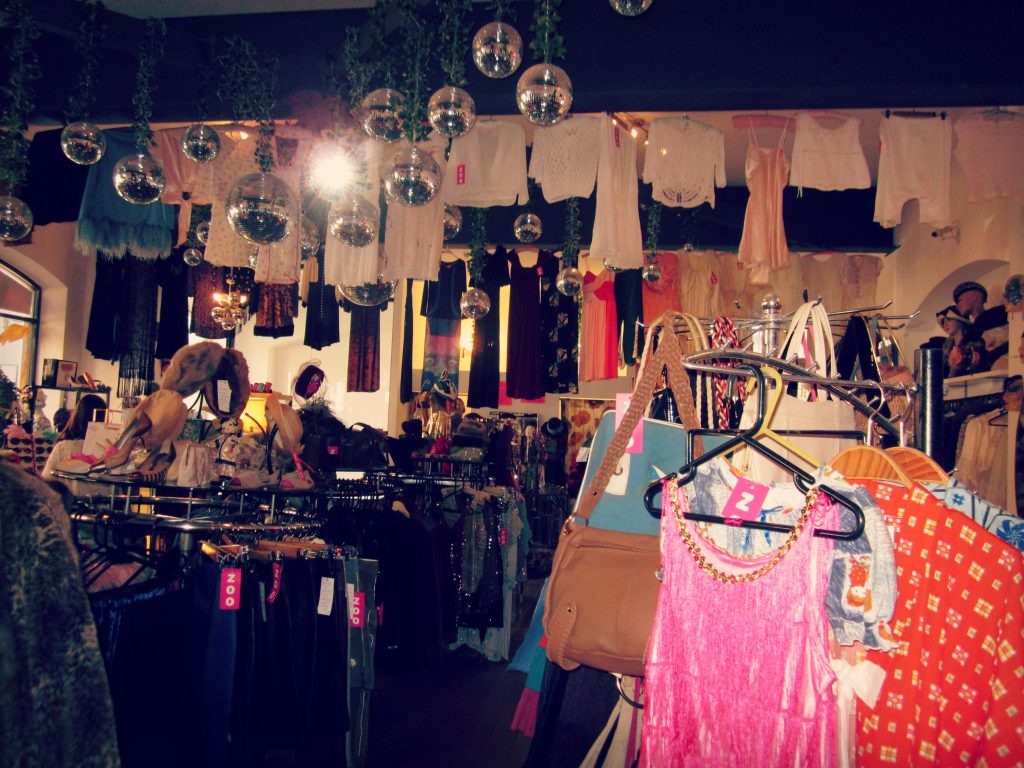 On our last night, we went for drinks with some friends we met around town at Frankie's Pizza By the Slice, a great rock 'n' roll dive bar that reminded me of CBGB's with posters and stickers covering the walls. We took over the intimate basement bar while rock 'n' roll karaoke took place in the main room upstairs with people getting up to sing with the house band. It was a great send off from a city we fell in love with.
Melbourne
Our next stop was Melbourne for a short stay with friends. Melbourne is a bustling urban city, packed with people with lots of little "Laneways" off the main streets for shopping and cafes. It made it particularly difficult to find what would turn out to be my favorite vintage store on the trip, RetroStar Clothing, which is off busy Swanston street and up on the third floor of a little arcade of shops. The place was big and full of clothes from the '40s to the '80s. I was in heaven! I wish I had more time to shop there. I did make out like a bandit in the trendy Fitzroy area and discovered my favorite store in the city, Dangerfield, that had ultra cute, slightly retro alternative styles. They were having a sale and I scored some warm plaid pants, guitar print socks, and boho floppy hat.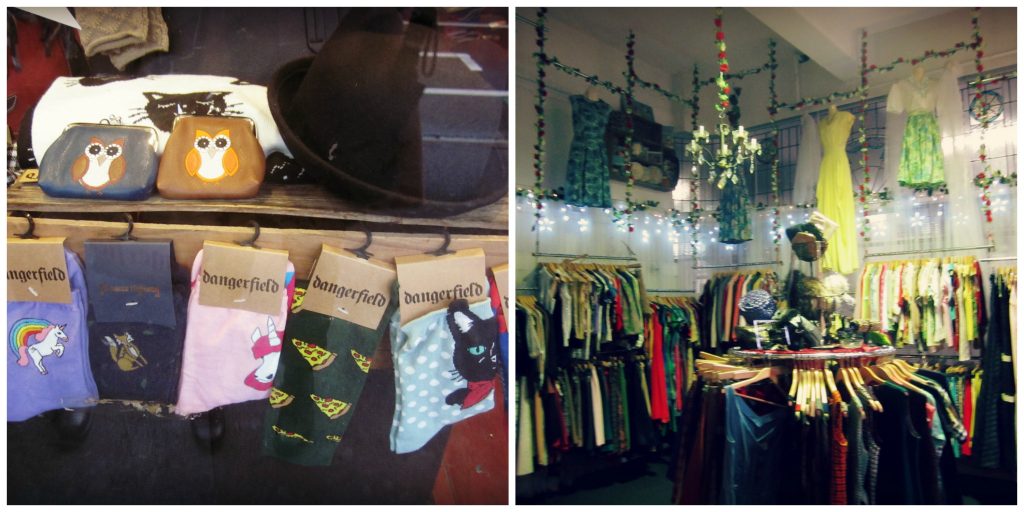 We were not as lucky with the weather on our last couple of days, which was cold and rainy, so we headed for indoor entertainment at the museums.
We checked out the Martin Scorsese exhibit at The Australian Centre for the Moving Image (ACMI), a really nice facility dedicated to film. The exhibits had clips and behind the scenes info on all of Scorsese's films and memorabilia including handwritten storyboards and costumes.
Next door at the National Gallery of Victoria, I went to see 200 years of Australian Fashion, a lengthy exhibit tracing fashion trends through the decades. Of course being from the States, I didn't know many of the designers but it was a treat to discover them.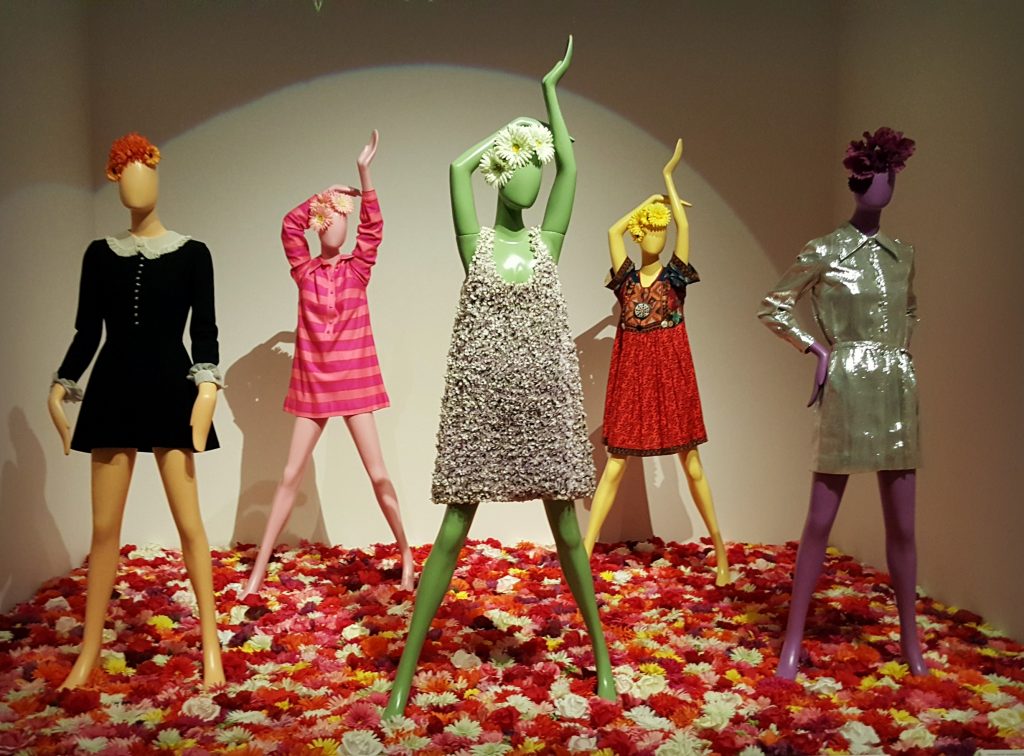 And that did it for us in the land down under. Totally worth the 15-hour flight to get there!
What I Wore
I like to travel light when it comes to clothes. (My beauty products usually take up most of the room in my suitcase!) I tend to go with things that can be mixed and matched to create different looks. I also bring a bagful of colorful vintage scarves that can be worn in my hair or around my neck to change the look of an outfit. And I leave home a lot of accessories so I can buy more on my trip , which make for fabulous souvenirs! Here I'm wearing some skinny jeans with a cute print, a Ramones tee, a leopard print scarf I picked up at one of the markets and a faux fur jacket I got in Chinatown. I also brought the pink overcoat you see in the above photos, a light sweater, a heavier sweater, a pencil skirt, and some other tees and scarves.
What to Wear: Travel Clothes
For the most part, just bringing layers is a good bet so you can add or remove as needed. The key to layers is to add interest by combining textures and patterns. As long as they are in the same color family, your look will be coordinated. If you're traveling in winter, I like to bring base layers, which are thin leggings and tops from outdoor wear companies like Patagonia or North Face, so I can throw them on under my outfits when it gets really chilly and they don't add bulk to me or my suitcase.
Pack a few of your favorite graphic tees like this Wonder Woman tank and a basic black pencil skirt that goes with everything and can be dressed up or down. Bring a light cardigan sweater like this one with a fun print to add texture. Top it with a colorful scarf around your neck or in your hair. Don't forget comfortable walking shoes like these low-heeled oxfords and a satchel bag big enough to carry all you will need for a day of sightseeing. Make sure it has good closure because some tourist areas can have pickpockets! Click the links to shop* this look!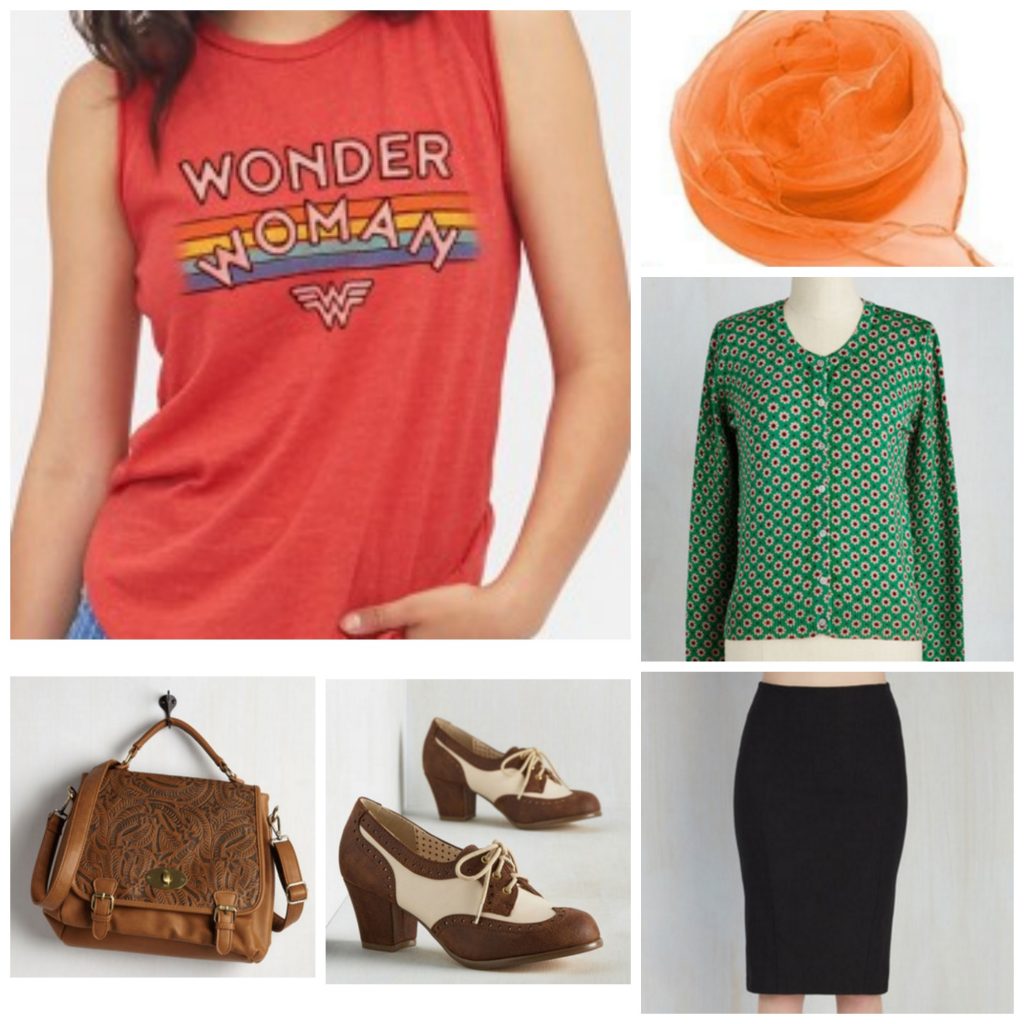 Thanks Australia, hope to see you again!
Kastle

Tags:
Australia
,
Kastle Waserman
,
Melbourne
,
Stiletto City
,
Sydney
,
Travel
,
travel wear