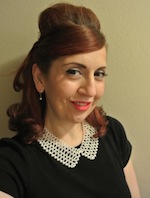 "Bright light city, gonna set my soul on fire" – Elvis Presley
"Viva Las Vegas" is what we were singing at the rockabilly festival of the same name. For the past 16 years, it's also been a definitive annual gathering of lovers of '50s retro culture – pinup girls, greaser boys and bands, bands, bands. I hadn't been in a few years so it was time to head back to it.  While the festival runs for four days, since I just started a new job, and didn't have vacation yet, we decided to make it an action-packed weekend. So we woke at a somewhat painful 4 a.m. on Saturday morning to catch a 7 a.m. flight to Sin City. I had my pincurls tucked under a Rosie-the-Riveter-style red bandanna and the security patrol must have seen a few of my type before me as they kept asking, "you going to that convention in Vegas?" which made us howl with laughter!
We arrived at the Gold Coast Hotel where our room was not yet ready, so we joined other blurry-eyed rockabillies in the not-so-glamorous-but-functional TGIFridays inside the hotel for a solid breakfast of eggs and toast to get us going. I realized I clearly wasn't the only one in a bandana headscarf. I spotted several other girls sporting that curl-protecting look, making us look like some sort of girl gang! I think we made the other patrons nervous!
When we were finally allowed into a room, we had a quick nap and a primp and took the shuttle over to The Orleans to hit the convention.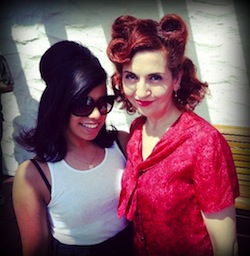 The minute we entered the hotel, we could see the place was crawling with rockabillies. The guys had their greased up hair and sideburns, but it was the girls who stood out as the big fashionistas. Massive '50s rolled hair in bright colors – pink, purple, blue and lots of red heads. Rockabilly is no longer just about Bettie Page black hair and all the jewel tones made it such a feast of eye-popping fun!
We immediately hit the shopping vendors. Vintage stores from across the nation pull out their best goods to sell here and it was quite the bonanza. I was ready for the treasure hunt and I'm quite happy with what I scored:
My Viva Haul: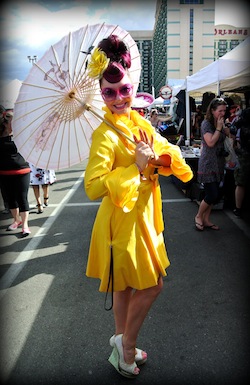 After shopping we headed outside for the car show and bands. The temperature was in the '80s — good ol' Vegas heat – and girls were creating their own shade with colorful parasols that made them look so charming. But boy did it get a little dangerous in the packed crowds going to the vendors – one almost took out my pal Fabby's big hairdo!
One of the vendors bringing on the glamour was the Pinup Girl Clothing booth, which had an endless crowd around it of girls not just shopping, but dying to get a photo with the pinup models Micheline Pitt, Erika Reno and Doris Mayday who are just as  gorgeous in person as they are in their photos. Micheline had on a metallic pink criss-cross strap gown with matching hair fascinator that was absolutely stunning, Erika had one on in black, and Doris was wearing a very groovy metallic copper jumpset with shorts that matched her hair and playful vixen personality.
I managed to find a moment when the crowd died down to buy Micheline's recently released "Modern Pinup Makeup & Hair" DVD -a three disk set of how-to's for looks from the '30s to the '60s and featuring many of the clearly famous Pinup Girl Clothing models. Stay tuned for a full DVD review coming soon!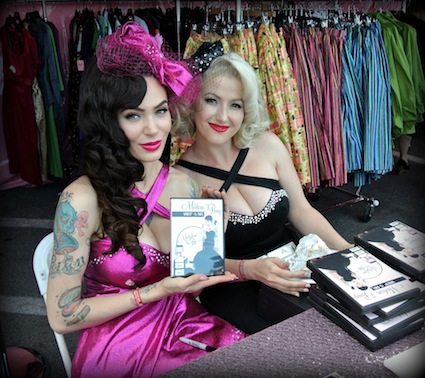 We were waiting for Dick Dale to take the stage and getting mighty thirsty so we stood in line next to giant tiki statues for Sailor Jerry Rum tiki drinks in a souvenir tiki cup -gotta have that!
We got our drinks just in time when Dick Dale took the stage.  Now I certainly knew of Dick Dale's legend but I can't say I've followed his career. I wanted to check him out but wasn't sure how much I'd be into it. I have to say he blew me away!  Now in his 70's, he was fully in control of that stage and played his guts out, putting much younger guys to shame!  He told us the doctors said he shouldn't be playing anymore due to his health issues – cancer and diabetes — it was clear nothing was going to stop him! I was thoroughly impressed and so glad I had the opportunity to see him live.
[youtube=http://www.youtube.com/watch?v=DEMVzl883bk&w=560&h=315]
After the show we shuttled back to the hotel to slip into our cocktail dresses for the night's activities. I put on my newly purchased blue brocade dress and Fabby went "Dreamgirls" with a sequined aqua shift dress.
We got back in time for Little Richard and the entire outdoor area was packed. Now in his 80's, we all knew this may be the last time to see this legendary pioneer of rock n roll sing such classics as "Long Tall Sally" and "Good Golly Miss Molly."
We waited for what felt like and eternity and finally the lights went down. Before the main act, we learned the winners of the Pinup Contest. Then Little Richard's posse brought him out on stage in rolling gold throne of a piano bench.  He told us later in the show that he broke his hip three years ago and hasn't walked since and the doctors say his heart isn't strong enough to operate — so the poor guy is in massive pain, clearly wincing and moaning as he adjusted his seated position at the piano. I don't know what those doctors are talking about, he certainly put a lot of heart into this performance, clearly excited to see the massive crowd, smiling, telling jokes punctuated with his trademark, "shuttup!" and dressed in his bright royal purple suit with sparkles – he still has great style! His voice was a little weak but his fingers made up for it, firing up the ivories for all his hits. He asked  the crowd to pray for him and his health and had his posse hand out prayer books to the audience that had a signed picture of him in it. I managed to grab one as a souvenir.
[youtube=http://www.youtube.com/watch?v=eoL6v-dstoY&w=560&h=315]
For "The Girl Can't Help It," they invited a bunch of lovely girls from the audience to dance along, which put a big smile on Little Richard's face and he continued to play for over an hour, though it looked like his posse was clearly worried about the strain on him. I was just so happy to see him, I love those songs. Thanks Richard, you made our night!
After the show, we headed offsite in a cab pointed to Frankie's Tiki Room, the famed bar is a must-go for local cool cats and their visiting friends. It's fantastic Tiki décor was created by Bamboo Ben who I interviewed for an article on Tiki Culture. They have an awesome drink menu that you can have served in a souvenir Tiki glass. I had a Kahiki Kai and Fabby threw down a Three Rum Scum. The place was packed with Viva people and was a great night for drinking and people watching.
After that we were ready for some beauty sleep and a good lie-in before getting ready for the last day of our short weekend. It was Easter Sunday so I picked my most spring-like vintage dress for the occasion and topped it with a pair of bunny ears.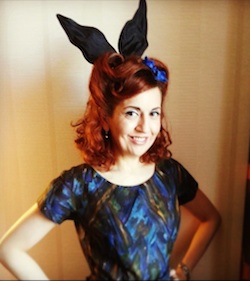 We wandered back through the shopping vendors where we ran into our pals Dave and Sabino from Clever Vintage and then tried to make it out to the pool area to watch them judge the bathing suit contest, but there was a line clear down the courtyard and they weren't letting anymore people in. So rather than melting in the sun, we opted to go back inside and check out the bands. Boy, were we in for a treat when we stumbled upon a set by Maureen and the Mercury 5. While Maureen looks like a little lady, she can belt out a tune like nobody's business. Teamed with vocalist Douglas Roegiers from Phat Cat Swinger, they were delightful to watch. But things got downright dirty when they were joined by Switchblade 3's Brad Hayman with his big ol' white flaming bass and mohawk. Two big ol upright bassists created a thunderous beat and Maureen went and laid some saucy, sexy attitude right across the both to them – go girl!
Afterward, we wandered around the casino, it wouldn't be Vegas if we didn't try our hand at gambling. I found myself a "Sex and the City" slot machine and fed in some of my hard-earned dollars. I walked away with a whole 30 cents! That's Vegas for ya! Then we grabbed a drink with some pals and got in line for the ever-infamous Charles Phoenix and one of his hilarious slideshows of vintage photos. This time he had fresh material straight from Saturday's car show mixed in with original photos of vintage cars, and some of his own auto treasure hunting.
He came out in a rainbow neon spray-painted suit and threw, what else, rainbow bread out into the audience! He's always great for a belly laugh and was a great way to end the weekend before we jetted off back to LA.
Thanks Viva! What a great way to spend the weekend!
Click below for all my  pix!
Yeehaw!
Kastle
Dick Dale
,
Doris Mayday
,
Little Richard
,
Micheline Pitt
,
Pinup Girl Clothing
,
Viva Las Vegas