Since I'm still hesitant to go shopping in the vintage and thrift stores that have reopened during the pandemic, I've been doing a lot of shopping on Etsy. (I'll admit it, I need a little therapy shopping right now!) Something I always gravitate toward is vintage pillbox hats.
History of Pillbox Hats
These round, tall hats were first worn as military headgear. Milliners later turned the shape into fashion in the 1930s. But it was Jackie Kennedy who made her Halston-designed pillbox hats popular in the 1960s as part of her signature look. I love these hats for their ease of wear by day or night, dressed up or down. They often come adorned with a veil, flowers and different textures. I also appreciate the height it gives around the crown of the head for a statuesque look.
How to Wear a Pillbox Hat
I'm amassing a little collection of pillbox hats in different colors and textures and thought I'd share two of my recent acquisitions and show you how I styled them.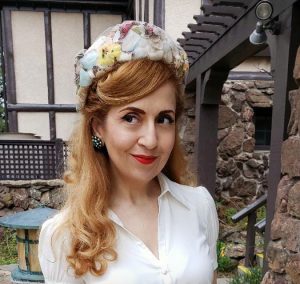 Floral Pillbox Hat 
I couldn't let our beautiful spring/summer season pass without something with flowers on it. I came across this unique hat with fabric flowers in sweet pale colors of pink, blue and yellow, over an ivory fabric. A light beige netting delicately covers it and protects the flowers. It's in perfect condition and makes me feel like I'm wearing a floral crown. It was a lucky find!
I've recently been adding some 1940's-style blouses to my collection and was excited to come across this ivory one at my local thrift store right before the shutdown started. I like the feminine sophistication the cut gives to an outfit. I completed the look with a vintage reproduction olive swing skirt and lace-up shoes. I've had this whimsical vintage straw bucket purse with embroidered flowers in my collection for years.  It was a perfect match for my new pillbox hat!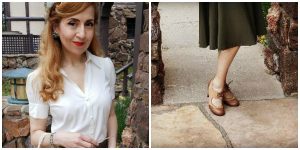 Orange Swirl Pillbox Hat
This dark orange pillbox hat called out to me as I browsed Etsy one day. With a unique swirl detail, I call it my cinnamon roll hat – and it does make me crave sweets when I think about it! This hat is a little more petite than some of my other pillboxes. That allows me to wear it a couple of different ways, such as tilted closer to the face, as I did with a look I did on Instagram.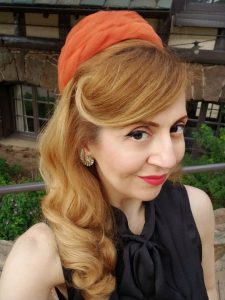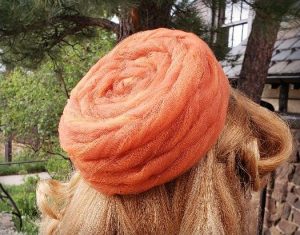 I paired it with another new '40s-inspired blouse with a pussy-bow tie and vintage reproduction swing skirt. This colorful vintage purse is a favorite I scored during the time I worked at Regal Vintage when I first moved to Denver. They hadn't even put it out for sale before I claimed it!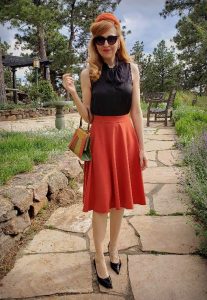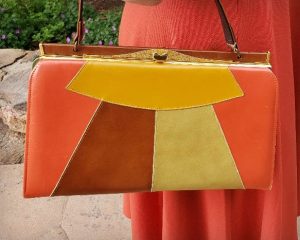 Where to Buy a Pillbox Hat
If you feel the coronavirus still makes it too risky to head into the stores, even with a face mask, you can always find vintage and thrift store treasures from home on Etsy, eBay,  thredUP and Goodwill online. Many brick and mortar vintage stores have started an Etsy shop since the pandemic began.  And I discovered a whole list of Black-owned vintage stores that circulated on Instagram to help diversify my shopping – I already bought a few things from those stores. Stay tuned to see them in the blog soon!
Look for more of my pillbox hat looks on my Instagram page.
Until next time, stay well.
Kastle
Tags:
how to wear a pillbox hat
,
Kastle Waserman
,
Kastle Wasserman
,
pillbox hat