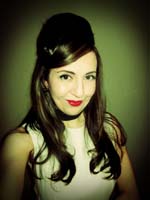 Atop Downtown LA's historic gems, the Broadway Bar and Orpheum Theatre, there is a little workshop and showroom called ReVamp Vintage where they create clothing from the years 1910 – 1950. I stopped by there recently and got a look at their latest line, "The Prohibition Collection" featuring women's and men's designs from the year 1920, the year Prohibition took place.
Founder/designer Annamarie Von Firley, who, it must be said, knows her fashion details down the last stitch, gave me a tour of the new line that features men's three-piece suits with high-waisted, flat front, narrow-legged pants, vests that end at the natural waistline and what she calls the "John Barrymore" shirt featuring a long pointed collar. The conservative silhouettes for women, which predate the flapper commonly connected with the '20s, feature coat smocks, belted or sashed blouses at the natural waistline and "dirndl skirts" – full gathered skirts with fitted bodices.
ReVamp prides itself in creating period perfect looks and Hollywood has taken notice. They've done wardrobe for a number of TV shows and films including "Big Love", "True Blood" "The Girl with the Dragon Tattoo" (2011), and the wedding dress and bridesmaids in "Pan Am's" premiere episode.
See more of ReVamp's new collection and browse the shop click the photo below to see the slideshow: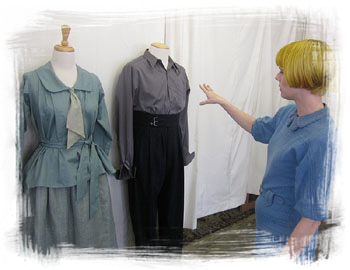 See you in the speakeasy,
K.
Annamarie Von Firley
,
hollywood costume
,
hollywood wardrobe
,
Los Angeles Fashion Blog
,
period clothing retro
,
prohibition clothing
,
ReVamp Vintage
,
Vintage clothing