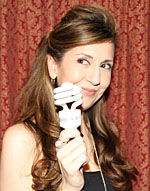 April is Earth Month and it's a great time to discover new ways to lower your carbon footprint, go to events and discover new green products.
I kicked off my Earth Month by attending the rededication of the Whaling Wall mural in Redondo Beach, where I met marine life artist Wyland. You can't help but like this guy who is so passionate about the ocean and protecting our waters, plus he has an amazing gift of art, and I mean BIG art! Wyland painted 100 Whaling Wall murals on buildings around the world as gifts to raise awareness of the beauty of our oceans in hopes people will work to preserve them. At this event, they rededicated the 87′ x 622′ mural to Redondo Beach after Wyland did a little restoration touch-up, including two new baby whales, on the 20-year-old mural. And it is a sight to behold, if you're ever in that part of town, drive to 1100 North Harbor Drive and see for yourself, then do your part to keep our beaches looking that beautiful.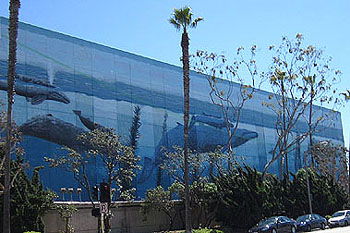 My next green stop was at the Go Green Expo at the LA Convention Center where rows of vendors gathered to show their eco-friendly wares. I picked up some biodegradable trash bags from BioBuilt, some super cute reusable snack bags from Wrap-N-Mat and Re-Pac (no more plastic zip-locks in my lunch bag) and a gorgeously soft sweater made from organic cotton and recycled materials from kikaPaprika. I also sat in on the green pets panel and learned one key thing to keeping your pets and yourself healthy – take off your shoes when you enter your house! We carry loads of nasty toxins into our homes by the soles of our shoes! Who knew?

On the eve of Earth Day, I attended the Earth Night cocktail party at Environment Furniture. This sprawling space filled with furniture made from sustainable sources (but sadly a bit out of my price range) was a lovely setting and filled to the brim with greenies looking to connect. However, my green scenester pals, including blogger/eco-bartender Michelle Green Queen and Caramie from Solargy Comfort, spent a good chunk of time swooning over Prison Break actor Paul Adelstein (pictured here with Michelle.) Nice to know he's a greenie! And I especially enjoyed the speech from Grist.org Sr. Editor Lisa Hymas about being a "GINK: green inclinations, no kids" because overpopulation is using up our world's resources at an alarming rate. She put it in perspective: "There are benefits to not having kids – if I had kids, I couldn't be here partying with you tonight!" Read her article about it on Grist here.
That's the green scene,
K.
Tags:
BioBuilt
,
Earth Day
,
Environment Furniture
,
GINK
,
green pets
,
Grist
,
kikaPaprika
,
Lisa Hymas
,
Michelle Green Queen
,
Paul Adelstein
,
Prison Break
,
Re-Pac
,
Solargy Comfort
,
Whaling Wall
,
Wrap-N-Mat
,
Wyland