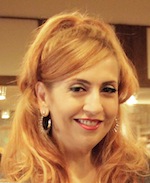 Most ladies know, a good pair of shoes is an art form. But self-taught designer Chris Francis takes shoemaking to a whole level. Creating awe-inspiring footwear from a variety of materials and found objects, he turns mere shoes into sculptural pieces.
I attended the opening reception for his current exhibit at the Craft and Folk Art Museum (CAFAM), and felt like a little girl in a candy store – so many beautiful, theatrical pieces that stretch the boundaries and blow your mind as to what a shoe could be. From big chunky leather platform boots to delicate pieces with colorful textiles, each piece was a delight.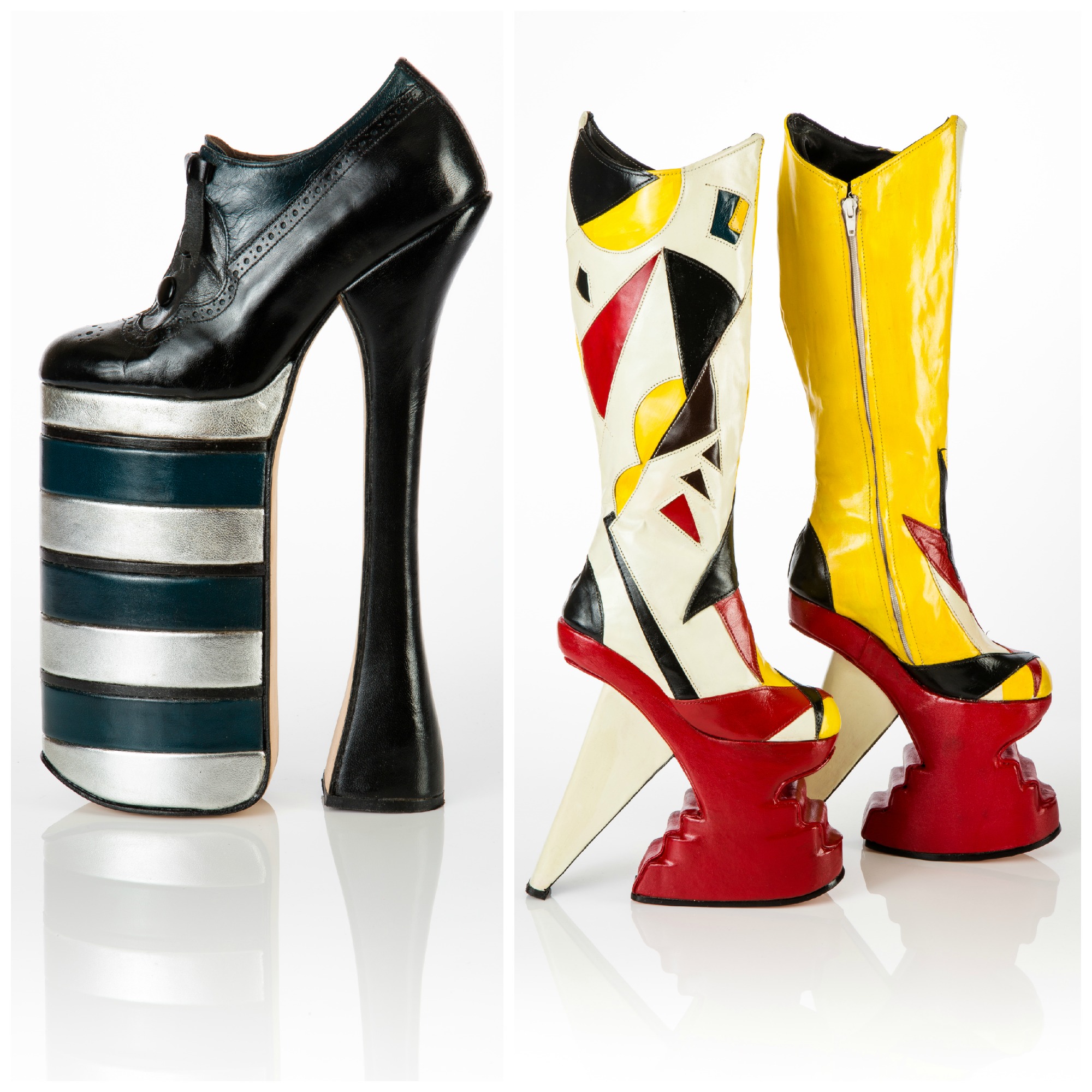 I especially loved the punk-inspired shoes, layered with scraps of leather to look like a motorcycle jacket, dotted with a Sex Pistols button, and giving attitude with broom bristle spikes. Reminded me a bit of my own mohawk back in the day (see image here!)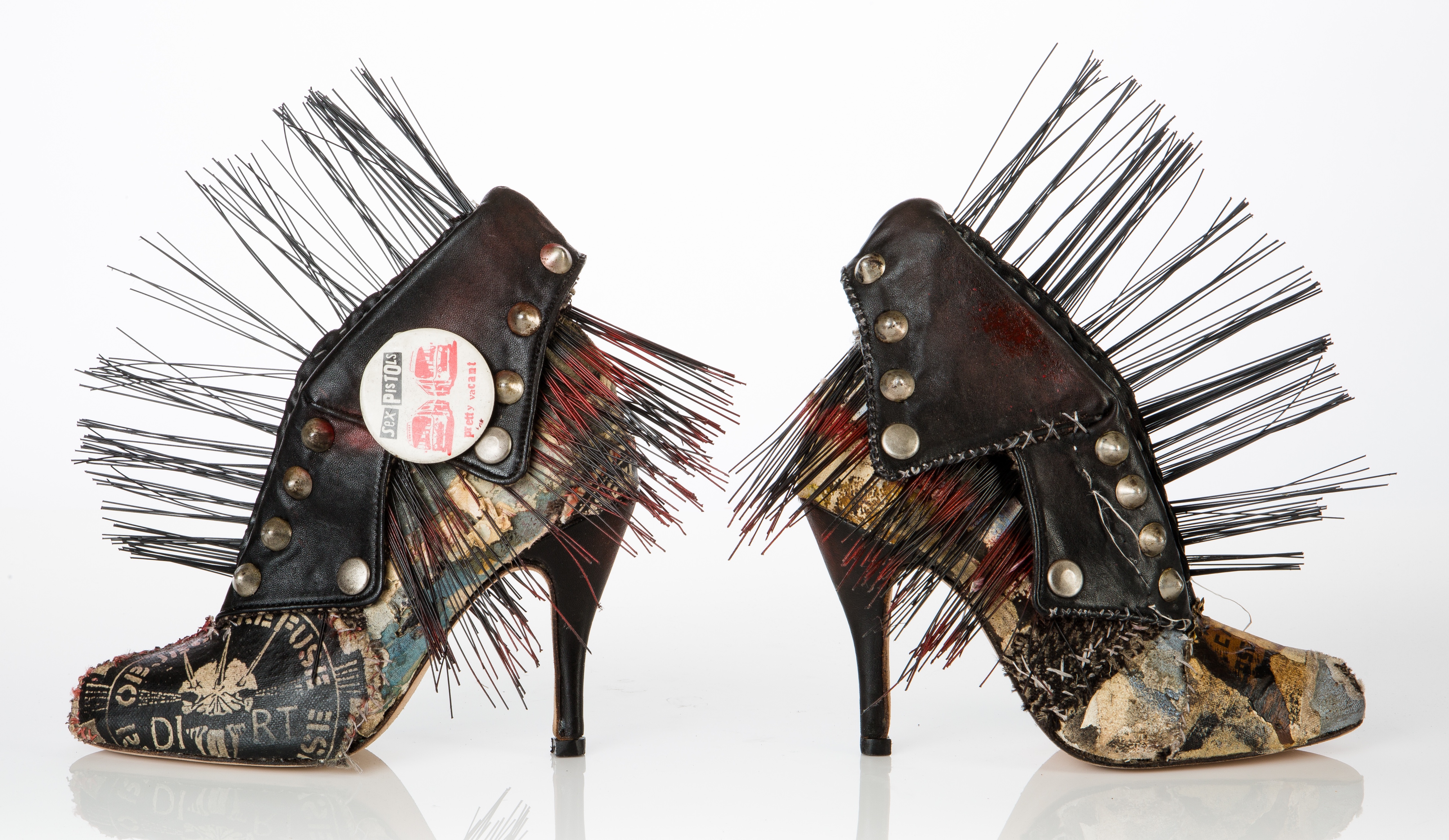 It's not surprising to see such a piece from this designer, a former punk himself, he still carries himself with rock 'n' roll style and many of his clients include rockers such as Runaways' Lita Ford and Motley Crue's Mick Mars – whose last (foot mold) was seen hanging in his shop, set up in the CAFAM front room for the duration of the exhibit.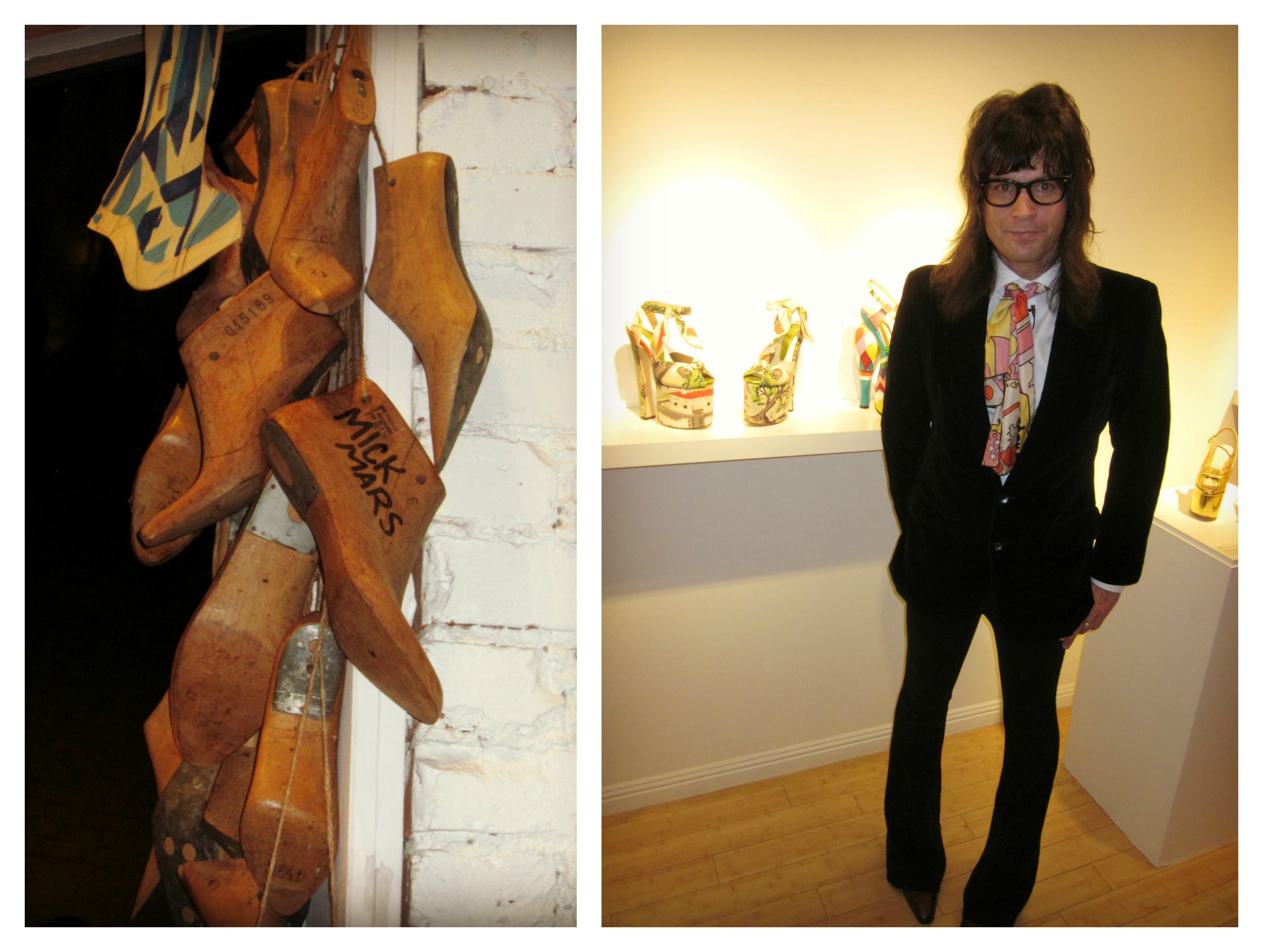 And I had to take a moment to pause in front of the shop to examine his tools of the trade. (Of course I had to wear my shoe print dress and killer heels for the event!) His shop looks like it's a trip into a time machine of the type of craftsmanship almost left to the history books. Brushing aside the current techniques of mass production to create shoes, Francis instead uses vintage tools and makes each shoe by hand.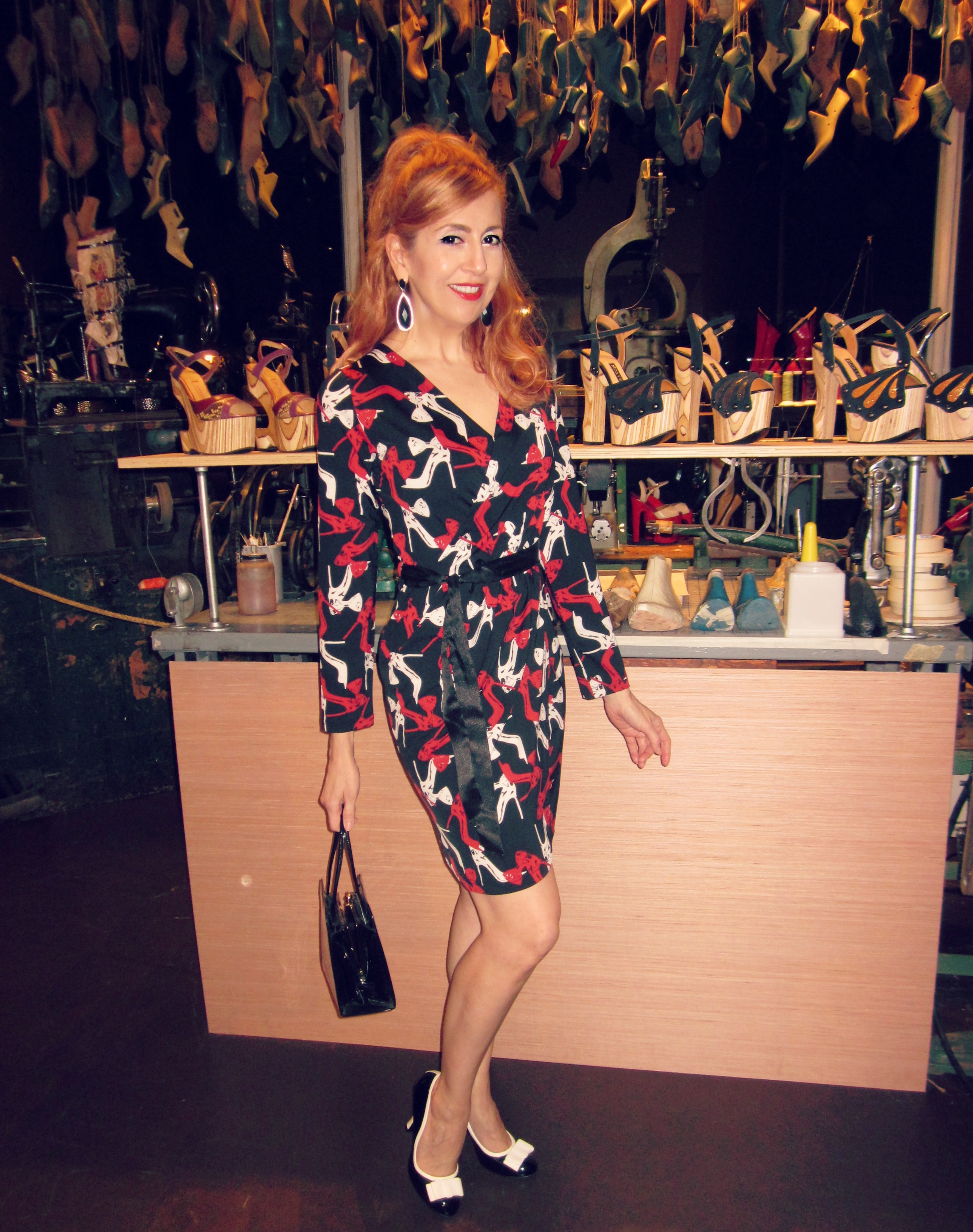 The results are clearly pieces made with love and passion for the art of the shoe.
Be sure to stop by and take a look at these masterful shoe creations and visit Francis in his shop there at the museum through the duration of the exhibit. Check the CAFAM website for his schedule.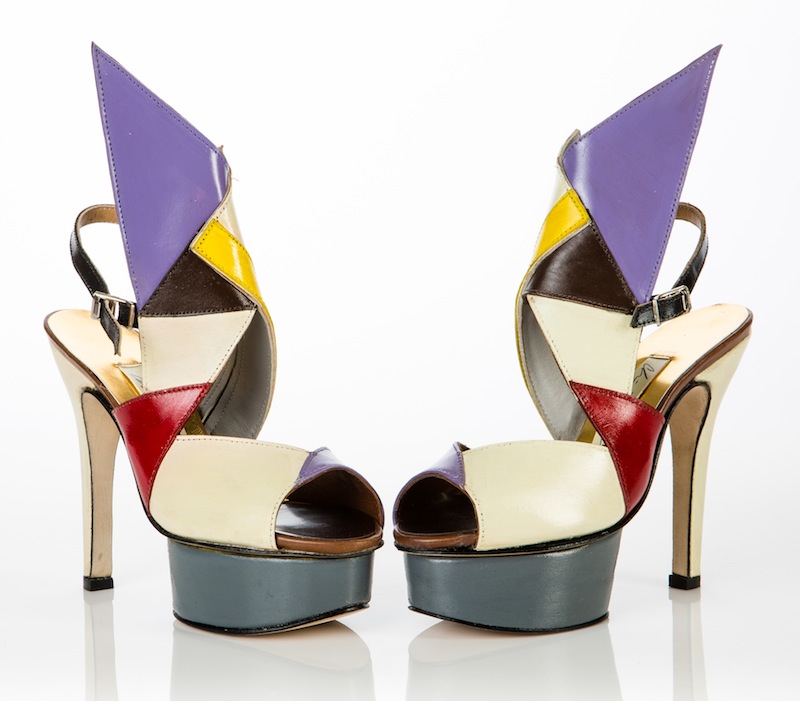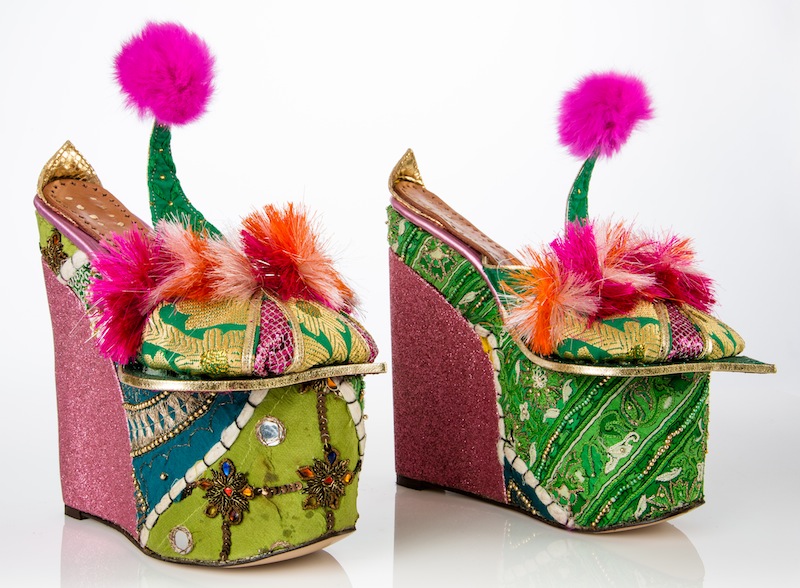 The Craft & Folk Art Museum (CAFAM) presents Chris Francis: Shoe Designer through September 6, 5814 Wilshire Blvd, Los Angeles, CA Admission $7.
Kastle
Shoe photos courtesy of Chris Francis/CAFAM
CAFAM
,
Chris Francis
,
events
,
fahion
,
Kastle Waserman
,
Los Angeles
,
museum exhibit
,
punk
,
shoe art
,
shoes
,
Stiletto City