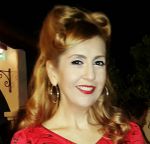 That moment when the love of your life pulls out a ring and you say "yes" can mark the beginning of the monumental journey known as "Wedding Dress Shopping."
Putting together your wedding dress look can be one of the most joyful and daunting experiences in life. So many pretty dresses, so much money! I love vintage style but I didn't really know how to create a vintage-inspired wedding dress look. It took trying a few different styles to finally find what works. Here's how I did it.
Trying on Wedding Dresses
Like most brides, when I first started wedding dress shopping, I went straight for the big, frothy traditional dresses. I tried on a few, but soon found there was a lot of cookie-cutter styling going on – all the lace, beading, the sash belt with little rhinestone appliqué. Those were all fine and good, but they weren't really me.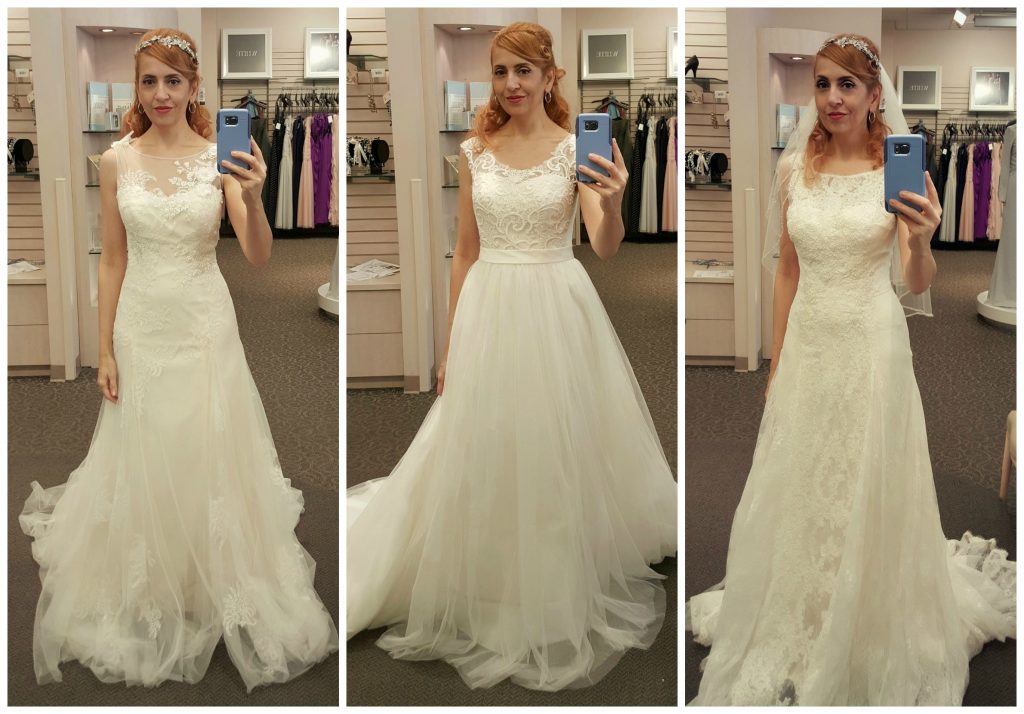 Plus, I just couldn't wrap my head around spending thousands of dollars for a dress I would only wear for a few hours. I knew I wanted to create a vintage-inspired wedding dress look and I loved the simple elegance of Carolyn Bessette-Kennedy's wedding look. One day, while looking at one of my favorite vintage reproduction sites, Unique Vintage, I saw a dress that encompassed both, and at a price that was completely reasonable.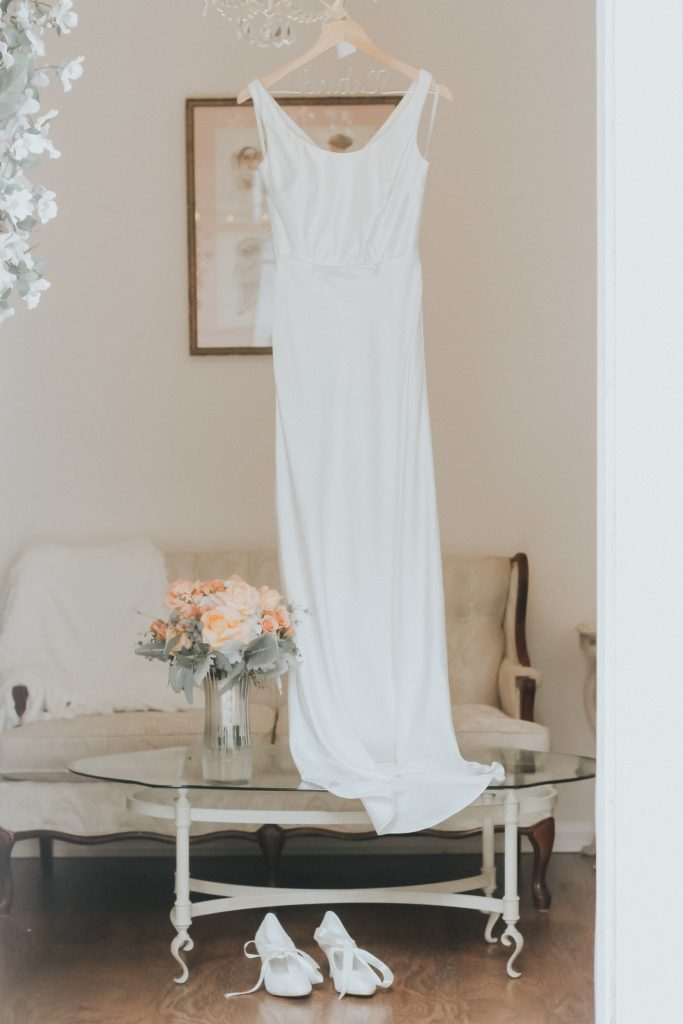 Finding a Vintage-Inspired Wedding Dress
I ordered the 1930s-inspired Ellington Deco Bias Cut Gown and to my amazement, the luxurious, curve hugging, gently lined, satin cut fit perfect. It had a modest train and the only alteration needed was to shorten the hem a tad in the front. It was so Jean Harlow! This was THE dress. It reminded me of something a jazzy chanteuse would wear during the between-the-wars era. Plus, it was comfortable and felt like me.
To add a bit of drama, I bought a chapel-length veil with blusher veil for extra oomph from Bells Veils on Etsy. The separate elbow-length blusher was perfect for the reception meal after the ceremony and photos so I wouldn't get tangled in the long veil all day.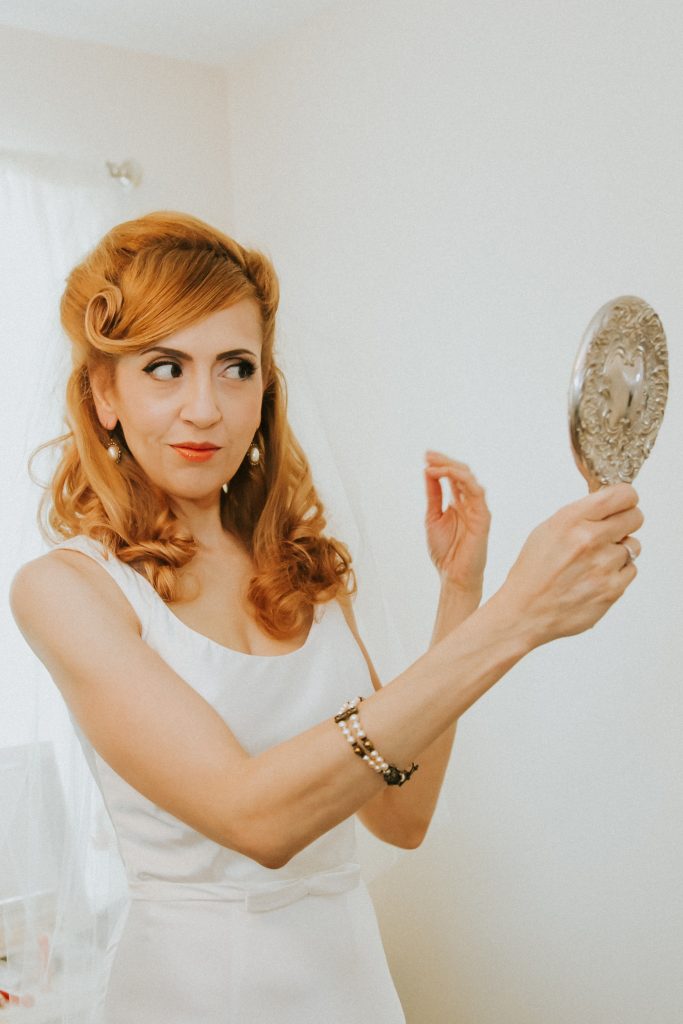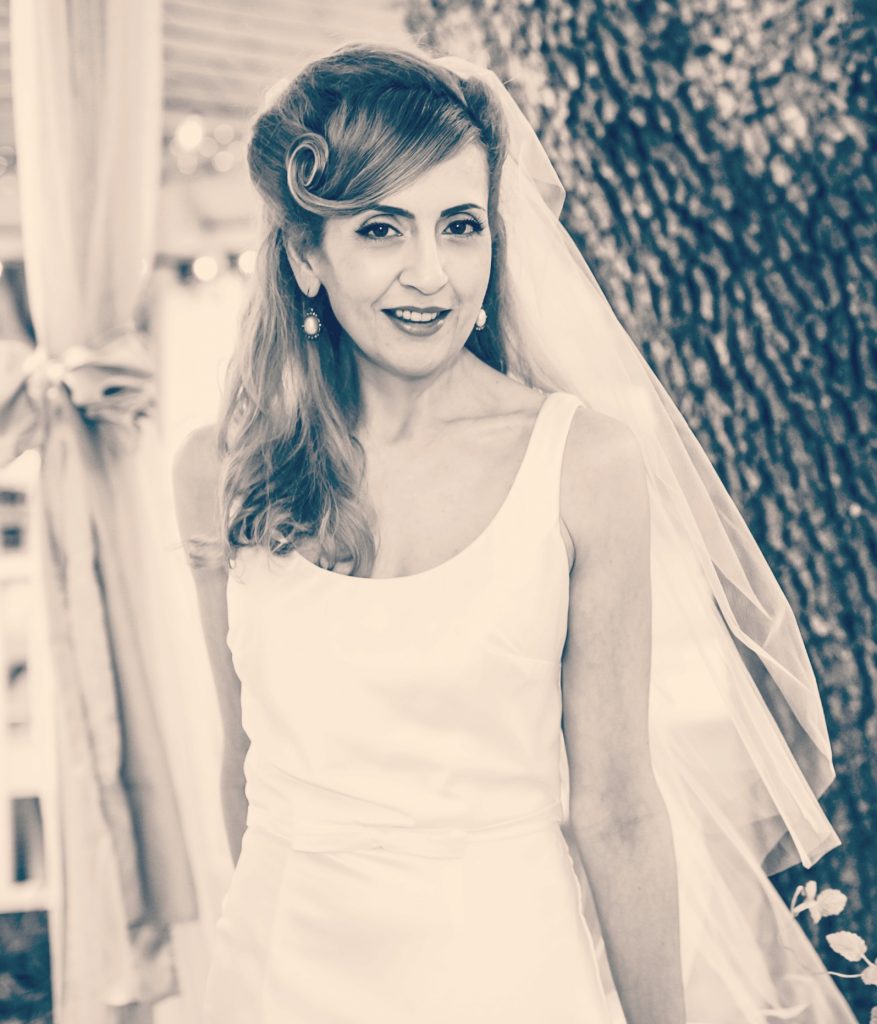 Finding Wedding Shoes
Now the shoes were a bit of a hunt. I knew I wanted a vintage meets Cinderella look. Since the dress was simple, the shoes could have a lot of detail. I opted for lace shoes since there wasn't any lace on my dress or veil. I searched Pinterest for hours and finally found the shoes I wanted but not a link to where to buy them. One day I took a chance and punched "ivory lace shoes" in Amazon, and behold, my dreams shoes appeared, the exact ones I saw on Pinterest!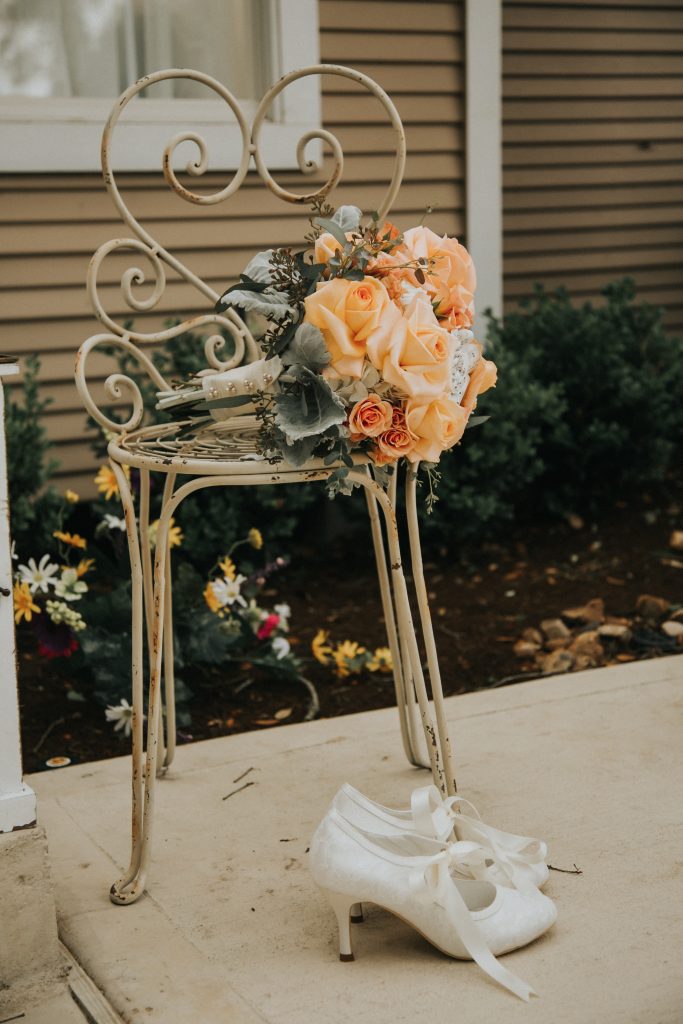 Finding Vintage-Inspired Wedding Jewelry
Next up, I searched Ebay for some vintage-style jewelry and found earrings with aged pearl and bronze detail and then found a bracelet with vintage-look pearls and bronze accents that matched, which went perfect with my ivory dress and veil.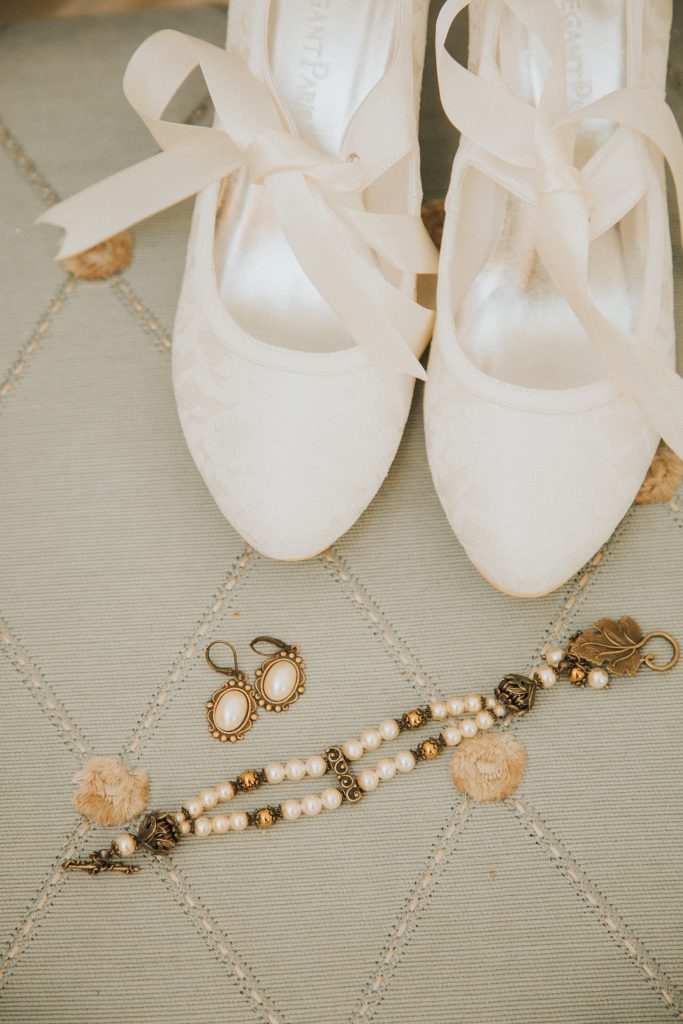 A Vintage-Inspired Wedding Reception Dress
My reception dress look was the perfect opportunity to go for a retro, swing, tea dress style, which I debated wearing for my wedding dress before deciding I wanted a long dress rather than short for the actual moment. But the reception party was perfect for a short dress. The brocade material was gorgeous and had the perfect vintage feel.  I added fullness to the retro hourglass shape with a fluffy petticoat and the big circle skirt provided a great wow factor on the spins of our first dance!
Don't forget your nails on your big day as everyone will want to look at the beautiful new ring on your hand! I highly recommend a gel manicure that will take you through all the preparations to the parties without a chip! As for my ring, my man did me right, surprising me with a vintage 1920's era engagement ring and we had the band custom-made in a vintage style with similar cut diamonds.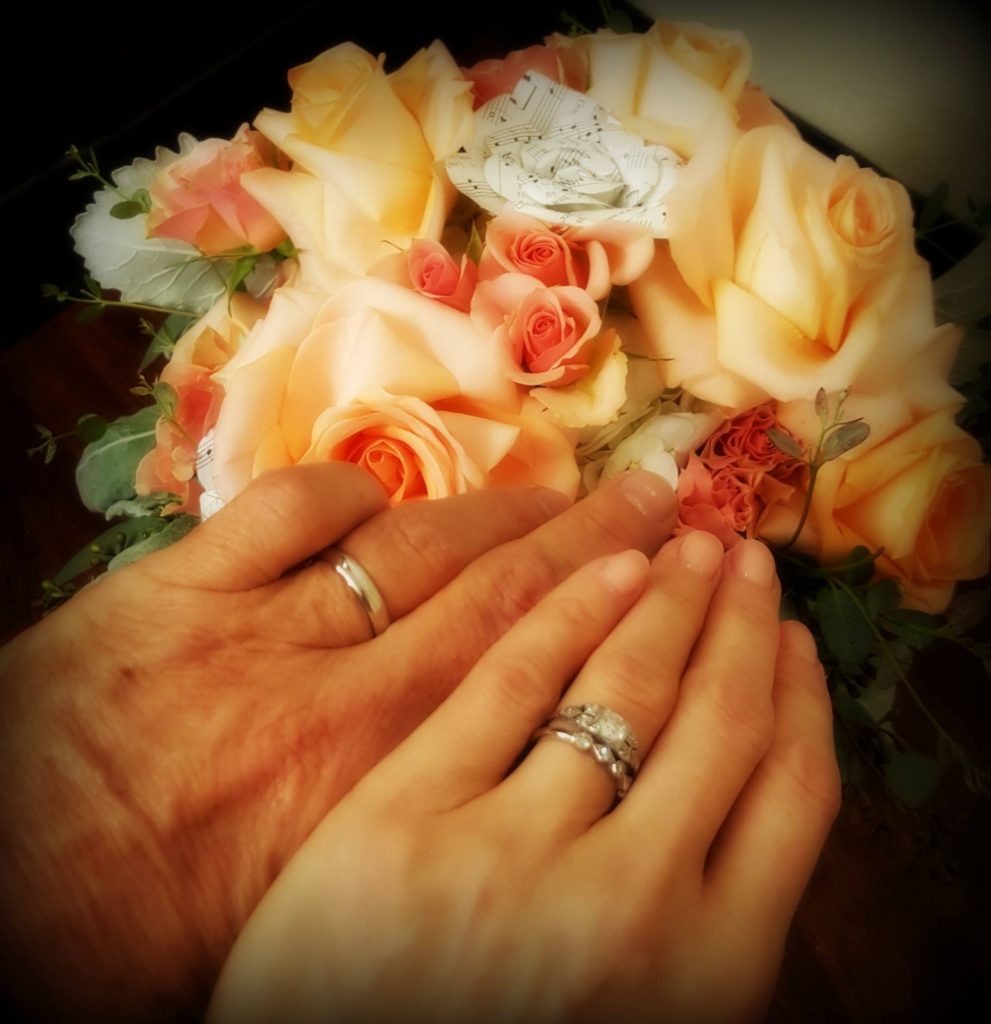 The Whole Vintage-Inspired Wedding Dress Look
Here is my full vintage-inspired wedding dress look and reception tea dress in all their glory. Wedding dress is from Unique Vintage, shoes from Amazon, jewelry from Ebay, and veil from Etsy. Reception dress is from Heart of Haute, petticoat and dance shoes from Amazon. Special thanks to my photographers Gina and Giorgio for capturing these images because I was so excited and nervous at our wedding events that I didn't take any photos of my own (which rarely happens!)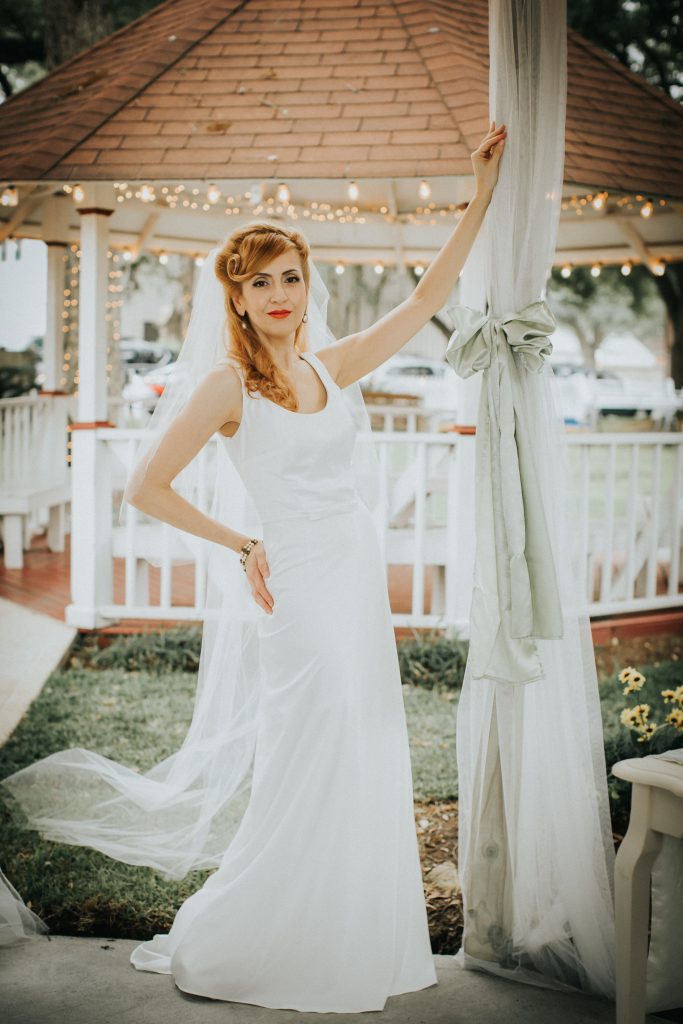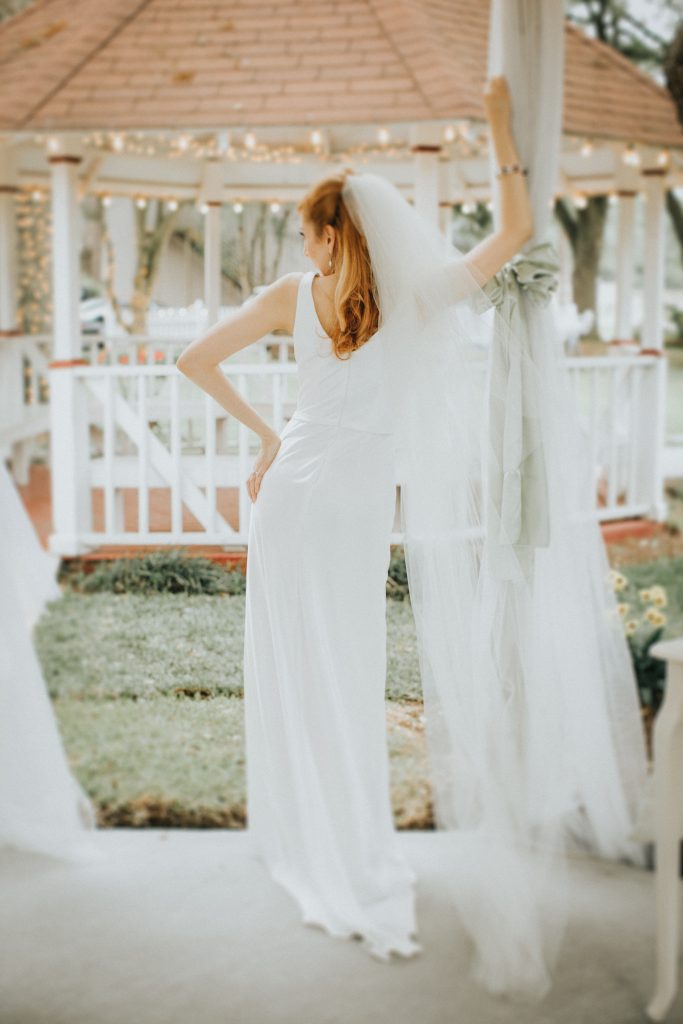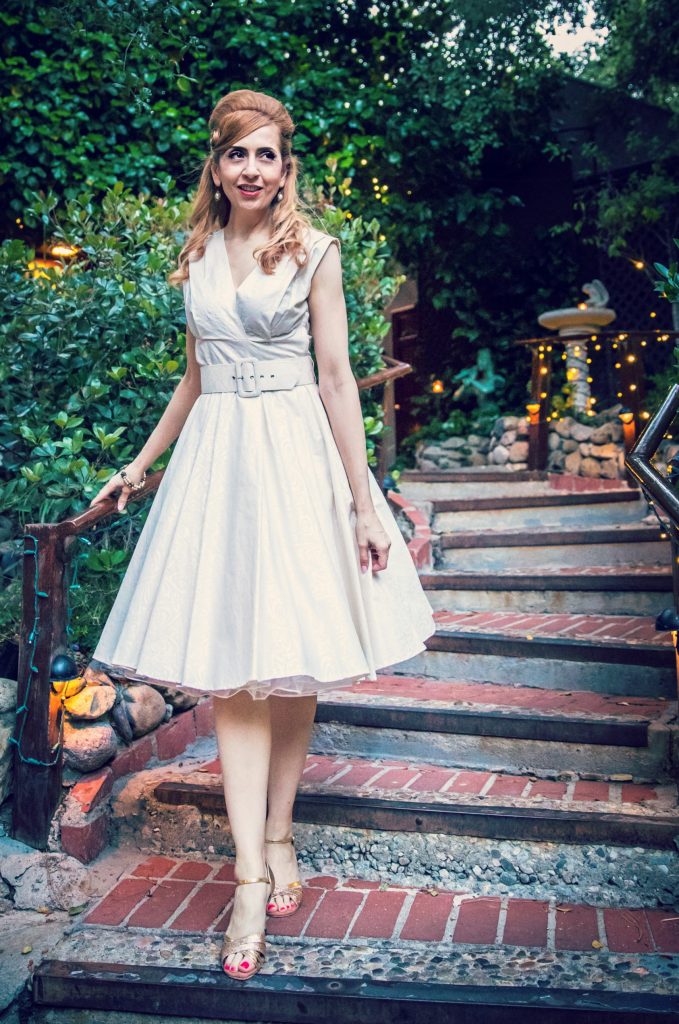 How to Get a Vintage Inspired Wedding Dress Look
If you want to go for a vintage-inspired wedding dress look, you're pretty much guaranteed to have built-in elegance and a unique style for your special day.
Plus, vintage reproduction shops are usually much more affordable than getting something from a bridal salon. Try Googling "vintage reproduction clothing" online and just put "white dress" in their search box and see what comes up. Many also feature special wedding dress sections on their homepage during peak wedding season from spring to mid summer.
Make sure your dress suits the style of your ceremony, the bigger the ceremony, probably the more dramatic dress you'll want. We had an intimate ceremony so my dress felt just right for the size of the room. And keep your personality in mind, such as classic, clean lines, billowing princess style or blinged out. For me, it was all about having a very simple and sleek silhouette. Don't be afraid to try variations of the "white dress," and look at everything from ivory to champagne or even your favorite color that isn't white at all!
Here's a gorgeous example from Unique Vintage of a 1930s reproduction dress with illusion neckline and golden, hand-worked, filigree detail.  The circle drape hemline with train is breathtaking and you'll want a short birdcage or elbow length veil as not to hide it. With so much detail on the dress you'll want to keep the shoes simple but you can add some complementary sparkle such as these gilded gold heels. Don't forget the accessories with some deco inspired hairpins and bracelet. Click the links to shop* this look!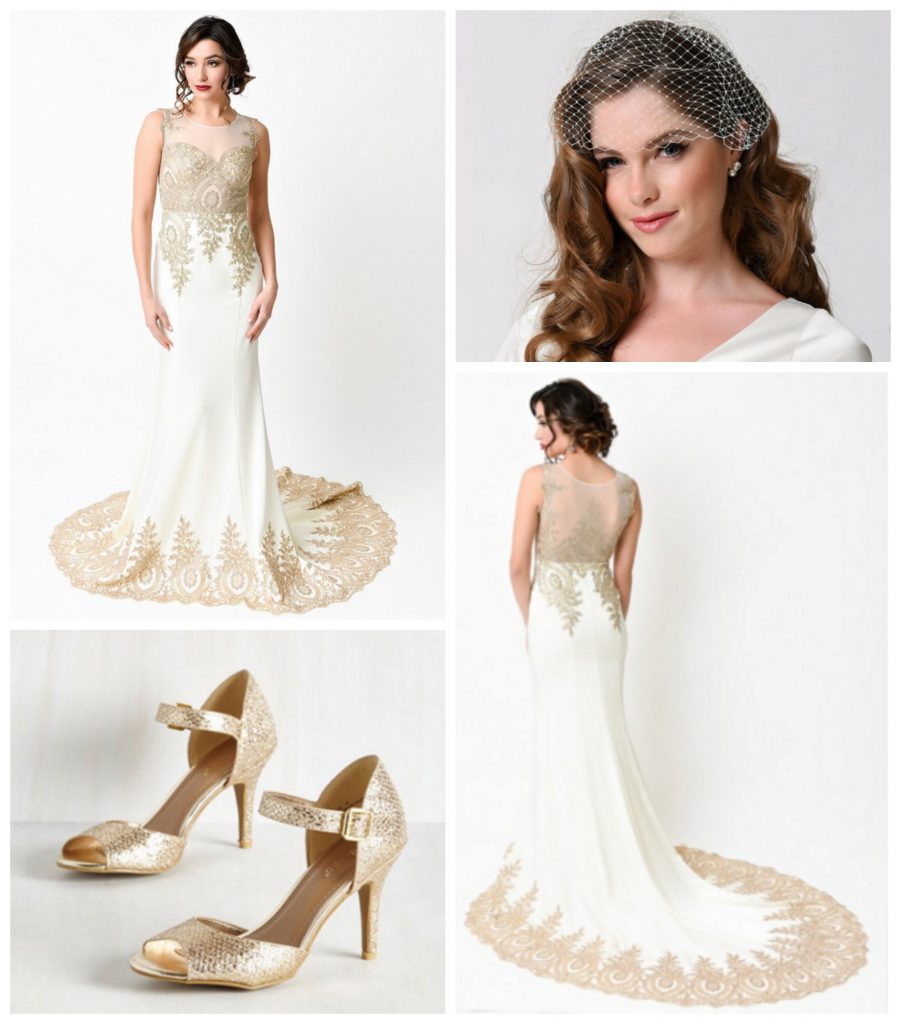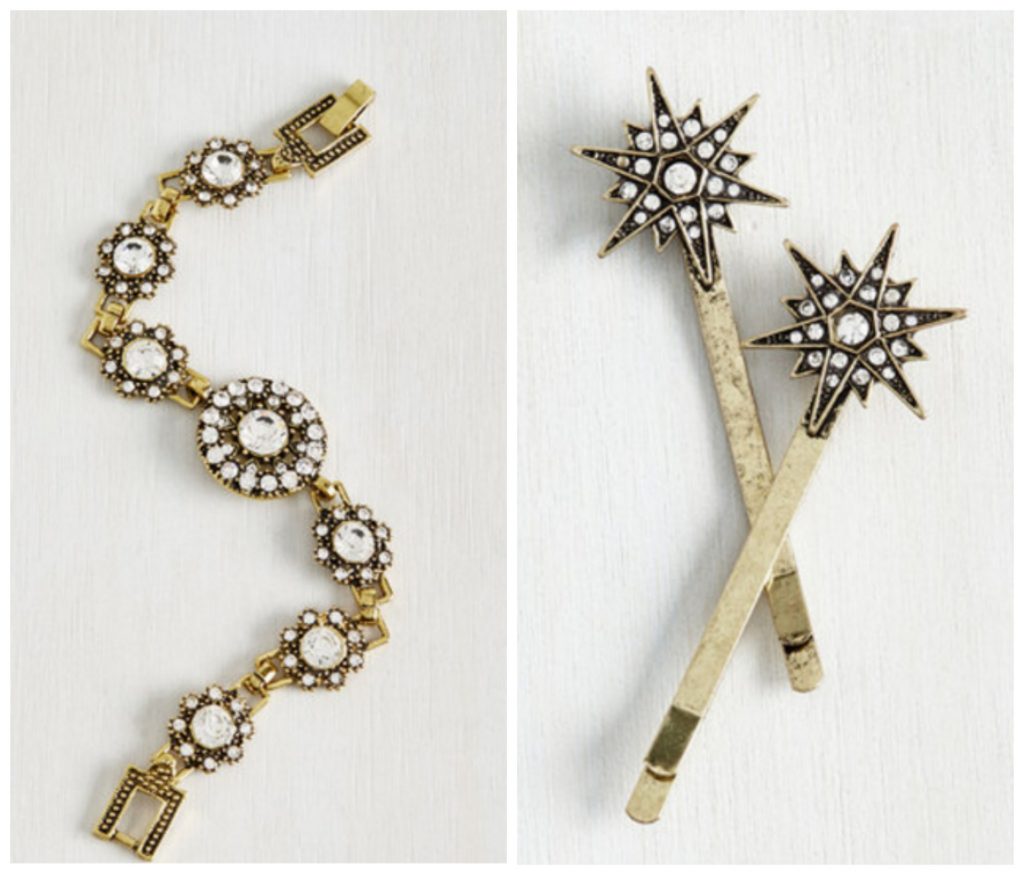 Just remember to make your dress and your ceremony  your own. You don't have to follow the rules and expectations – or spend a fortune to make your dream day a beautiful one. Now if you'll excuse me, I'm going to go live my happily ever after!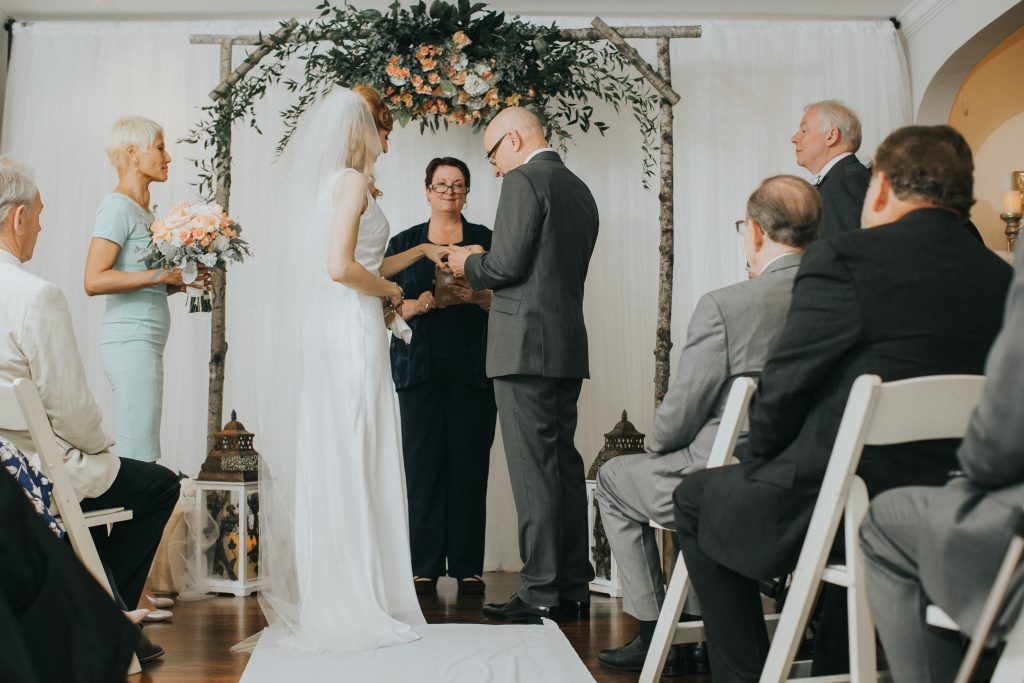 Wedding Dress, Accessories and Ceremony photos by Gina Schild Photography
Reception Dress photo by Giorgio Litt Photography
Ring photo by me
Flowers by Haute Flowers
I do!
Kastle

Tags:
Kastle Waserman
,
Vintage Wedding
,
Vintage-Inspired Wedding Dress
,
Wedding Dress
,
Wedding Fashion
,
Wedding Season