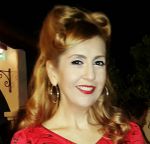 Vintage clothes have been a trend for so long they are clearly here to stay. There are those who wear them occasionally for an eclectic touch and those who consider vintage wear a lifestyle. No matter how you craft your look, good vintage shopping means going to a store that understands how to curate quality inventory and assist its customers in finding just the right piece. One store that's a must for vintage lovers in Los Angeles is Paper Moon Vintage. Founded by vintage lifestylist Nicole Loretta, you can expect to find retro garb for women and men that's been lovingly selected and in good shape from eras specifically within the 1900s-1950s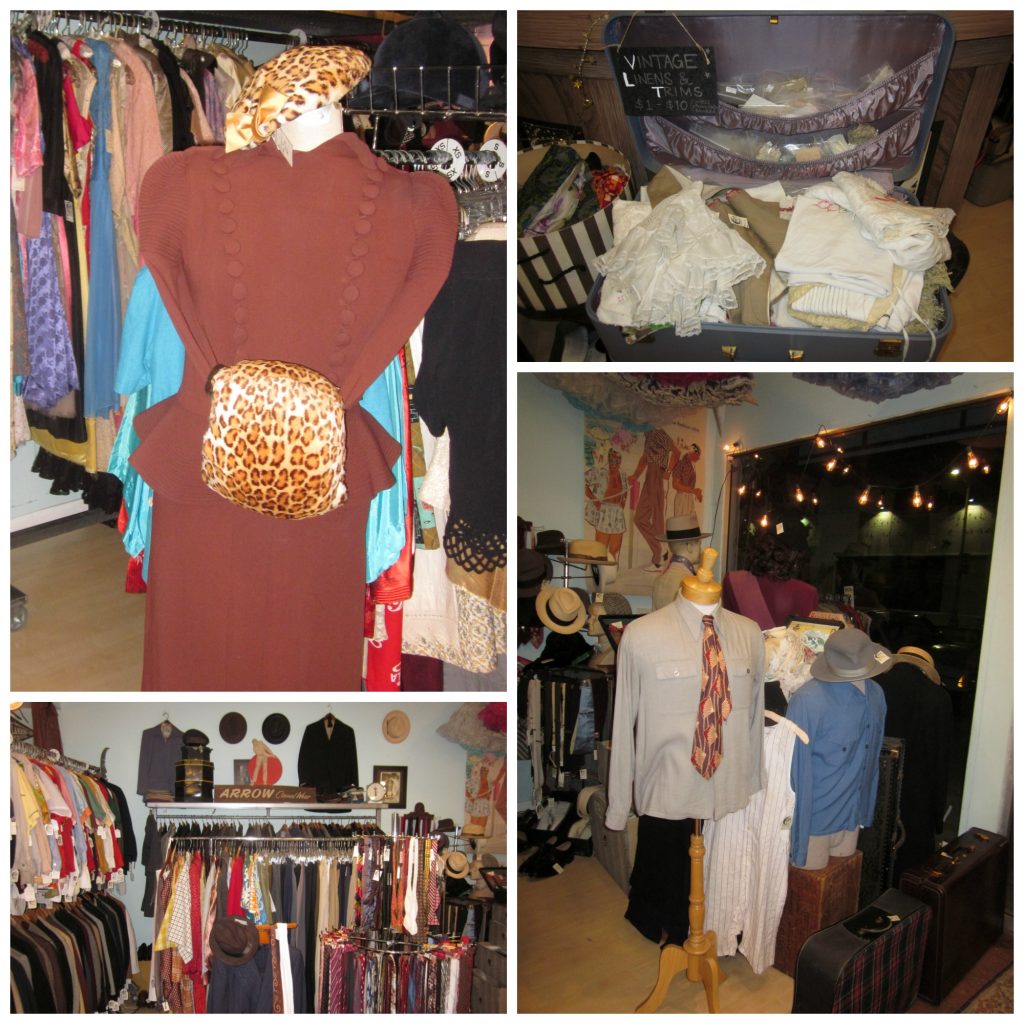 Just wander the many racks filled with gorgeous fabrics, amazing cuts and you'll see how Loretta's eye for unique and beautiful pieces has put together a store that's a pleasure to shop in. Loretta has been a longtime fixture on LA vintage scene and can always be seen in a fabulous outfit herself. She's also known as a photographer, capturing event photos of patrons on her handmade moon props everywhere from the Cicada Club to private weddings with her Paper Moon Vintage photo booth business.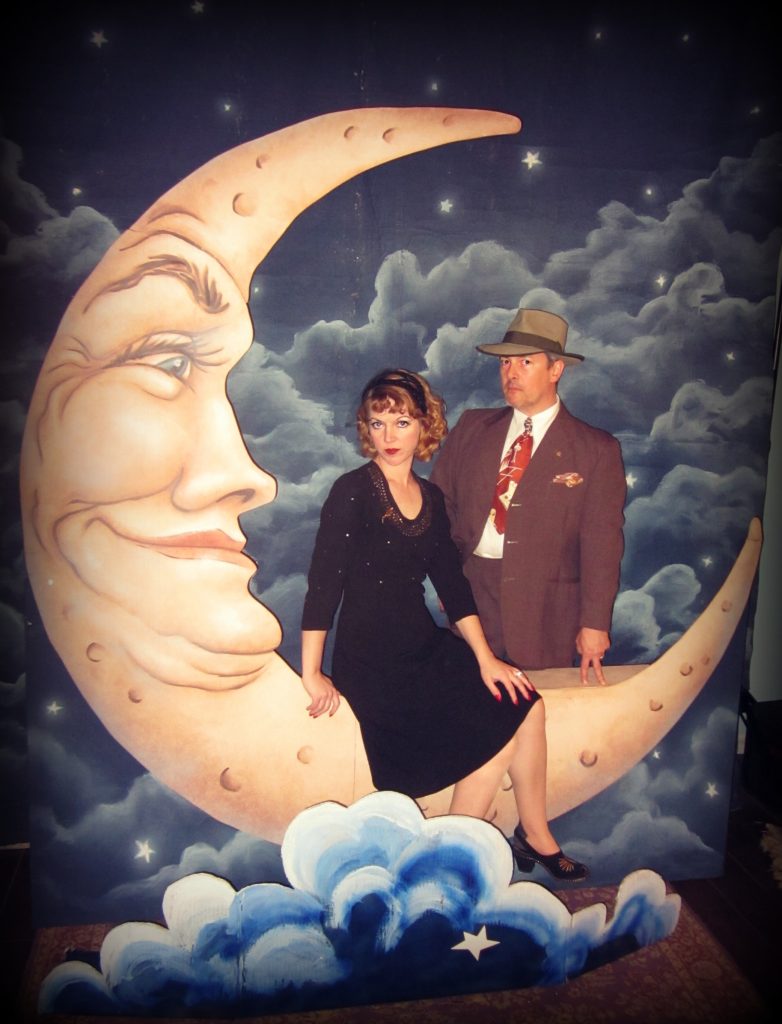 In keeping with the moon theme, Paper Moon Vintage also hosts full moon parties every month on the full moon (obviously!) They offer 25% off everything in the store and stay open until 9 p.m. with cocktails and snacks starting at 6 p.m. You can also have your photo taken on the custom-made moon backdrops by Nicole. Don't miss out on the fun – and deals! Follow their Facebook page for event announcements.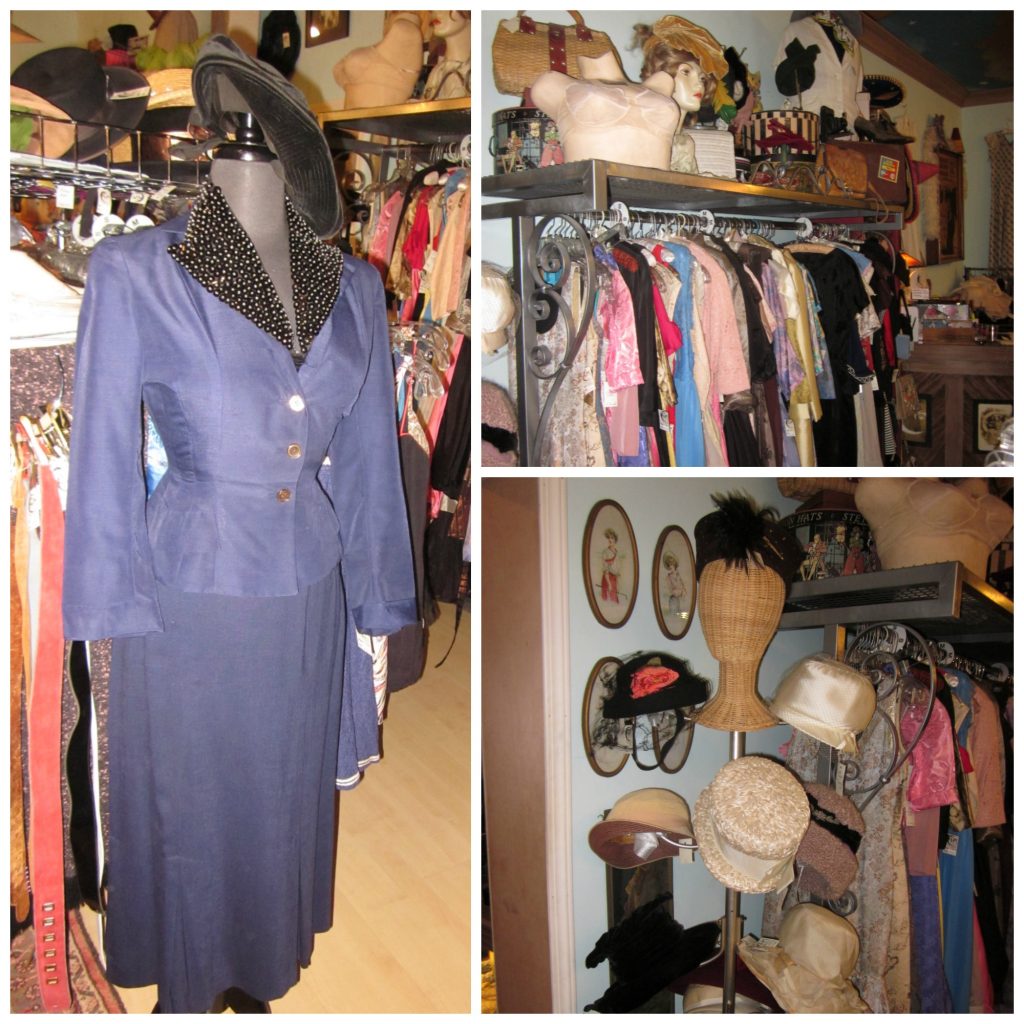 What I Wore
For a recent full moon party, I went noir-themed in a black vintage dress with pops of gold in my purse and shell shaped necklace with drop-bead, paired with leopard-print Mary Jane heels. And as always, you'll find me in the shoe section!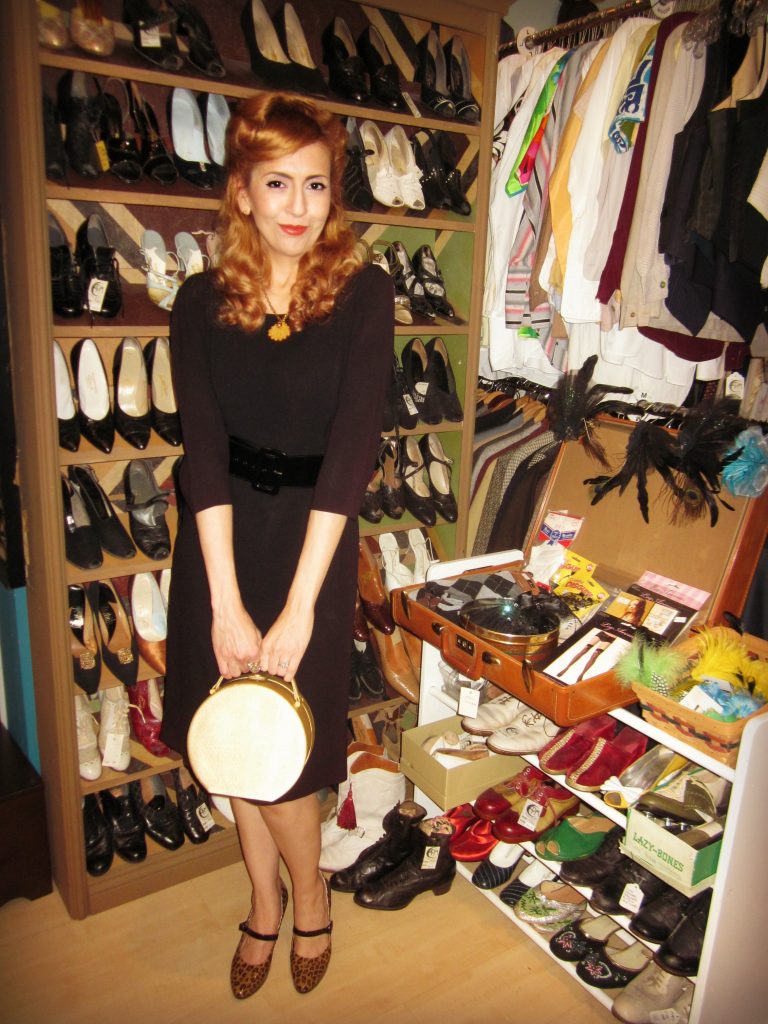 What to Wear for A Shopping Day
When vintage shopping, you'll want to express your vintage loving style. It makes it easy for the store owners to get a read on what you might like and can make recommendations. Also, keep in mind items that are easy to take on and off so you can try things on.
BONUS TIP: I personally hate side zips on vintage tops and dresses because I have to pull them over my head risking getting makeup on them and wrecking my hair. One solution, however, if you find a side zip vintage item you want to try on – bring a clean t-shirt with you. Put it on over your head, so it covers your face (you can peek out through the neck or armhole to see and breathe.) This will help prevent you from getting makeup on the item you're trying on and will usually keep your retro hairdo somewhat in place.
This cute pink, 1950s-style, peasant top has an elastic neckline (no buttons or zips to mess with!) Match it with a breezy flared skirt (you could even try on pencil skirts and pants underneath without having to take it off!) Wear some shoes that are easy to kick off to try clothes on – no buckles or ties – such as these sling-back sandals with pretty gold trim that plays off the pattern in the skirt. Just slip the back strap down and they're off! Don't forget to bring your shopping money in a cute bag, such at this retro telephone purse. Click the links to shop* this look!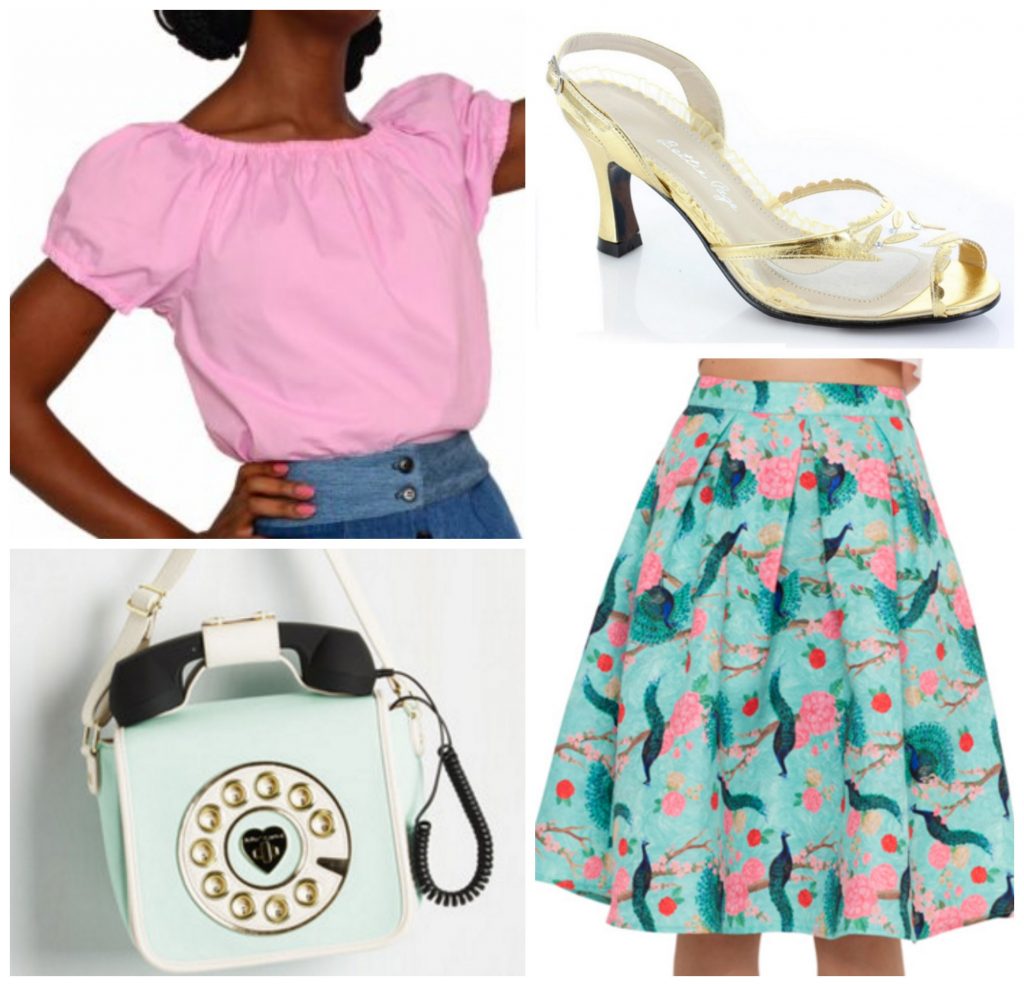 Paper Moon Vintage is located at 4516 Hollywood Blvd, Los Angeles, CA 90027
Happy shopping!
Kastle
Kastle Waserman
,
Vintage
,
vintage shopping in Los Angeles