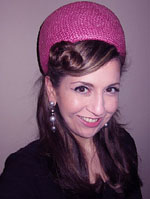 Are you a mod or a rocker? I have to admit I like a bit of both, but I do have a soft spot for the groovy smoothness of the mod squad, especially when it comes to their choice ride, the scooter.
The Petersen Automotive Museum is currently celebrating the scooter with an exhibit chronicling the history and I checked it out during a special event where they encouraged locals to bring their own to enter a contest for best thing on two wheels. Inside the museum were vintage scooters and modern scooters but I have to say, the parking lot was where the best looking scooters were hangin'. Local mods with tricked-out, multi-mirrored, checker and leopard trimmed hot wheels had the most personality. It was especially fun to see them all take off and ride over to Molly Malone's in a huge pack after the contest!

So where else would I be when the Mod Weekender came around, courtesy of Rich Sihilling of Bullet Club fame. Three action packed days of mod, mod, mod!  Friday night was for dancin' and while it wasn't super crowded, the music was great for some fancy footers who shook it with a backdrop of '60s imagery. DJ Jesse Trejo played such amazing stuff I have to get that setlist on my iPod!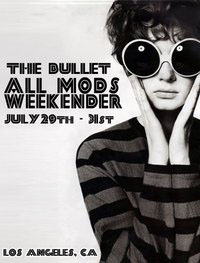 The next day's vintage fair gave modsters a chance to pull some new threads while the scooter run from Griffith Park wasn't exactly smooth sailing, filled with breakdowns, crashes and a run-in with the cops who couldn't quite figure out, "who are these stylish road warriors?"
Saturday night the place was packed with a full lineup of bands. I was diggin' the garage sonic sounds of the Swarm and the blue-eyed soul of the 20 Grand Club whose big sound blew the roof off the place. They were followed by the more punkish pop of the Question who closed the night with a little vocal help from Jerry Miller of the Untouchables.
Sunday was for recovering and those who could soothe their achin' dancin' feet to make it to the lunchtime BBQ and Santa Monica scooter run.
Click the link below to see the slideshow (shot in Lomography!):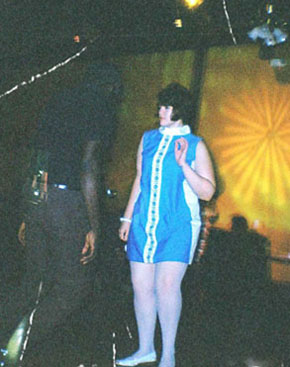 Mod Weekender Slideshow
Until next time…
What'cha Gonna Do About It?
K.
20 Grand Club
,
Bullet Club
,
DJ Jesse Trejo
,
MOD
,
Molly Malone
,
Petersen Automotive Museum
,
Scooters
,
the Question
,
the Swarm