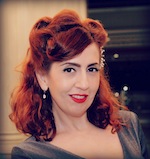 It's the end of November, time for me to think about and share with you some of the things I've been loving this month. Check out what's on my favorites list from fashion to beauty to food as we head into the holidays and take a moment to give thanks. Watch the video below and be sure to subscribe to my YouTube channel for more videos.
Where to check out and purchase* the items mentioned in this video:
Bandage skirt to wear over leggings
Punk Fashion Legging by Argentina designer Ona Saez
Eylure 65 Years Celebration Lashes
Trader Joe's Vanilla and Cinnamon Black Tea
Queenie the Cat is a cancer survivor. Two years in remission – yay!
Help curb animal cancers by donating to the Animal Cancer Foundation
Happy Thanksgiving everyone!
Be grateful,
Kastle
This video is not sponsored. All items were purchased by me.
See *disclosure
Queenie was adopted from a local animal shelter when she was 5 months old.
I am not affiliated with or sponsored by any advertisements shown below. They are placed by WordPress.
Tags:
Beauty
,
jeggings
,
leggings
,
november favorites
,
pajamas
,
snacks
,
Women's Fashion