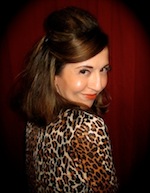 Those who know me know that I am a HUGE animal lover. I spoil my cat/ Stiletto City mascot, Lil' Queenie with toys, treats and many cozy beds to lounge in — she totally deserves it!  I had to do a double-take when I saw Poison lead singer Bret Michaels on a TV commercial for PetSmart talking about "pets that rock your world" and a collection that combines pet supplies and rock 'n' roll.
Michaels teamed up with PetSmart to create a collection of rockin' pet accessories for dogs, including a vinyl cowboy boot chew toy, bow ties, skull/ guitar print beds and Bret-style bandana do rags (your pet really has to be a good sport for those!). even a plush guitar they can wear or carry depending on the size of the dog (just long enough for a laugh and a photo before they tear it shreds I'm sure.)
[youtube http://www.youtube.com/watch?v=MAWNb6agJaM]
My favorite are the outfits – rocker hoodies, even  a rock t-shirt and pleather skirt outfit. I have a neighbor who dresses up her mini-dog for her walks – I can just see her snatching these up!
See the whole collection here
My only question – where's the Cats Rock collection? My Lil' Queenie would like a few rockin' mouse toys, a studded collar and flamed food bowl! Can you really say no to this face?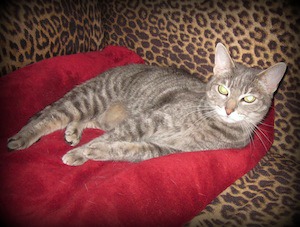 Pets really do ROCK!
Kastle
Bret Michaels
,
pet clothes
,
pet fashion
,
pet supplies
,
pet toys
,
Pets Rock
,
PetSmart
,
Poison