Ciao from Italy!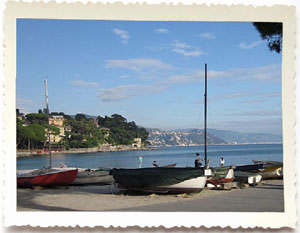 You might say I'm an "Italianophile." I fell in love with Italy on my first trip to Rome a few years ago, and again when I camped through Tuscany. So I was pretty sure I was destined for love again as we flew into Milan, grabbed a rental car and headed for the Riviera. There was a little rain on the way but by the time we hit the coast, the skies opened up and welcomed us to Santa Margherita where we checked into a cute little B&B, the Hotel Mediterraneo, and set out for the marina to walk along the crystal blue water and have some pasta. The next morning, feeling weary after little jet-lagged sleep, we decided to forgo our ambitious sightseeing plans in favor of lounging on our spacious deck with an amazing view of the Italian hillside spread out before our eyes. There is nothing like sipping cappuccino on a lounge chair, wrapped in a blanket, reading the Italian section of "Eat Pray Love" with a view of this amazing country to gaze out on between cat naps. La dolce vita indeed! We didn't think it could get any better than that – until we hit our next spot!
Cinque Terre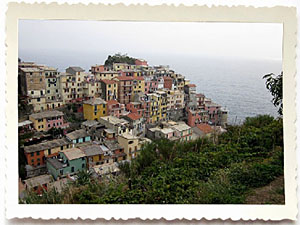 We drove over to Cinque Terre only to be greeted with a cheerful eyeful of pastel, jewel-tone buildings stacked along the hillsides toward the water. We booked an apartment in Riomaggiore, one of the five villages that put the cinque in Cinque Terre. Our little balcony gave us a bird's eye view of the neighborhood – mom & pop markets with fresh produce stands, bakeries filling the street with delizioso smells of sweet treats, and pizzerias stacked more types of pizza by the slice than I ever dreamed possible. We felt like instant residents as we took the opportunity to wash some clothes in the lavenderia and hang them on the clothesline outside our window. Riomaggiore was decidedly less touristy than the other towns – and we know this because we explored 4 out of the 5 – taking the gorgeously romantic Walk of Love, a scenic path along the water where people pen their expressions of affection on benches, walls, even plant leaves. I had a platter of scrumptious local seafood in Manarola then we took a walk up the vineyard path around the hills for even more breathtaking views of the village and the coastline. Our last day was rained out, putting a wrench in our sightseeing, but we were OK with staying in for a nap to get ready for the next place. However, we weren't sure if it could possibly get better than here. We were wrong!
Lake Como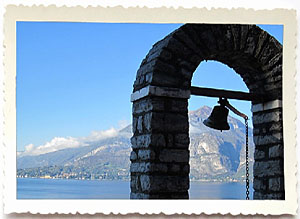 A drive through rainy Italy took us up to Lake Como where again, the skies cleared upon our arrival revealing the most stunning of all of our destinations thus far. We just about fainted at the view from our hilltop hotel Eremo Gaudio with the most perfect postcard vision of the lake, the mountains and the town of Veranna. We joked that our invite for tea at George Clooney's magnificent Lake Como estate must have been lost in the Italian mail (our schedule is still open George!)
But I'm pretty sure George's place had some competition here. We scrambled down the hill into town just in time for sunset and a Nutella pancake wrap as we watched the ducks quacking and frolicking on the water and ferry boats pulling into the dock. We were onboard one the next morning as the sun shined and the air was a crisp 65 degrees. We pulled into Bellagio, the most famous of the Italian lakeside towns and wondered around the gardens, along the water and the village, eating lunch and gelato. We couldn't believe the beauty here, everywhere you turned made a perfect photo op. I let my hair blow in the wind aboard the ferry boats as I gazed out over the mountain-lined lake and just let go. I could get used to this! It's so easy to fall in love with Italy over and over again.
Milan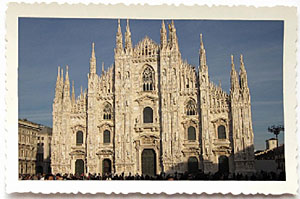 The next day we drove to Milan, which was like an adrenaline shot by comparison to the lake – fast-moving, crowded streets, crazy traffic and a sidewalk runway with stylish Italiano fashionistas shopping like there's no tomorrow. And you've just got to shop while you're here. It's designer capitol numero uno and fall fashions were in full swing. (See my previous blog report.) Total damage to my credit card: 2 sweater dresses, a faux fur hat, a pair of pin-striped knee-high socks, and I ogled over some black leather riding boots that I decided to wait on and get in the States because the Euros made it waaaay too expensive to get there.  Our day of sightseeing took us straight to the Duomo, a magnificent, ostentatious display of religious power-flexing that was gaudy and beautiful all at the same time. Made entirely of hand-carved marble, it took five hundred years to complete and all of our energy to make it up the several hundred steps to the top. We were rewarded with spectacular views of the city from dizzying heights.
We toured LaScala museum and watched a rehearsal in progress right on the stage of the gorgeous theatre. We walked through the Corso Venezia (fashion center of Milan) and looked at all the beautiful clothes by famous designers. I couldn't stop staring at all the people we passed by. They all looked like they stepped right out of the fashion magazines. Boy that really sets the bar when you're getting dressed to go out here! I especially enjoyed the edgy looks from the students hanging outside the fashion school Istituto di Moda Burgo. And I have to say I had my best pasta dinner of the trip at the Ristorante Romani a classic, elegant Milanese restaurant.
With that, we said goodbye to Italy and came back to reality, though I'm ready to plan my next trip there. Southern Italy, watch out!
See a slideshow of photos from my trip here: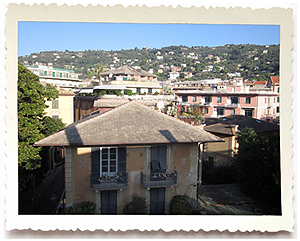 Ciao!
Kastle
Tags:
Cinema Italian Style
,
Istituto Italiano di Cultura
,
Italy
,
La Dolce Vita
,
Milan
,
Travel