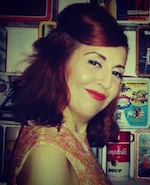 You may have noticed, bangs are the "it" hairstyle lately. It became official when First Lady Michelle Obama stepped out a couple of days before her husband's inauguration sporting a rockin', heavy bang hairstyle. I love bangs, but unfortunately, my wavy, thick hair simply won't let me have them. So I've had to learn how to create faux bangs.
Trust me, I've tried to make my hair do bangs. I usually end up with clumps of hair curling into an unsightly claw-like disaster on my forehead and no amount of setting gel and straightening iron can give me natural, wispy bangs.
If you feel my pain but would also like to have bangs, there's also a new trend of just clipping in some extensions. Now we're talkin'! I found this video from beauty guru Michelle Phan that teaches you how to make your own with some items from the beauty supply and super glue!
You can also buy clip-in bangs at most hair supply stores. Some are quite expensive. I found some nice affordable ones by Jessica Simpson/Ken Paves on Amazon.If you're ready to make the cut and get some real bangs, check out this article on how to pick the right bangs for your face shape HERE.
For my retro gals, you can do what I do, and roll ya some "Faux Bettie Bangs," as in pin-up model, Bettie Page.
For more bang looks, check out the Stiletto City Pinterest board "Bang Bangs!"
Bang your own drum,
Kastle
bang hairstyles
,
bangs
,
beauty blog
,
Bettie Page bangs. rockabilly bangs
,
clip on bangs
,
LA Beauty Blog
,
Michelle Obama bangs
,
Michelle Phan