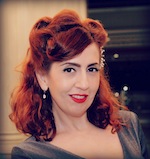 Finding the perfect makeup foundation is always a challenge. It has to be right for your skin tone, your skin type and perform in the way you want – giving you the desired amount of coverage and lasting through a long work day or dancing the night away.
And now, with Facebook, Instagram and YouTube, we all have cameras pointed at us all the time, so we need to be camera-ready just like a model or actress. The current focus is on HD Makeup – high definition beauty products, so the camera doesn't pick up that you're wearing makeup.
With so many expectations in one little bottle, how to do you know which ones work? I'm here to share the ones that work for me. Check out my video review of the best makeup foundations:
Products mentioned and where to buy them:
Stila Stay All Day® Foundation & Concealer* 
Stila Stay All Day 10-in-1 HD Beauty Balm (w/o SPF)* 
Clinique SuperBalanced Makeup* 
Lancôme RÉnergie Lift Makeup SPF 20* 
Let me know what foundations work for you in the comments below!
Picture perfect,
Kastle
This video is not sponsored. Products were purchased by me. Links above are affiliate links.*
* Disclosure
I am not affiliated with or sponsored by any advertisements shown below. They are placed by WordPress.
Tags:
Beauty
,
camera ready makeup
,
Clinique SuperBalance Makeup
,
Cosmetics
,
CoverGirl AquaSmooth Makeup
,
favorite brands
,
foundation
,
HD makeup
,
how to be camera ready
,
how to get an HD look
,
Lancome Renergie Makeup
,
Make Up Forever Mat Velvet
,
Makeup
,
matte foundation
,
Matte makeup
,
Pinup Makeup
,
Stila Stay All Day Foundation
,
video
,
YouTube