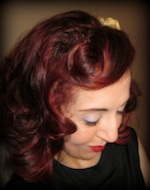 Who hasn't dreamt of being a glamorous secret agent like James Bond or a sassy, leather-clad high kicker like Emma Peel? Well, leave it to Tiki Oasis, the ultimate paradise weekend to come up with a theme of Exotic Espionage and Polynesian Pop to let everyone live the life of a double agent for a few days.
For those who aren't familiar with Tiki Oasis – it's become the largest gathering of Tiki Culture lovers in the world. Taking place annually in San Diego, it brings together those obsessed with the idea of escaping to the Polynesian Islands where Tiki crafts are sold in little huts, fruity drinks flow and great music plays all day long as the ocean gently kisses the shoreline. Born out of the Tiki inspiration that started in the '30s, Tiki-mania really became a pop culture phenomenon in the '60s with the Tiki Bar craze, and the love for it is alive and well in this rather rock 'n' roll subculture. Tiki Oasis was created by Otto von Stroheim and his wife Baby Doe and has grown bigger each year, combining the Tiki concept with fun themes, while always staying within the retro period that is true to the dawn of the original scene. Read more about Tiki Oasis in my article HERE.
This year, we couldn't resist the chance to groove it up with inspiration from '60s spy movies and classic good guy/bad guy TV shows. I put together our own "secret agent documentation" with FBI badges and "confidential folders" filled with maps and schedules.
We arrived Saturday morning to find the event in full swing since Thursday evening. Every year features incredible bands, burlesque dancers, vendors selling hard-to-find Tiki gear, symposiums on Tiki history, and vintage clothing, even something for Tiny Tiki Tots so hipster parents can bring the kids for a  family getaway. I loved checking out the Spy Briefcase Contest display – people really packed creatively for this trip – wink, wink!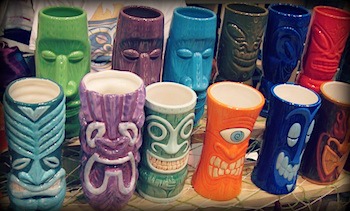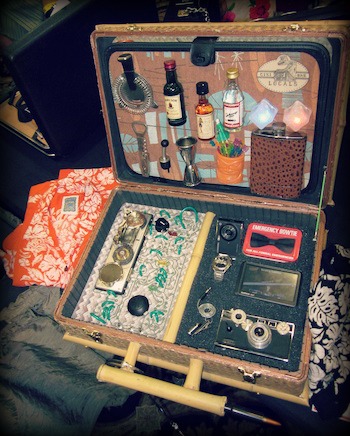 The pool was the place to be for people watching as pin-up girls and Hawaiian shirt-clad boys sunbathed and frolicked in the water while amazing DJs including Lee Joseph, Howie Pyro, Jack Fetterman, Andrew Sandoval, Strike Lee, Java, Erik Musick, Tothar, DJ Cyrano, Don Nelson, DJ Gaylord, Xerox, Marty Lush, Joe Banks, Agent Lotus, Switched On Audrey, Tiki Tena & Jeff Big Tiki Dude and DJ Patrick spun all day long everything from mod to soul to obscure lounge-otica to '60s spy movie soundtracks. You never knew when an impromptu go-go dance-along or in our case, a giant surfing Tiki head could be spotted in the crowd. We danced along the diner balcony overlooking all the fun.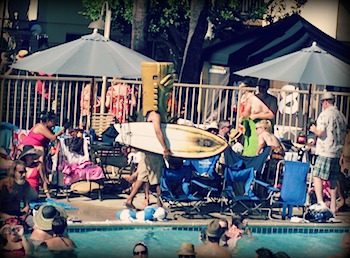 When night fell, we changed into our "Bond Girl" outfits and had a sushi dinner with our pals Dave and Sabino from Clever Vintage Clothing (where I bought this fabulous dress by the way!)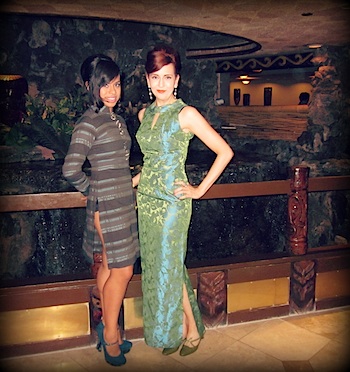 One of the many highlights of the event was the headliner band, the Untouchables – with their mod '60s sounds and hits "I Spy (for the F.B.I.)" and "Secret Agent 00 Soul," they were a perfect fit. We loved seeing their fans parking their multi-mirrored mod scooters outside alongside the hot rods of the Tiki Car Show.
We proceeded to shimmy and shake our hips off to their set, which they did after coming from the Sunset Strip Music Festival just hours prior (what troopers!) It was also fun to see the go-go dancers on each side of the stage busting out some classic '60s hullabaloo and sexy ska moves.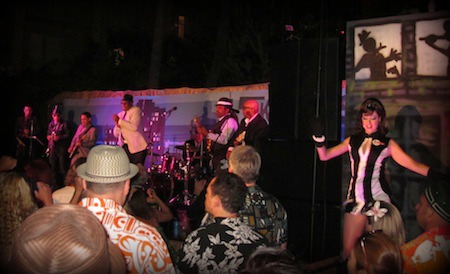 After that, it was time to hit the room parties. We followed the crowds going up and down in the elevators and from room to room throughout the hotel (thank goodness all the guests are there for the event!) Each room had been transformed to different themes. We had a few dances in Tiki Hell – a red lit room with a disco ball playing punk and underground pop.  Then we made our way over to drinks in a burlesque room, then to catch the Love Me Nots tearing it up in another room.
Our little convoy of partiers also made a slight detour into a room of a hotel guest who made the mistake of opening his door at just the right moment with his AC blasting and we all bee-lined in to take in the cool air on this very hot and sticky night. Boy was he surprised when his room became an unplanned party of 12!
http://youtu.be/Jz6ctND8kBo
On Sunday morning, we had the great pleasure of running into The Untouchables and joined them for brunch. They were quite excited about being a part of this lively and colorful scene – don't be surprised if you see them back next year as patrons!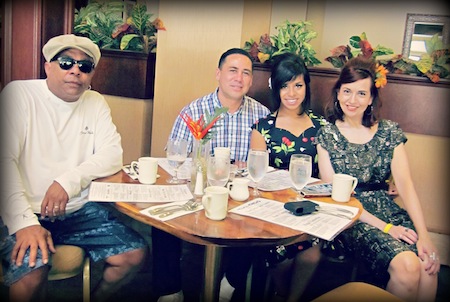 Afterward, we made the rounds to the vendors to do some last minute shopping and photo-taking and then into the screening of "Burlesque Assassins," a film which follows the story of characters, Johnny Valentine and Katarina Molotov, who recruit a team of sultry burlesque vixens to help complete their mission of tracking down the elusive "Nazi Atomic Death Ray." The film was written and directed by Jonathan Joffe.
The intermission featured two well known burlesque beauties, Kellita and Kitten de Ville who literally "took it off!" Kitten even daring into the crowd for some assistance with stocking removal and unzipping!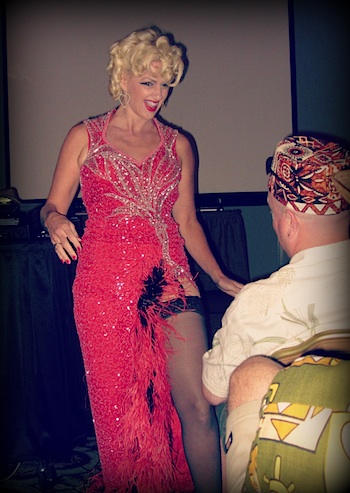 And with that, it was time for hugs and goodbyes to our friends. I wish we could have crammed more in – so much to do so little time – until next year! My new little dashboard hula girl shook us back to reality in Los Angeles.
Thanks so much to everyone at Tiki Oasis, especially Otto and Baby Doe von Stroheim and Lee Joseph for a groovilicious time even Bond would be proud of.
See all the photos from the weekend by clicking the image below: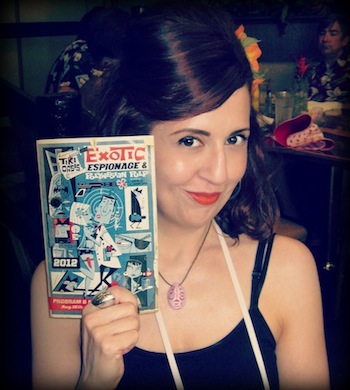 Mission complete!
Kastle
Baby Doe von Stroheim
,
burlesque
,
Burlesque Assassins
,
Kellita
,
Kitten de Ville
,
Lee Joseph
,
Otto von Stroheim
,
Tiki culture
,
Tiki Oasis
,
Untouchables