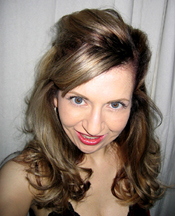 I love award shows, it's my guilty pleasure to sit and watch the parade of fashions and, as a regular movie-goer, cheer on my favorites.
I've been lucky enough to have been to a few shows. As an entertainment reporter for the Los Angeles Times a few years back, I've worked several red carpets and backstage press rooms and while it's not as glamorous as it seems (spending hours in the hot sun waiting for the stars to arrive) it is always fun to meet those you admire, see what they look like up close, and get as dressed up as they do –  by now you know I love to strap on a good pair of heels!
It is however, much nicer to watch at home, without being jostled by fellow journalists and paparazzi, and I simply must chime in on my favorites for this year's Golden Globes…
While I did like the Social Network very much, I'm hoping the King's Speech takes the Oscar because I enjoyed it more and I really thought Geoffrey Rush should've taken best supporting role – he is great in everything he does. On Natalie Portman for Black Swan, yes, she displayed good acting, being a convincing ballerina isn't easy. But I wasn't wild about the film, it just wasn't a likeable character. I was really happy to see Glee win, I've become a big fan of that show for its clever wit and honest writing – best acceptance speech of the night definitely goes to Chris Colfer!
[youtube=http://www.youtube.com/watch?v=4qDf1b1CLJo]
But enough about that – My picks for best dressed:
Catherine Zita Jones – always elegant, she looked like queen of the ball in a emerald brocade gown and the best accessory of the night, hubby Michael Douglas in remission.
Scarlett Johansson – her upswept whoosh of a hairdo with diamond-encrusted clips was a stunning and dramatic top for a delicate peachy, vintage-inspired gown.
Olivia Wilde – this sparkly number was an eye-catcher and perfect fit. I loved that it was chocolate brown, the warm color really made it pop.
January Jones – I like that she takes risks, especially this bright red, cut-out stunner, a far cry from her prime '50s housewife character, Betty Draper.
Milla Jovovich – striking in an icy silver mermaid gown, understated makeup, and side swept locks.
Worst dressed:
Helena Bonham Carter – no surprise here. As a former goth girl, I usually love her quirky, dark style but this was just the look of a mad woman!
Sandra Bullock – loved her new shaggy rocker hairdo but it was too heavy atop a pale, sparkly gown.
Christina Aguilera – is it me or she is bigger than usual? This fitted lacy number doesn't help, making her look stuffed-in and bloated.
Another one for the fashion files,
K.
Chris Colfer
,
Christina Aguilera
,
Golden Globe Award
,
Golden Globes
,
Helena Bonham Carter
,
January Jones
,
Milla Jovovich
,
Natalie Portman
,
Olivia Wilde
,
Sandra Bullock
,
Scarlett Johansson