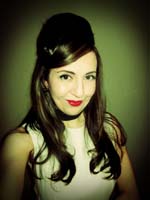 Creating a retro look is not just about finding a great dress in your favorite vintage store, it's also about having the right hair and makeup.  And that means studying up on styles of the past because they vary with each decade. Should your hair have finger waves, victory rolls or be teased up big? Should lips be red or neutral? And what about that eyebrow arch? Nobody has a better handle on historical looks than Bésame Cosmetics and that's validated by the fact that most of the vintage stores in town carry the line.  From the packaging to the colors to the application, Bésame has been giving aspiring pinup girls an authentic retro experience since 2004. Each item is like a little piece of jewelry – lipsticks in ornate metal bullet casings (Red Velvet is my favorite!) and equally pretty refillable powder compacts.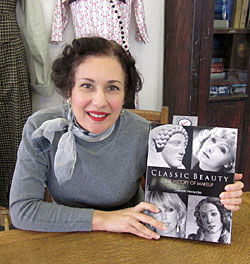 So who better to write the book on makeup than Bésame founder Gabriela Hernandez? She recently released, "Classic Beauty: The History of Makeup," a sleek, substantial  book that explores the varying definitions of what's been considered "beautiful," through the years, including the color palettes that defined different eras and some amazing contraptions such as the "Hollywood Lift" skin lift bands (1964) and the "Lip Stencil" (1938) that women have used to create a desired look.
I got a chance to speak with Gabriela when I went to her book signing at ReVamp Vintage. She told me it took a few years to put together this chronicle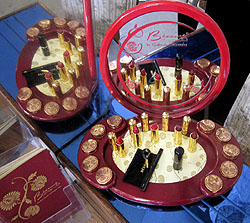 of cosmetics, that by the way, makes a fabulous coffee table conversation piece!  She pointed out how the little details were lovingly researched, such as the history of the mascara spiral brush applicator that was invented and patented in 1939 only to become a staple of the cosmetics industry in the late 1950s after the originator's patent expired.
Gabriella was a joy to speak with, it's clear how much she loves  makeup and creating authentic looks based on some serious research. So pickup up "Classic Beauty," it's a great read for those who love retro looks as well as professional cosmologists and makeup lovers in general.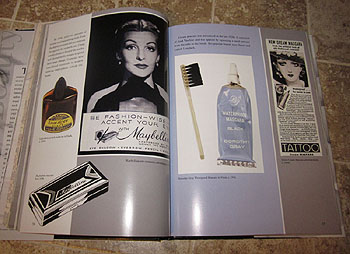 And now if you'll excuse me, I need to go powder my nose,
Kastle
Products mentioned in this blog were purchased by the author.  See Disclosure.
Beauty
,
Bésame
,
Cosmetics
,
Gabriela Hernandez
,
retro beauty
,
retro makeup
,
vintage looks