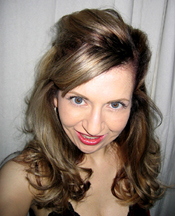 It's a new year, a time to start fresh, recover from the holiday madness, and make resolutions. One of mine for this year is to take better care of my skin. I found a great place to conquer this at a new, all-organic spa in Los Feliz. Heaven Skin Spa was opened by two sisters, Suchana and Tanawan, who both perfected their skills working at other spas around town. This intimate space is focused just on treatment with two rooms – one for the face and one for the body. Their prices are extremely reasonable, which makes it affordable to schedule on a regular basis (be sure to check out their special deals!)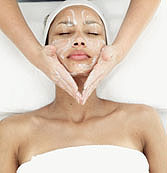 Their services include facials, massage and waxing. I go for the facials, which are so relaxing I usually fall asleep for part of it – I swear Suchana has magic hands! They will examine your skin to determine the best treatment to do at that moment. The products they use are all natural from the Éminence Handmade Organic Skin Care of Hungary line and everything smells delicious. Every time I walk out of there, my skin is glowing, not just for hours, for days. Heaven really is a good name for this place!
Keeping up your looks also requires a good hair stylist. When you find one you like, you'll stick with them for years and I found Elizabeth at Ellouise Salon in Pasadena after another salon's hairdresser destroyed my hair by applying the wrong color then over-bleaching to try to get it out. A co-worker saw my ravaged hair and gave me Elizabeth's number telling me she was an expert colorist. She took my damaged locks and reworked the color (see "after" photo above.) She's been gently nursing it back to health for the past couple of years. She's also great with cuts – I love the way she does long layers.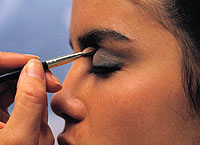 Another treat I discovered at Elloise, is makeup artist Rachelle. There's nothing like having a professional apply your makeup to learn new tips and tricks. Rachelle taught me how to do smoky eye with a pop of color. I also have her wax my eyebrows – quick, painless, and at a great price. They look so good when she's done I don't  have to shade them in at all!
I also love the atmosphere at Ellouise, the place looks like a gothic loft you'd find tucked away in an old castle – owner Sandi is an animal activist, world traveler and supporter of the local arts community. The salon has rotating art installations and opening receptions, as well as jewelry sales by local designers, which often sparks some lively creative conversations while you're getting your hair and makeup done.
Here's to a Happy New YOU!
K.
Beauty
,
Cosmetics
,
Éminence
,
Facial
,
Heaven Skin Spa