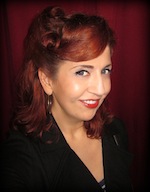 I've been an OCC (Obsessive Compulsive Cosmetics) fan since I discovered their Lip Tars about a year ago. These highly pigmented colors create a bold lip that lasts and is a favorite among pro makeup artists.
They recently launched a color collection in collaboration with Symbolist painter Gail Potocki called, "Fragmented Alice" – a twist on Alice in Wonderland where the makeup colors complement Potocki's collection of Alice-inspired paintings that are hauntingly beautiful and have elements of gothic psychedelia.
"I'm thrilled with how Obsessive Compulsive Cosmetics translated my work into the collection …it's a unique way for others to physically inhabit the universe of 'Fragmented Alice',"  said Potocki of the OCC collection.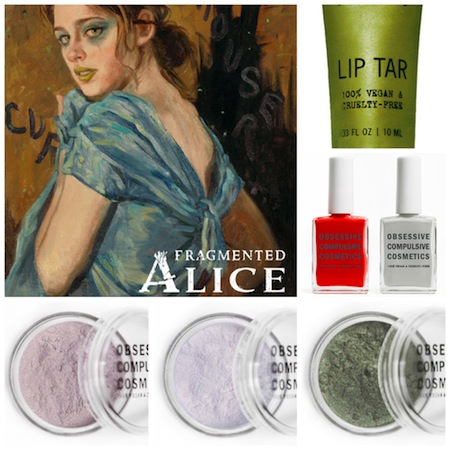 OCC's "Fragmented Alice" products were featured at the opening reception for Potocki's exhibit at the Century Guild gallery, which was transformed into a surreal tea room for the night. Both the evening and the paintings had a juxtaposed sense of darkness and glamour that was beautiful.
See more of her paintings on the Century Guild website.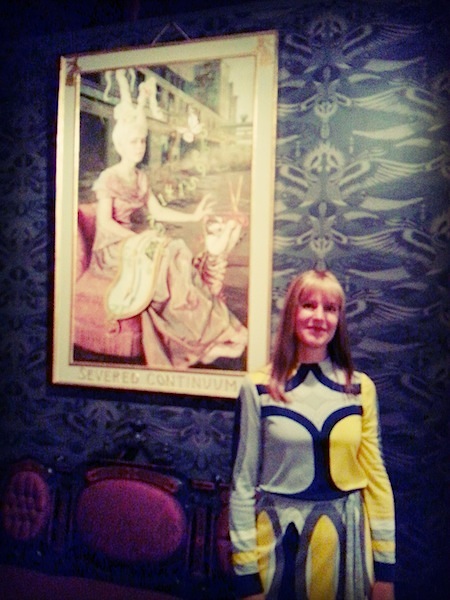 The Obsessive Compulsive Cosmetics products in "Fragmented Alice" include:
Lip Tar Metallic in "Fragmented", a metallic acid green glaze that leaves a foil-like finish on the lips.
Nail Lacquers in "Severed", a bright crimson crème and "Gryphon", a cement grey crème.
Loose Colour Concentrates in "Inflicted", a patinaed red/lavender; "Curved Sky", an icy white to iridescent blue; and "Nevar", a dirty golden olive.  These micronized color pigments are fused with light- reflecting mica and can be used to apply shimmer on the eyes, lips, cheeks and body.
I got to try out the lip tar and loose colour concentrates* and created the look below. First, I primed my eyes with Urban Decay Eyeshadow Primer Potion. Then I put down a base of Miliani Shadow Eyez cream stick shadow in "Winter White" to create a nice white canvas for the concentrates to really pop. Then I applied "Curved Sky" to the lids and "Nevar" to the crease and a little under the eyes. The "Fragmented" Lip Tar on its own is a little green for regular outings so I tempered it by applying a nude lipstick of Mac "Lush Amber" as a base and used the Lip Tar for a metallic finish.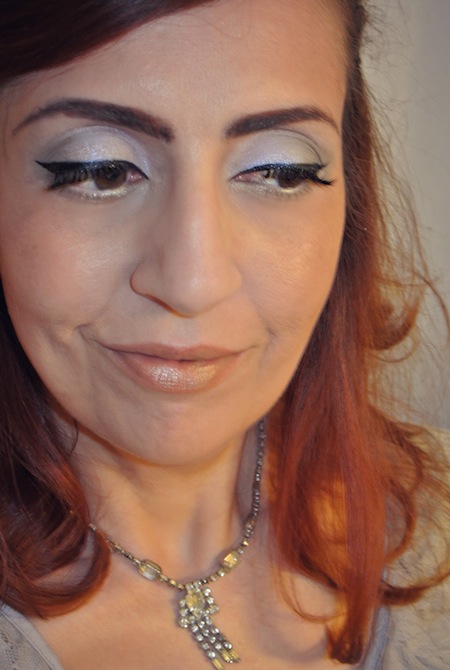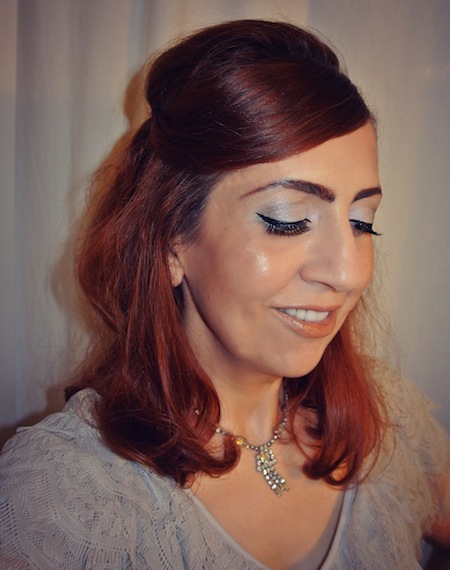 Be sure to check out OCC's uniquely inspired and gorgeous "Fragmented Alice" line and Gail Potocki's collection at the Century Guild, 6150 W Washington Blvd, Culver City, CA 90232.  (Note: the Google Maps directions are incorrect! The gallery is across the street from the Helm's Design District.)
Go ask Alice,
Kastle
*Makeup samples provided by OCC, see disclosure.
Alice's Adventures in Wonderland
,
Fragmented Alice
,
Gail Potocki
,
Obsessive Compulsive Cosmetic
,
OCC