Make Me Over: Micheline Pitt Modern Pinup Makeup & Hair DVD
May 8, 2013
by — Posted in Beauty
The retro pinup look is such a classic, beautiful style. Those who love vintage know that nothing beats having fantastic hair and makeup reminiscent of the era to go with a killer dress you just scored. It always looks pretty, it always turns heads, but by golly, doing it right is not something that comes naturally. It takes a little know-how and a bit of practice. Thank goodness one of LA's most stunning pinup gals, Micheline Pitt, is also a gifted hair and makeup artist and decided to share her tips of the trade in a DVD that both beauty professionals, and those of us who just love the scene, can take home, play over and over, and learn how to get our retro looks just right.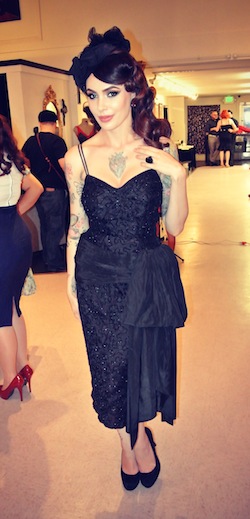 Micheline may best be known as a project manager at Pinup Girl Clothing where her work can be seen in photo shoots for the online catalog of their gorgeous couture line of vintage-inspired attire. For the DVD, she filmed hours of footage, some with the popular PUG models. For a mere $30 you get not one, but THREE DVDs of hair and makeup styles in eras from the 1930s to the 1960s, all done with a little bit of a modern spin on the pinup so it's wearable for today without looking like you're an extra on a movie set.
Originally planned to be just a makeup how-to, Micheline realized, you can't have the look with just makeup alone. The right hair makes the image complete and who knew she was just as talented with hair styling as she is as a makeup artist. She does everything from glamour waves to a beehive.
There are also segments focusing specifically on eyebrows. Micheline is a self-proclaimed "brow snob" and rightfully so. Brows are one of the most important things to get right in your look and one of the hardest features to learn how to do.  I'll admit I get brow envy every time I look at Micheline, so thank goodness she shared some of her expertise. Other segments include highlighting and contouring and Micheline's own makeup routine where we get to see her as real as it gets, green sulfur facial mask on, hair natural and wavy. I also like the moments in the video where she shares a bit of her girl chattiness and we get a hint at her mischievous personality and some slips of raunchy humor.
While Micheline's target audience for the DVD may be makeup artists, I think most aspiring retro pinups are going to get more out of this in doing their fun going-out looks. I know I personally have been trying out new looks from the tips I've learned. She is clearly ultra-talented and offers so much information here, it takes a while to get through all of the DVDs. I only wish some of the film production had been a little better to do her justice – for example, it would have been better if they used a hand-held camera instead of a camera planted on a tripod. There are times we can only see the back of Micheline's hand or her head instead of the makeup she is doing.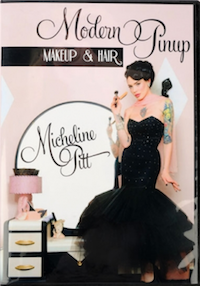 Here are some of the best tips I learned:
Buying three shades of foundation – one slightly lighter and one slightly darker than the shade that matches your skin. Use the lighter shade for contouring around the tops of checks and nose, forehead and chin, the darker shade for contour under cheekbones, jaw and sides of the temples. This give the face dimension rather than flattening it out with one shade. Works best for darker complexions but I tried it and love the subtle effect.
Lips contouring – for the perfect pout. A bit of bronzer under lower lip, a bit of highlight on the upper and a darker lip liner on the "bow." Magic!
Brushes – she demonstrates when to use natural and synthetic. Go for select goat hair  and look for them in art supply stores to save a load of cash!
Setting waves – curl hair (she shows how-to with hot-sticks, hot rollers and a curling iron.) and use fingers to adjust waves around the face to "mold" into place and pin. I finally learned to let go and use my instincts on this and started creating some great new looks! Next, I might have to try a clip-in weave as she does for even more oomph!
To officially launch the DVD, the Pinup Girl Boutique threw a release party. There were cocktails and sweets, the Rhythm Shakers performed and Micheline did a live makeup demo. Of course the PUG models were there in full effect as well as lots of shoppers eager to get that pinup look. Check out the PARTY PIX: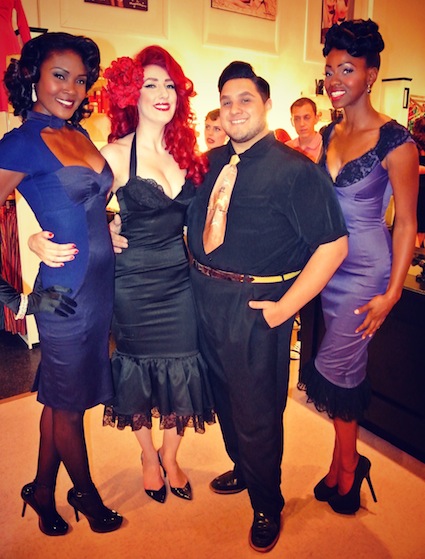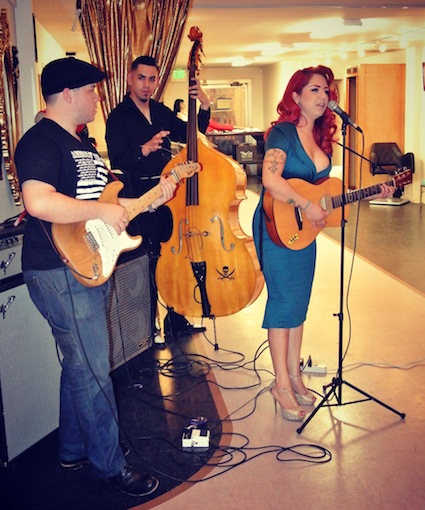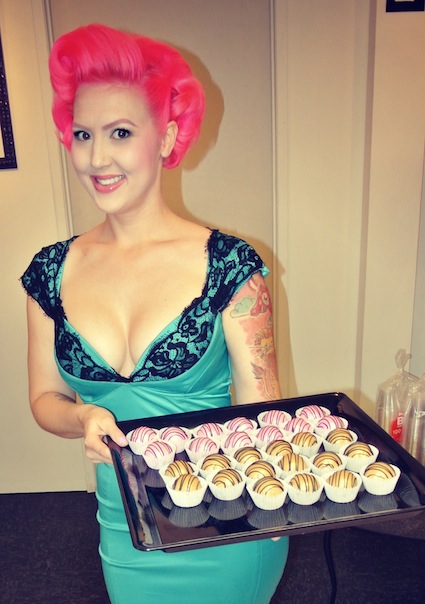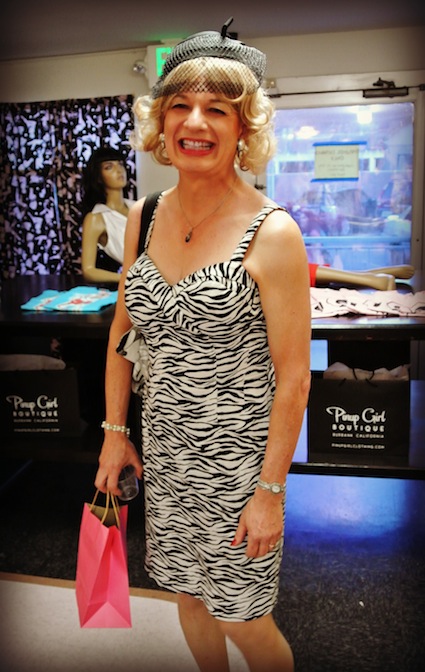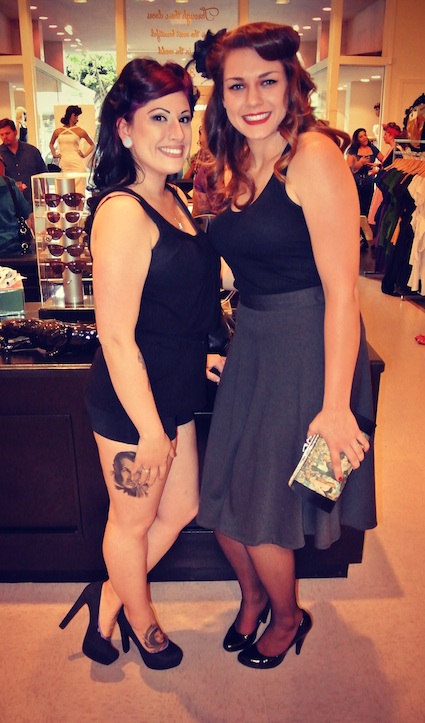 So a big thanks to Micheline for creating this DVD set and sharing her know-how. I've long been a big watcher of YouTube videos to learn new tricks but these are the most detailed videos you can get to completely transform yourself into a pinup babe! If you love vintage looks, you need this! Buy at the Pinup Girl Clothing Boutique in Burbank or online HERE.
Here's to fun new looks!
Kastle
The DVD reviewed in this blog was purchased by the author
Beauty
,
beauty how to
,
Make-up artist
,
Micheline Pitt
,
Pinup Girl
,
Pinup Girl Clothing