Michelle Phan: Glamour Star
January 11, 2012
by — Posted in Beauty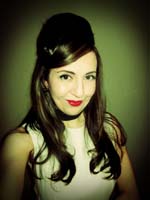 I love YouTube makeup videos. I'm so grateful to makeup artists who put these out because I've learned so many tips and tricks to create new looks for the seasons, for retro inspired outfits, and of course glamorous nights out. One of the most famous artists is Michelle Phan, who became such a web sensation with her makeup tutorials that she was hired by Lancôme Cosmetics to begin demonstrating ways to use their products. Now Michelle has launched her own limited-edition kit for Lancôme. The set is called Glamour Eyes and features the "Chic by Chelle" palette used to create three different looks Michelle designed herself – natural, diva and a smoldering eye look (Michelle's personal favorite.) The kit also includes inky Artliner Precision Point EyeLiner and Hypnose Drama Instant Full Body Volume mascara.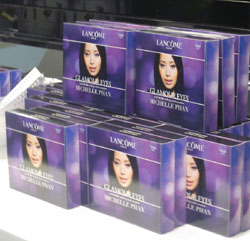 And nothing promotes makeup like Michelle herself, so she went on the road like a makeup rock star to make appearances at Sephora, signing the kit and meeting fans that have only seen her on their computer screens.
What would have been an otherwise quiet Monday evening at Glendale's Americana at Brand outdoor mall, was lit up with eager girls, clutching their newly purchased palettes that entitled them to a wristband for a signing. The line  eventually ran all the down to the back of the store as makeup fans waited patiently to  see their YouTube idol up close.
Michelle arrived to cheers from the crowd, her petite frame stylishly dressed in a light beige, softly scallop-textured dress and killer high heels (love ya for that!) and of course her hair and makeup were flawless! She sweetly greeted and hugged each fan, signed their kit, and sent them off with a smile to try their new look.
Read more on Michelle on her website and see the photos of her signing at Sephora here: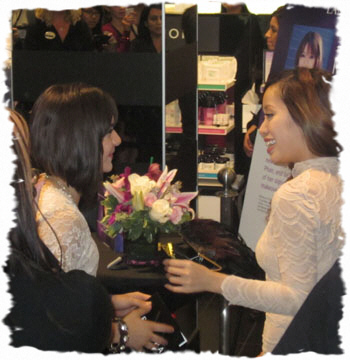 [youtube=http://www.youtube.com/watch?v=D50fpHtTDPc] See the video for the Glamour Eyes looks
Glam on,
K.
Chic by Chelle
,
Cosmetics
,
Glamour Eyes
,
Kastle Waserman
,
Lancôme
,
makeup artist
,
MichellePhan
,
Sephora