Eco-Cocktails: I'll Drink to That!
April 20, 2012
by stilettocity — Posted in Event Reviews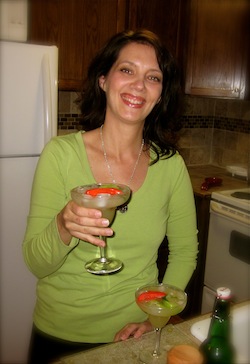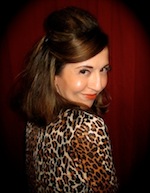 Are you a greenie who likes a good drink every once in a while? I know I am, and before I met bartender Michelle Green Queen, I had no idea there was such thing as an "eco cocktail." But with more businesses producing green versions of their products, it makes sense that spirits would start to go organic.
Having been a bartender most of her career and a believer in striving for sustainability, making eco-cocktails was just an extension of Michelle's already green lifestyle, "The more green I got and the more changes I made in my life, I just naturally started doing that in my business. It was just an awareness. When I was bartending at a private party or restaurant I just saw how much waste – cocktail napkins, one-time use plastic straws – it was all around. When I moved to California, I was looking for a bartending job and I just thought I should do my own thing and this is how I want to do it. It wasn't because green is a trend, that's just who I am."
She started her own green bartending service, GQecoBartending, and began to create  eco signature concoctions using all organic ingredients (alcohol, juices, mixers and garnishes) and  instincts she already had for making a great drink by just looking at the items she has in front of her and coming up with something new.  "Bartending is an art. There's that whole mixologist movement and I guess I can call myself that because I can create on the spot," she says. "I've always been able to do that. It's gotten me in trouble in some places I've worked, like the chain restaurants, they want you to measure everything out exactly. But I can pour an ounce with my eyes closed! If someone asks me for a recipe, I can tell them what ingredients I used but I can't tell them exactly how I made it, I just make it."
I was at one of Michelle's tasting parties when she invented what has become one of her most popular cocktails – the "Mine is Better" Margarita – a kicky, refreshing drink, chock full of organic goodness with cilantro, jalapeño, cucumbers and other ingredients that when combined, are like nothing you've ever tasted! Watch her make it here:
[youtube http://youtu.be/h0y6Ume1GeQ]
Michelle is no stranger to being behind the bar, having started in the food and beverage industry since she was a teen in Detroit. "My first job at age 16 was as a waitress and once it's in your blood, it's there. In Michigan you had to be 18 to serve alcohol. So when I turned 18 I wanted to be behind the bar, I didn't want to be on the floor anymore.  But the owner wouldn't let me because I didn't have the experience. So I bought some bartending books and learned how to mix drinks. Eventually I got the Sunday night shift nobody wanted and I've been mixing drinks ever since. There is a high burn-out rate to being a bartender but it's the one job I always go back to, I really like being behind the bar."
So where did being green come from? "I just don't believe in waste," she says.  "I grew up without having much, so waste drives me crazy! I've worked a few different green jobs and with each one I learned a little bit more, so it was just an evolution. Now when I bartend I can do it zero-waste."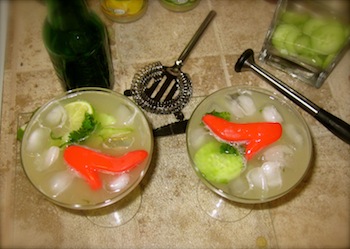 Michelle has even turned her knowledge of green and cocktail mixing into an internet radio show – The Green Queen Happy Hour every Tuesday night from 8-9 p.m. PT on Green Earth Radio.  "I have guests on who represent all different aspects of green living and we just share ideas and talk about current green topics," she explains. "And it's happy hour so anything can happen!"
So is Michelle one of  those greenies who finger-points at those not as green as she is? Not exactly. "I live a pretty green life but there are all kinds of people who are at all levels of green. Some people do a little bit, some people are really hardcore about it. I don't like beating myself or anybody else up over it, we all learn from each other."
Michelle's eco-bartending services are available for private parties and events. She can go from just offering a couple of green drinks to a full zero-waste eco bar experience.
Check out Michelle's drink recipes and shopping spots for organic ingredients on her website and be sure to tune into the Green Queen Happy Hour every Tuesday!
– Kastle Waserman, StilettoCity.com
eco cocktails
,
Green bartending
,
green cocktais