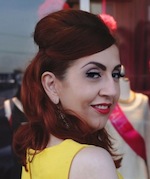 The weather is getting a wonderful chill in the air as the fall/winter season has arrived. That means it's time to start adding some layers to your wardrobe. Layers can be a fun opportunity to play with colors and prints and textures. It can also be terribly intimidating in trying not to look like you got dressed with your eyes closed!
It's hard not to have fun when it when you shop at Modcloth with all of their wonderful cardigan selections that can be popped over your favorite floral dress you just can't give up after the summer. Then warm the whole look up with a cool coat and some snuggly accessories.
For this layered look, I chose a color palette of red and blue with a couple of touches of tan, plus the retro feel I always lean toward. I just love the playful nautical coat and the animal lover in me adores the foxy scarf, which will keep your neck warm over the wide Peter Pan color of the more summery dress base layer. You'll look cute through every layer as you peel down from coat to sweater to dress as you go from cold outdoor temperatures to indoor heaters or the sun coming out in the afternoon.
Don't be afraid to mix prints and plaids with some novelty items or a pop of an unexpected color. Layering is not only about adding warmth but adding interest. Just keep your colors complementary and you'll be good to go!
Here are the links to shop* the items in this look:
Happy layering!
Kastle
*This post contains affiliate links, and I will be compensated if you make a purchase after clicking on my links. See disclosure.
I am not affiliated with or sponsored by any advertisements shown below. They are placed by WordPress.
Tags:
fall look
,
how to layer
,
Kastle Waserman
,
layered look
,
ModCloth
,
Stiletto City
,
winter look