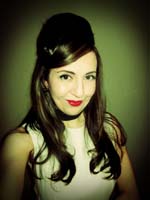 This year's Golden Globes had an outstanding lineup of nominees, and while the award winners are validated for their work, it is the red carpet where hours of dressing, hair and makeup talent are noticed. This year, there seemed be an abundance of reserved high necklines, some boringly conservative and some exceptionally stylish. Sexy is always in with those who go for risqué with an ultra-low cut, but it is the risk takers that grab the real attention – those who had a little personal touch or out of the ordinary detail when all others just strive to be perfect.
See the highs, the lows and the risk takers in my report on Yahoo! 
See Charlize Theron arrive at the Golden Globes:
[youtube http://www.youtube.com/watch?v=fvFkVUaxXM0] Workin' it like it's the red carpet everyday,
K.
Angelina Jolie
,
Charlize Theron
,
Claire Danes
,
Dianna Agron
,
Emma Stone
,
Evan Rachel Wood
,
Fashion
,
Golden Globe Award
,
Los Angeles Fashion Blog
,
Madonna
,
Nicole Kidman
,
Red carpet
,
Zooey Deschanel