Happy Retro Holidays!
December 5, 2010
by — Posted in Event Reviews, Fashion

'Tis the season, the holidays have begun, the mad shopping, the cooking and baking, the events. Mine got off to a good start in Magnolia Park for their Holiday Extravaganza. This little strip of shops in Burbank, from Hollywood Way to Buena Vista, has undergone quite a revitalization while still retaining the charm of a '50s neighborhood, a time when people strolled along sidewalks and enjoyed the simple pleasures of life. Some amazing shops have moved in, including a couple I have among my list of favorites in all of Los Angeles.
On this particular evening, the entire street was shut down for several blocks to make for much merriment, including an enormous flat bed "Caroling Truck" that rolled through the crowd decked out like Santa's workshop, complete with singing and dancing Santas, and a snow blower.
Of course I couldn't resist popping into Mindfulnest, a store featuring creations by local artists, many who donate proceeds to various causes. You can't help but feel like you're giving something back when you buy a gift for someone here – and trust me, they have something unique for everyone – jewelry, art, scented lotions and potions and unique knick knacks. The store has been so successful since opening in Burbank last year, they recently opened another in Santa Monica.
My next stop was a store that has filled my closet with some of my favorite treasures – Playclothes, a vintage-lover's dream. Even though it was crazy crowded on this night, I couldn't help but pick up a leopard-print pillbox hat and yellow-gold 1950's handbag. Their prices are the best of any vintage store I know of and the quality is top notch. The shopkeepers are always friendly and if you put them to task to find something specific, they won't stop looking through their massive inventory until they find it. They proved this when they found the perfect hot pink, flutter ruffle wrap dress for me to wear to an upcoming 1970's-themed disco party.
Check out what these stores have to offer in these quick slideshows: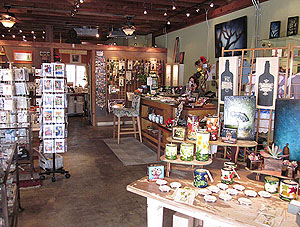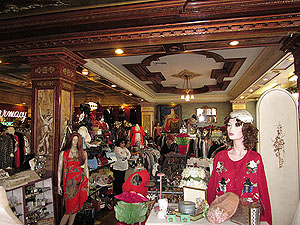 Be sure to check out these shops and all of the upcoming events in the neighborhood on the Magnolia Park website.
Happy shopping!
K.
Mad Men