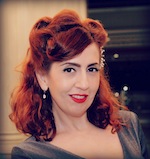 After months of dry, draught conditions, we're finally getting some rain in Los Angeles. But have you ever been caught in wet weather and found you have nothing in your closet to keep you dry? Or worse, what rain gear you do have looks awful and covers that fabulous outfit you just put together? These rain day accessories will keep off the raindrops and the clever, clear material will allow people to still see your outfit. Throw on some funky rain boots and don't forget a waterproof rainy day messenger bag to keep  your computer gear safe and dry. A groovy, clear bubble umbrella will keep the raindrops at bay while allowing you see where you're going and others to see  your stylish self.
Click the image to shop* the items below:
Be stylish rain or shine,
Kastle
See *disclosure
I am not affiliated with or sponsored by any advertisements shown below. They are placed by WordPress.
Tags:
Fashion
,
rain gear
,
rainy day style