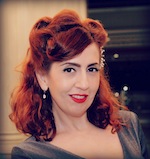 As Christmas draws closer, the rush to get the perfect holiday gift is on – and what could be more perfect than NEW SHOES! I don't know of any girl who wouldn't love to unwrap a new way to doll up her tootsies. So I bring you the Shoe Lover's Gift Guide! From easy-to-wear flats to stilettos to boots and sneakers – I've got you covered!
Shop* items similar to those mentioned in this video with the links below:
Ideas for Flats
ModCloth Supper Club Flats: http://bit.ly/1gXaZSm
ModCloth Petal Down the Lane Flats: http://bit.ly/1dn4eqE
Ideas for Low Heels
Anne Klein Kitten Heel Slingback: http://amzn.to/18zUYwj
Ideas for Wedges
ModCloth  Rise and Shiny Wedge: http://bit.ly/1f53wPX
ModCloth Party Hostess Wedge:  http://bit.ly/1bB0sLs
Ideas for High Heels/Stilettos
Forever 21 Classic Black Pumps: http://bit.ly/18ABJG0
Ideas for Ankle Boots
Forever 21 Faux Leather Booties: http://bit.ly/1hL5Qj4
Ideas for Sneakers
Converse Chuck Taylor High Tops: http://amzn.to/1jK7cu1
Reebok Running Shoe: http://amzn.to/1buecU0
It's a shoe in!
Kastle
This video is not sponsored. All items were purchased by me.
See *disclosure
I am not affiliated with or sponsored by any advertisements shown below. They are placed by WordPress.
Tags:
Footwear
,
gift guide
,
gift ideas for her
,
High-heeled footwear
,
holiday shopping guide
,
Shoe
,
Shopping