Pin Up Girl Boutique: Va Va Voom!
August 6, 2012
by — Posted in Fashion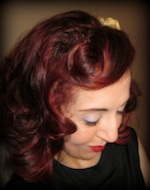 If ever there was a night get your va-va-voom on, it was the opening of the Pin Up Girl Boutique last weekend. Located along the increasingly vintage fashionable Magnolia Park in Burbank, it was a welcome addition since Pin Up Girl Clothing, (which carries brands such as Deadly Dames and Dixiefried) had only been available online up to this point. And let me tell you, when you're shopping for a form-fitting wiggle dress, it's really hard to eyeball the size you need from a picture. Now all pin-ups, and aspiring pin-ups, can go to this gorgeous new boutique and try on these glam dresses and see how they look on.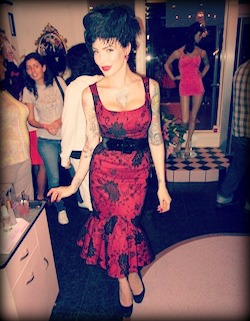 The opening was a night to turn up the glamour. The shop is a pop of colorful girly-ness, filled with vintage-inspired dresses, shoes, handbags and a beauty bar. All of the Pin Up Girl models from the website also work the store and they are jaw-dropping knock-outs in real life including, Micheline Pitt, Doris Mayday and La Cholita. There were so many curves, red lips, eyelashes, big hair and high heels, it was hard not to feel like you stepped into some alien planet of glamazons! As the band, Nick Waterhouse sat in the back waiting to go on, surrounded by wall to wall beautiful women, I overheard someone say they uttered, "This is the best gig we've ever played in our life!"
Nick and the boys rocked the house, cocktails were had, shopping was done, makeovers were given in front of broadway-style Vanity Girl Hollywood* mirrors, it was indeed a reason to celebrate. Check out the party photos by clicking on the photo below: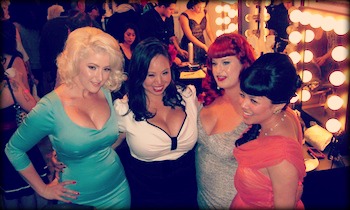 The Pin Up Girl Boutique is located at 3606 Magnolia Blvd. in Burbank, CA.
You can have your very own Vanity Girl Makeup Mirror at home! Shop for the lighted Makeup Stations* as used in Pinup Girl Clothing Boutique pictured here!

Go glamourous or go home,
Kastle
Doris Mayday
,
Kastle Waserman
,
La Cholita
,
Maxine Tatlonghari. LA fashion blog
,
Micheline Pitt
,
Pin Up Girl Boutique
,
Vanity Girl Hollywood