Fasten Your Seatbelts: It's Pam Ann!
November 9, 2012
by stilettocity — Posted in Event Reviews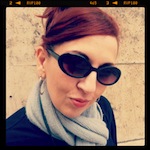 I recently came back from a trip to Eastern Europe, and on those lonnnnnnng flights across the ocean, not only is it helpful to bring a carry-on bag full of entertainment, but it's also nice when the flight attendants are pleasant.
We got lucky on our flights both ways – from the impossibly gorgeous, Dutch blue-eyed blondes on KLM Airlines to the well-groomed, pop star-looking Frenchman on Air France. But none were quite as fun as my favorite air hostess, Pam Ann.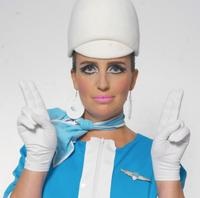 Risqué, hilarious and full of va-va-voom, Pam Ann, is alter ego of Australian comedian/writer/producer Caroline Reid. Her look is an exaggerated spin on the '60s-era Pan Am Airlines flight attendants, but her outrageousness pushes the boundaries even for today. She's been hired for Elton John's private jet and has toured with Cher, as well as performing on stage and on television. You can read all about her on her website, catch her on tour (hope she comes to LA!) and purchase her DVDs, or enjoy good some laughs from her many YouTube videos such as these:
Thanks for flying with us!
Kastle
Photo from Westend.broadwayworld.com via Pinterest






Tags:
comedy
,
Flight attendant
,
Pam Ann