Flying High with Pam Ann
May 21, 2013
by stilettocity — Posted in Event Reviews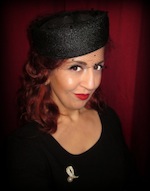 Ladies and gentlemen, please fasten your seatbelt, we are expecting a bumpy ride…
I was prepared for takeoff at the Saban Theatre last week as the one-woman show from Pam Ann touched down to give us a full evening of airline humor. With her image taking a hilarious spin on the 1960's Pan Am stewardess, Pam Ann brings it with BIG hair, exaggerated pinup makeup, and a whole lot of attitude.
On this leg of her tour through the States, she came out in a bright yellow, skin tight mod dress with gigantic hair and a tiny hat and proceeded to let loose with her Australian accent and outrageous humor, sharing her recent escapades of adding another notch on the cockpit of her "mile high club." The audience, filled with practically every gay man in Los Angeles, roared with laughter. From there she went on a roll about the various airlines and anyone who has spent a few miles flying the not-so-friendly skies will appreciate her humor, especially the jokes about teasing the coach flyers with "peeks through the curtain" of bottles of wine and glasses clinking in First Class.
The show quickly went into improv mode as she began conversing with the front row and came across a pilot from Alaska Airlines, who came to the show dressed in his uniform and quickly became the source of jokes the rest of the show. "I fly INTERNATIONAL, do you know what that means Alaska?" Pam Ann quipped. Another high point was when an Asian woman who appeared to have had a few too many drinks to contain her love for Pam Ann approached the stage "You want to have one of those as every show!" Pam professed.
At the end of the night she thanked the LA audience for a good time "you all made ME laugh tonight!"
And of course, Pam Ann's look got me inspired to dress to the nines for the evening. Check out my look HERE.
If you missed the show, you can catch a few clips of past tours on YouTube or pickup her DVD.
[youtube http://www.youtube.com/watch?v=ge_x1U2rYBo&w=420&h=315]
Strap in,
Kastle
Photo of Pam Ann via Pinterest
Pam Ann