Halloween Costumes to Get Your Spook On
October 5, 2014
by — Posted in Fashion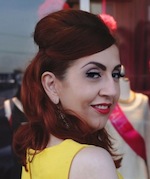 Halloween is coming up quick and it's time to get those costumes together. Nothing is worse than the last minute trip to the costume store to grab what's left on the racks and stand in long lines for check out. When you start early there are plenty of ideas to choose from and time to get your outfit and makeup perfected – from scary ghouls to TV and movie characters to music idols and always those naughty twists on boring occupations.
I picked out a few that got me inspired this year. Click the image to shop.* I also included links to makeup tutorials from YouTube personality Kandee Johnson to get the complete look.
And don't forget to add your own twist, you could always make Marilyn a zombie or Snow White an axe murderer!
        Cleopatra Makeup Tutorial                    Maleficent Makeup Tutorial
Marilyn Monroe Makeup Tutorial       Snow White Makeup Tutorial
Give yourself license be something crazy and have a fun and safe Halloween!
Kastle
See *disclosure
I am not affiliated with or sponsored by any advertisements shown below. They are placed by WordPress.
Tags:
Halloween Costumes
,
Kastle Waserman