Drink Like "Mad Men"
June 8, 2013
by — Posted in Event Reviews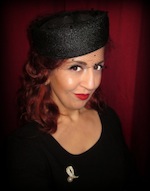 We've enjoyed six fabulous seasons of "Mad Men," watching Don, Roger, Peggy, Joan and the gang saunter stylishly through offices and bars. Now with the series ending (season 7 will be the last), we just can't let the party go. I discovered several bars throughout Los Angeles where "Mad Men" actually filmed so you can go out and drink like Don and let the madness live on.
In case you didn't know, though Mad Men is set in New York City, most of the locations are actually filmed in Los Angeles. And I have to tip a fedora hat to their location scouts for finding some of the most esthetically pleasing watering holes in town, many which are historical landmarks.
So  keep the scandal, mystery and intrigue going, cocktail in hand, and live like "Mad Men." And don't forget to dress to impress.
Here's where to go:
A classic dark wood interior and saloon-style bar is given extra appeal by having to descend a set of stairs to the basement level get to it. Located in downtown LA, this bar is dark, cozy and relaxed with a solid Irish influence.
The ornate décor screams money, baby and you'll feel like a million bucks when you saddle up to the Gallery Bar and Cognac Room here or take a meeting over a light meal in the gorgeous Rendezvous Court. This hotel opened its doors in 1923 and its mix of Spanish-Italian Renaissance and Mediterranean Revival, Beaux Arts styles made it an instant sensation. Frescos, marble and bronze provide elaborate texture to make this place feel like the utmost in vintage luxury.
Red booths a-plenty but with dive bar appeal, the HMS Bounty has been a staple for Hollywood scenesters venturing into the edge of Koreatown. Located on the ground floor of the historic 1920's Gaylord Apartments, you can have no-frills, greasy spoon of a meal washed down with a stiff classic cocktail (no fancy mixology going on here)  or just mingle with the array of hipsters and regular barflies at the bar.
Mad Men