"Guest Blogger" Disco K.: What's in My Purse?
October 31, 2013
by stilettocity — Posted in Beauty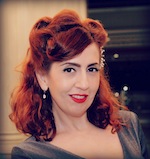 Introducing Kassandra – but you can call her Disco K. We met at a Halloween party this week (wink! wink!) and she stopped by the Stiletto City Studio to film her take on the popular "What's In My Purse" videos!
Want a pink Stiletto City pen like the one Disco K. has? Be one of the first 50 people to share this video on Twitter with the hashtag #IwantSCpen [contest closed.]
Happy Halloween!
Kastle
1970s
,
Disco
,
Parody
,
Spoof
,
Video Comedy
,
What's In my Bag
,
What's In My Purse