Cocktails, Evening Looks and City Lights
July 10, 2016
by stilettocity — Posted in Fashion, Where to Go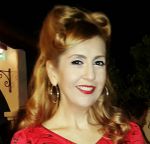 Perched high above downtown Burbank, the city lights look full of promise and adventure, capturing a city in motion. Cars whiz past on the freeway, leaving red trails of light like so many veins through the cityscape. The Crystal View Lounge in Burbank's Holiday Inn hotel seems to be a best-kept secret limited to hotel guests and perhaps some locals looking for an escape from the fast pace of the big, ol' LA. It's the perfect place to put on a vintage-inspired evening look and go enjoy a cocktail and some good conversation with an old friend.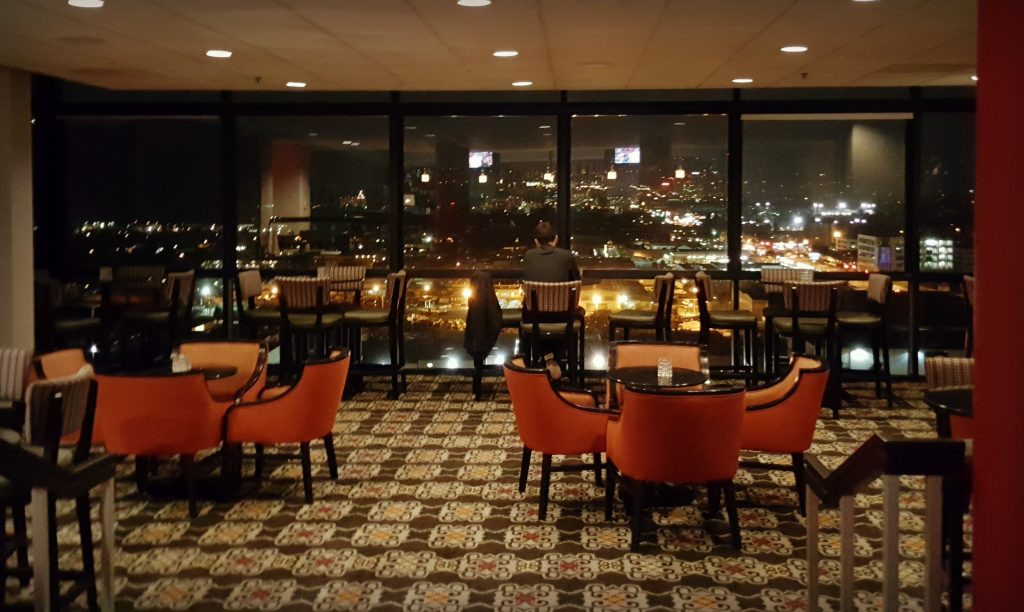 Seemingly lost in time, the place looks a little untouched since the golden era of hotel lounges in the 1970's. A grand piano sits unoccupied in the corner. There's empty space near the entryway that looks like a missed opportunity for a crooner to take the stage or a disco ball to be hoisted for dancing. But actually, it's pretty perfect as it is, as a place to come for a drink with friends, a business associate or a romantic date. The music is played at low volume for easy conversation, and the bartender is friendly and makes sure you are taken care of.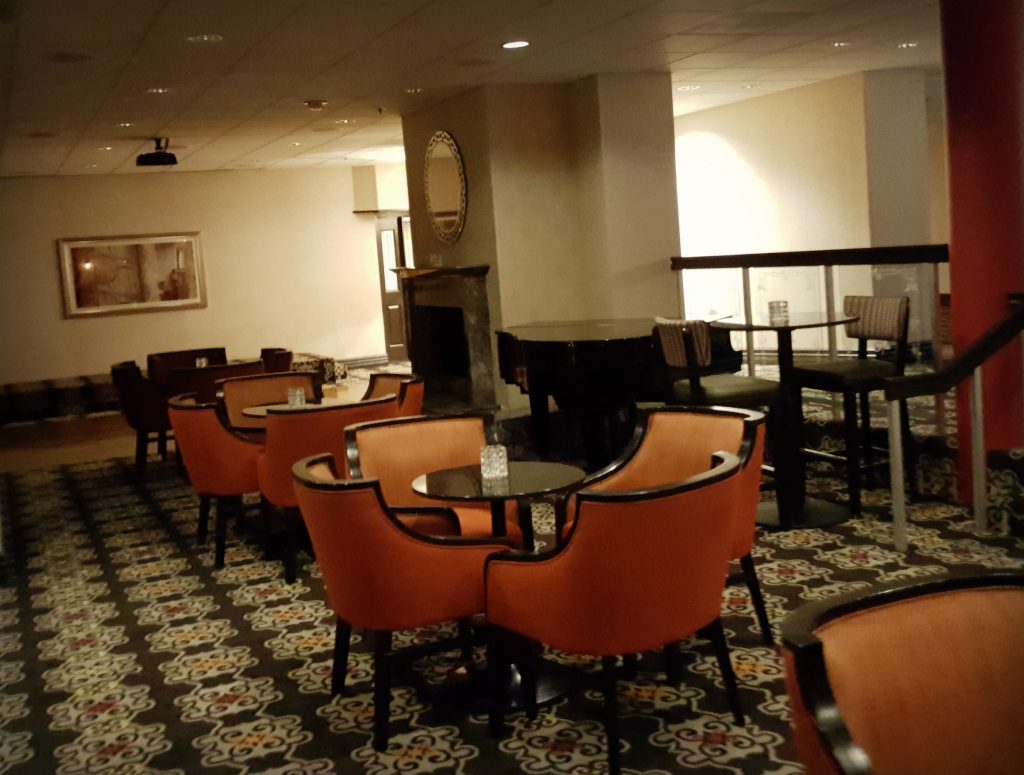 It's not exactly a spot for people watching as the only patrons on the night we went were a couple of hotel guests looking for something to do on a quiet night. The Crystal View Lounge is more about escaping the crowds, than creating them. It's a little hideaway with magnificent floor-to-ceiling panoramic views that remind you that you're never too far from the action.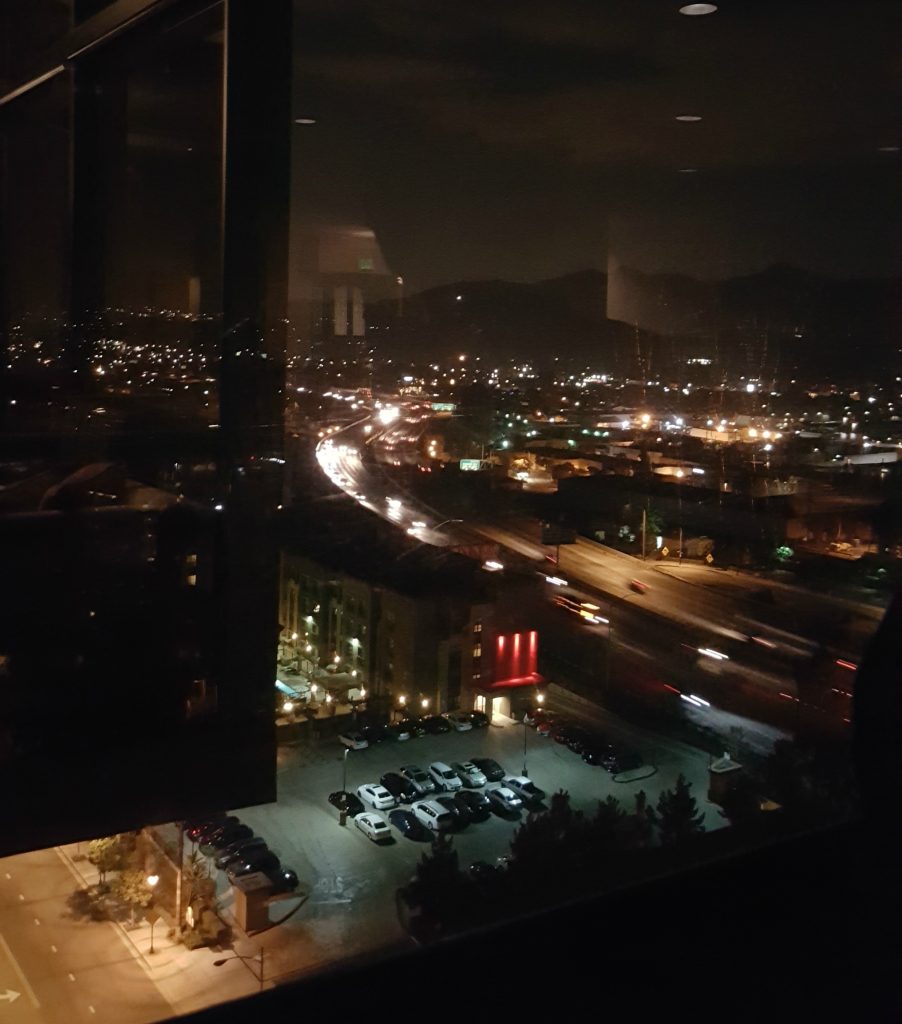 On a side note, when we left at closing time, I stopped in the ladies room and though it was empty, I swear I felt the presence of a ghost standing behind me at the sink! It got me a little spooked, so I asked the bartender if there had ever been any sightings. He said, "Um, yes, there have been a couple." Wow! An extra bonus to look for when you go there!
What I Wore
Cocktail time is the perfect time for vintage separates. I paired a fun, '60s floral top — that I usually wear more casually with capri pants — with a pencil skirt to dress it up. It also gave me a chance to show off some of my happily acquired matching blue accessories including my vintage straw-weave handbag, new button clip-on earrings and vintage reproduction shoes.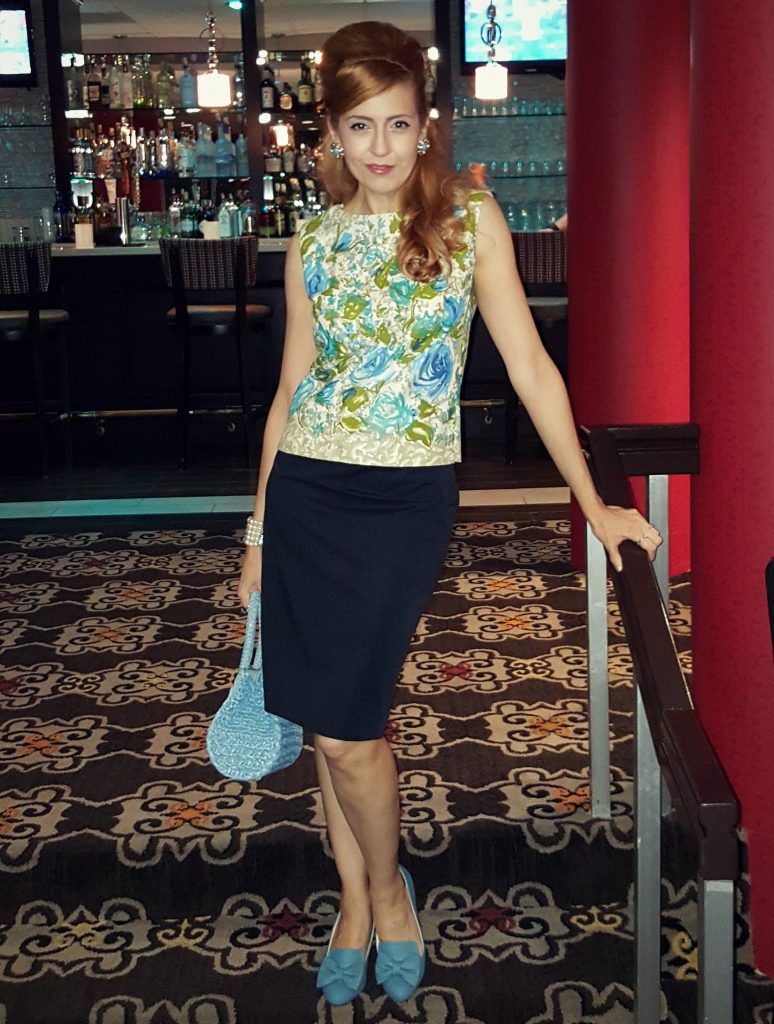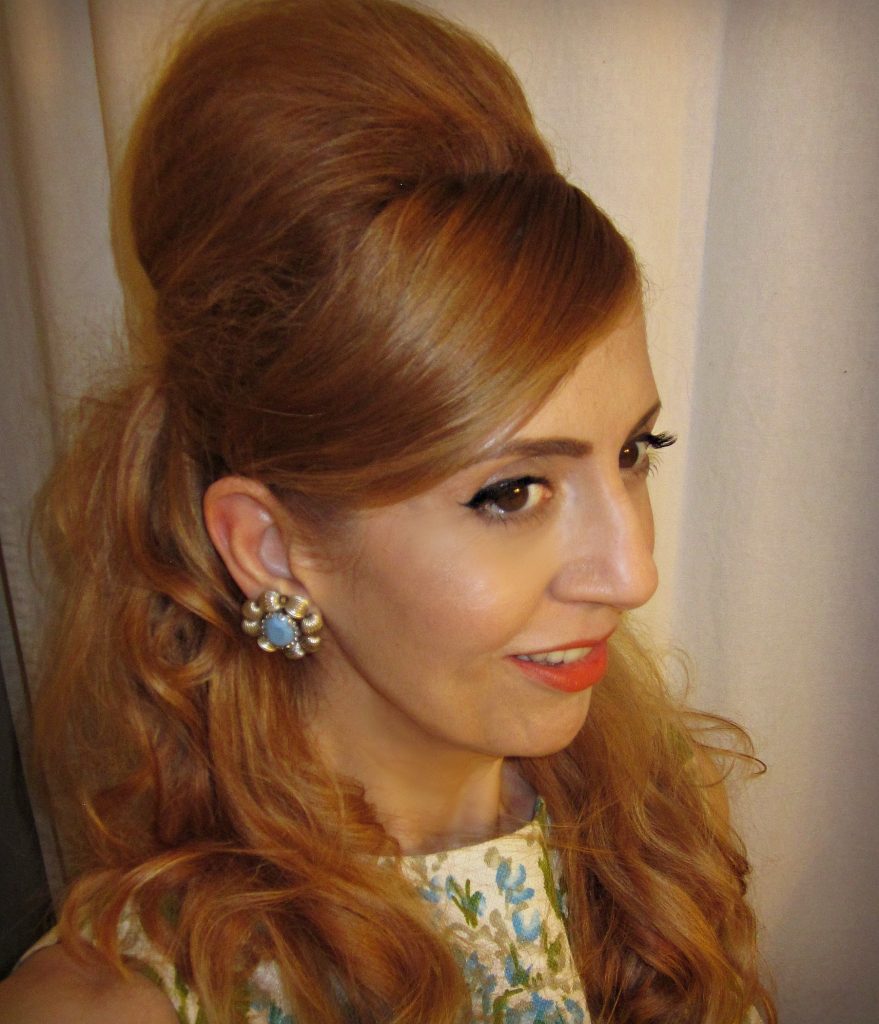 What to Wear: Evening Look for Cocktails
Going out for cocktails at a local bar usually falls somewhere between casual and dressy. A good evening look for cocktail hour look can run more conservative if it's with coworkers, to sultry if it's with a date, to just cute and trendy if with friends. This look should work for a friends' night out. Pair a casual, vintage-inspired, floral-print top with a sweet Peter Pan collar detail, with a swooshy, fishtail pencil skirt. Add a little sex appeal with some strappy, stiletto, red sandals. Going matchy-watchy with your colors makes the look more fun, so don't hesitate to go with all red accessories such as this red, long-strap purse and find some matching vintage earrings by just searching for the color and style you want on eBay. These fun, shell-shaped, Bakelite clips-on's complement the pattern and colors in the blouse perfectly. Click the links to shop* this look!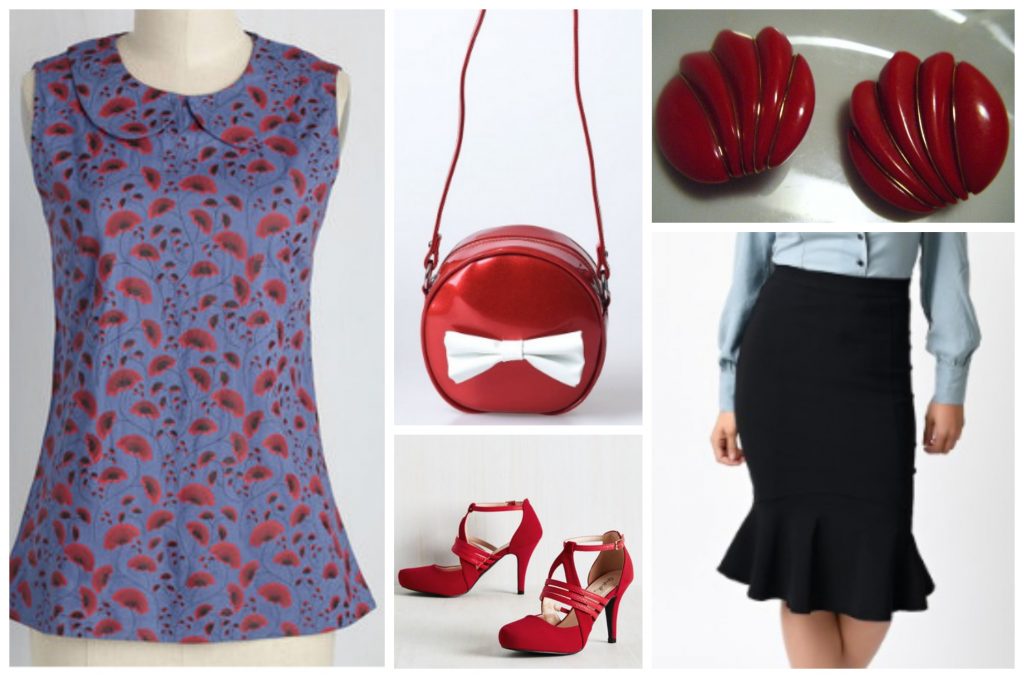 The Crystal View Lounge is located on the top floor of the Holiday Inn Burbank, 150 E. Angeleno Ave, 18th Fl, Downtown Burbank, CA 91502
Living for big city lights,
Kastle

Tags:
bars in Los Angeles
,
Crystal View Lounge
,
Kastle Waserman