Diane Von Furstenberg: 40 Years of the Wrap Dress
January 17, 2014
by — Posted in Fashion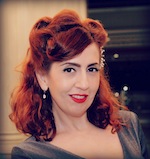 The Wrap Dress, it's an iconic fashion statement. Created in the 1970s by designer Diane Von Furstenberg, it was coined the dress that's was easy to put on as well as take off! It came out in a variety of colors and the fabulous patterns that became a signature of the DVF brand.
And now you can indulge your fashion passion in an entire room of DVF's wrap dresses in an exhibit celebrating the 40th anniversary of the wrap dress. See photos depicting the history of the dress, with images Diane and the many celebrities who have worn it. Plus, there is an art exhibit from Diane's personal collection featuring work by Andy Warhol, Annie Leibovitz among others.
Our special guest vlogger and lover of all things '70s, Disco K. checked out the exhibit and brought back this special report and sneak peek. Check it out:
And if you see Mick Jagger at Giorgio's, tell him Disco K. says hello!
See more on the DVF40 exhibit.
That's a wrap!
Kastle
Photos of DVF40 exhibit by Kastle Waserman
I am not affiliated with or sponsored by any advertisements shown below. They are placed by WordPress.
Tags:
70s
,
Diane Von Furstenberg
,
Disco K.
,
DVF
,
DVF 40
,
Fashion
,
Women's Fashion