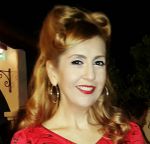 Art and counterculture often go hand in hand and no gallery in LA acknowledges that more than Lethal Amounts near downtown LA. The gallery showcases art and photography by and of people of rock 'n' roll scenes of the past who have grown to iconic status and influenced both street fashion and musical movements. Lethal Amounts exhibit openings are usually not-to-be-missed events where you'll often bump into some famous names and familiar faces of the local LA scenes and beyond. Exhibit openings are often followed by an after party at the neighboring Monty Bar, so the party can go all night long!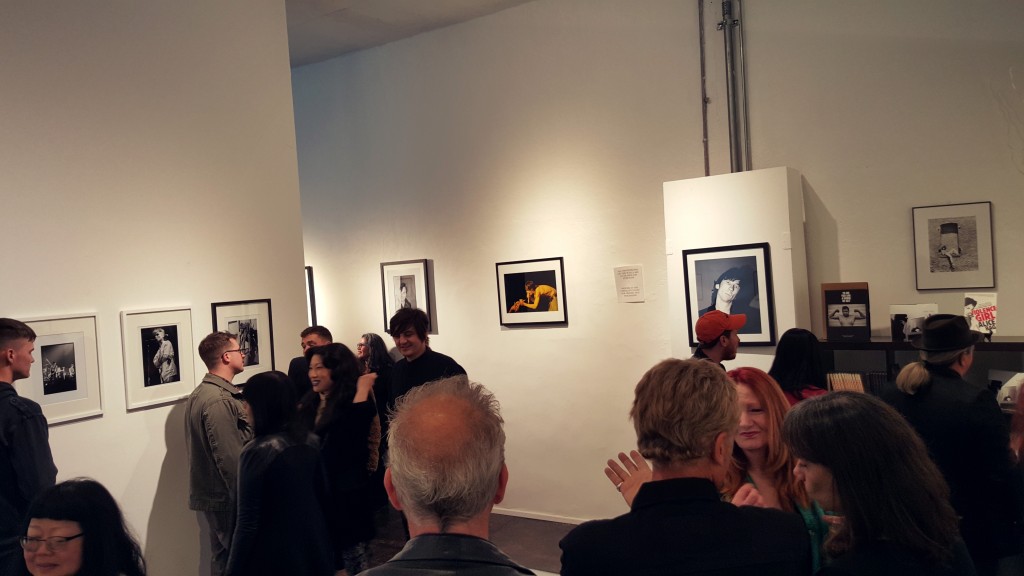 On a recent night, Lethal Amounts featured an exhibit celebrating "Lobotomy: The Brainless Magazine," a fanzine founded by legendary punk scenester Pleasant Gehman in 1978. Copies of the cut 'n' pasted, often handwritten 'zine became art along with photos by chief photographer Theresa Kereakes, whose images of such bands as The Cramps, The Ramones, Blondie, The Germs and the Go-Go's have since become iconic and historical references for that time period.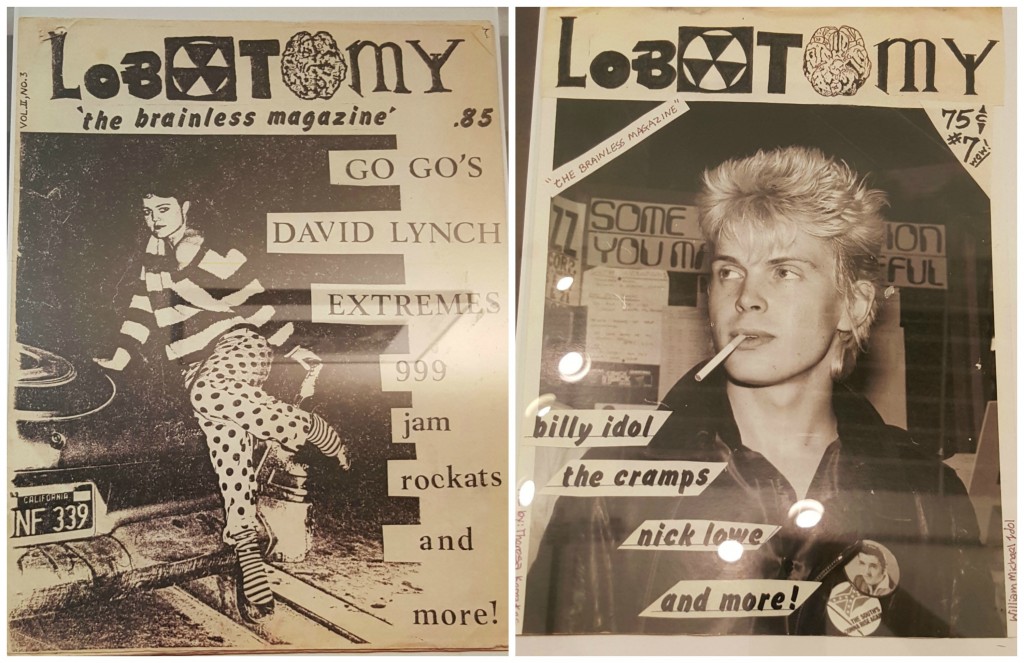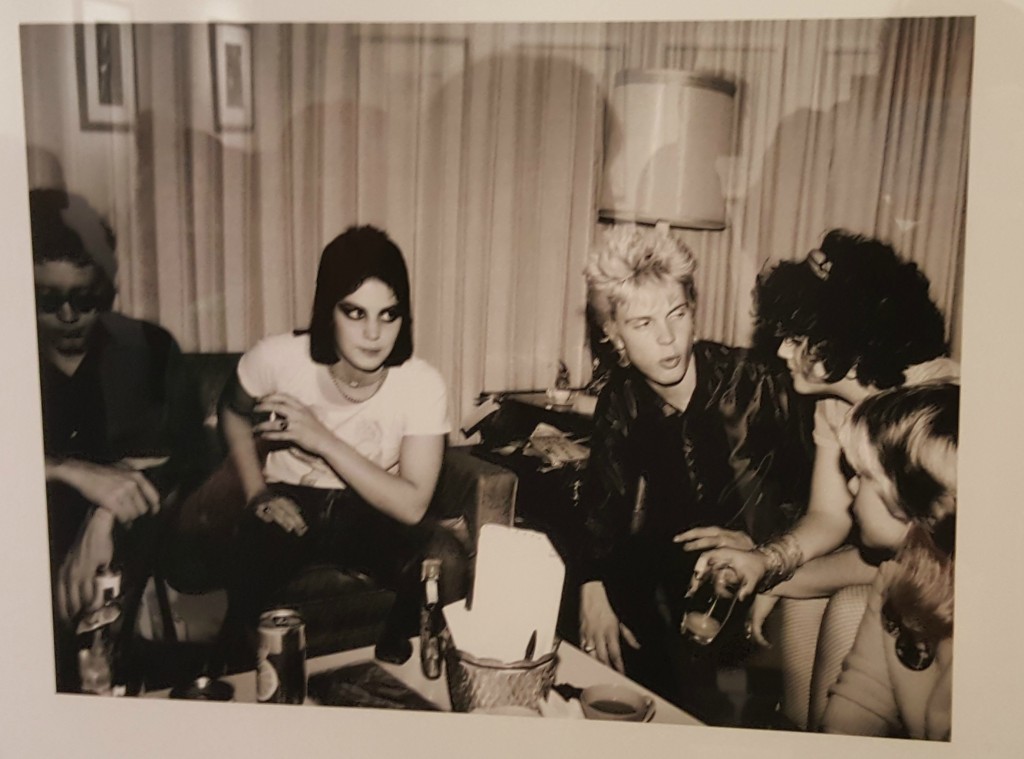 Lobotomy existed at the time when punk was still considered "underground music" and there were few barriers put up by record companies and publicists to block access to the bands. Pleasant and her clever team knew almost everyone in the club scene and those who worked the legendary Tropicana Hotel, where most of the bands stayed while in town, so it was easy for her to approach bands directly to ask for an interview. Punk legends The Cramps, The Damned, The Clash, Billy Idol, The Go Gos, The Jam and Joan Jett were all featured in Lobotomy. Along with other Los Angeles fanzines Slash and Flipside, Lobotomy paved the way for DIY publishing and gave the punk scene a voice.
Also on display that night were photos by David Arnoff of the Cramps, Misfits, Siouxsie and the Dead Boys, which provided a nice complement to the main exhibit.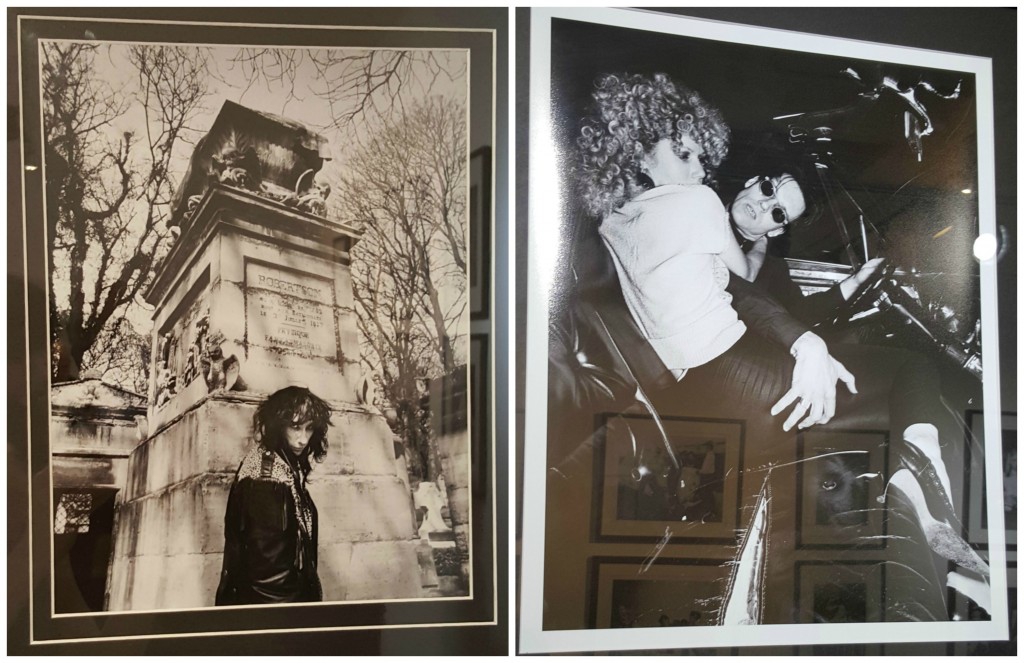 Spotted in the crowd were Miss Mercy of the GTOs, Blondie's Clem Burke, DJ/musician Howie Pyro, and Pleasant's former Disgraceland roommates Iris Berry and Ash Shown. The legendary punk flophouse is currently the subject of a documentary-in-progress that was filming at the reception.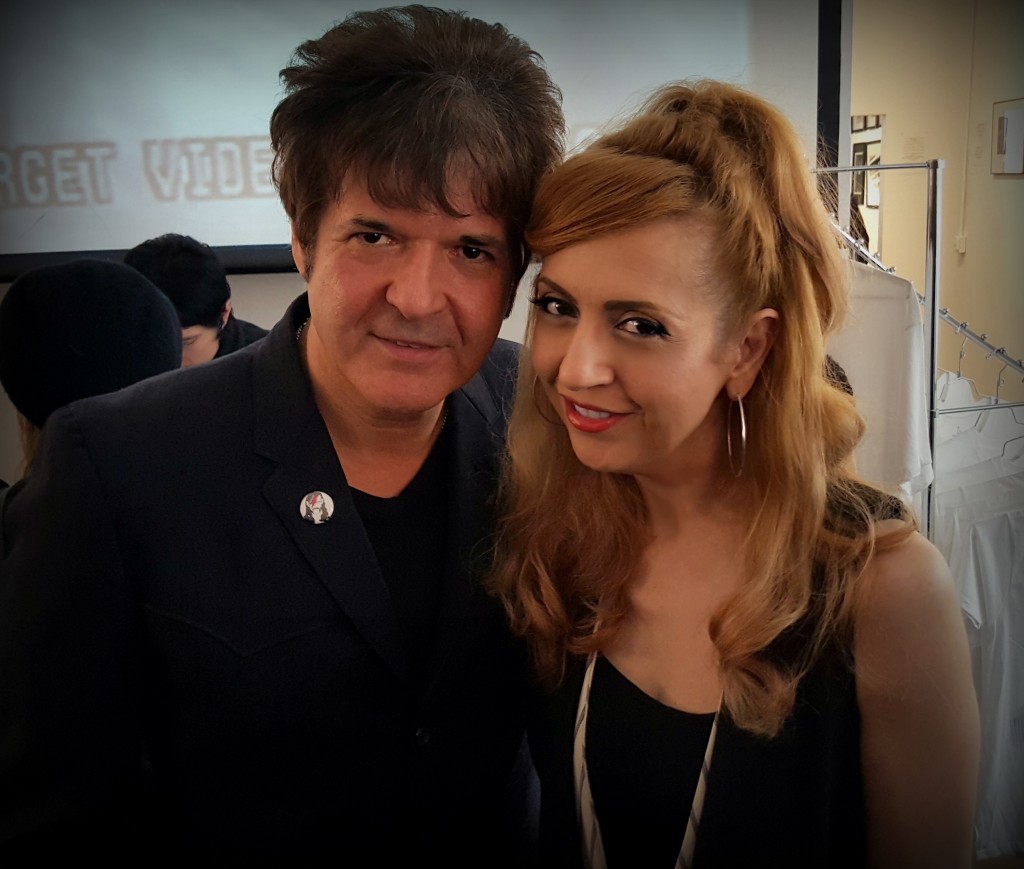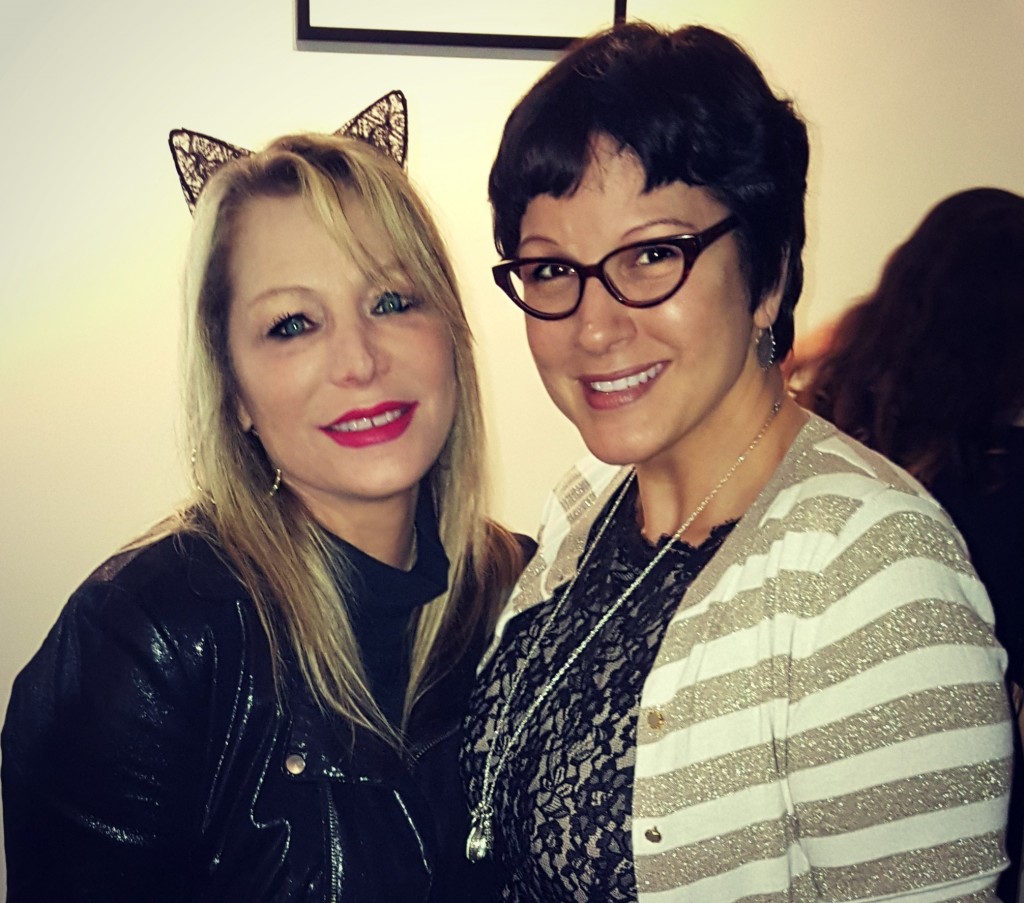 What I Wore
As punk teenager growing up in Houston, I heard all about Disgraceland and the punk scene in LA, it was one of the reasons I moved here. Back then I had a giant black Mohawk and studded leather jacket (see photo here!) These days my punk style is a little more subtle and chic. So for this art opening, I pulled out a black tank top paired with a double-layered, black, pinstripe vest. Black and white pinstripes are always my staple look of punk style, probably because that's what I saw many of my idols wear. I added a pop of color with a green pencil and a bit of danger with silver, spiky studded stilettos. I could seriously hurt someone in these, they are sharp! My big roomy Lux DeVille handbag is always a go-to and reminds me of the car interior of a hotrod. And of course, I keep warm with my trusty moto jacket.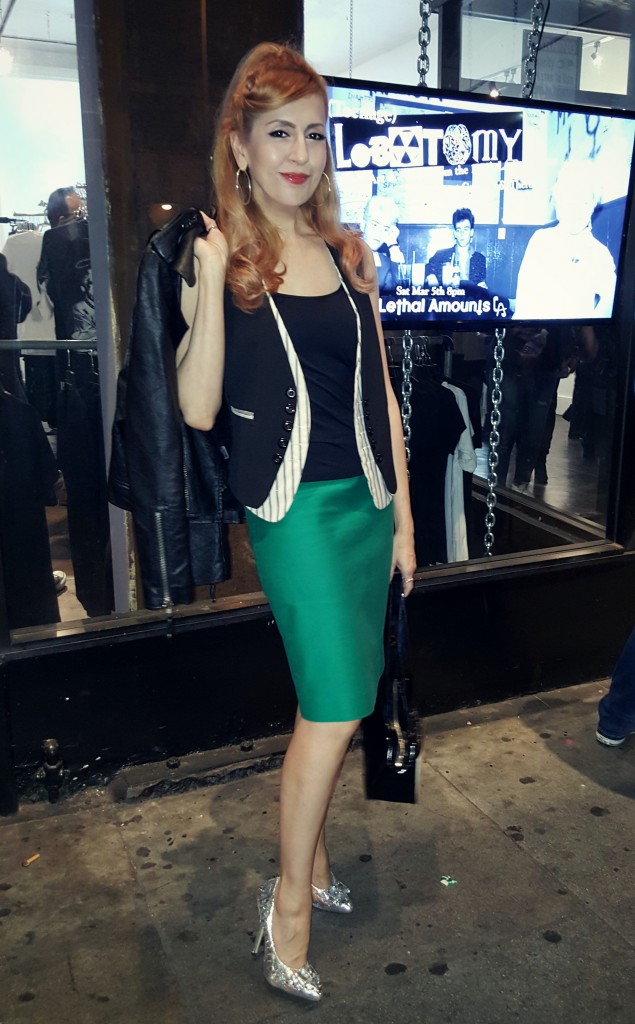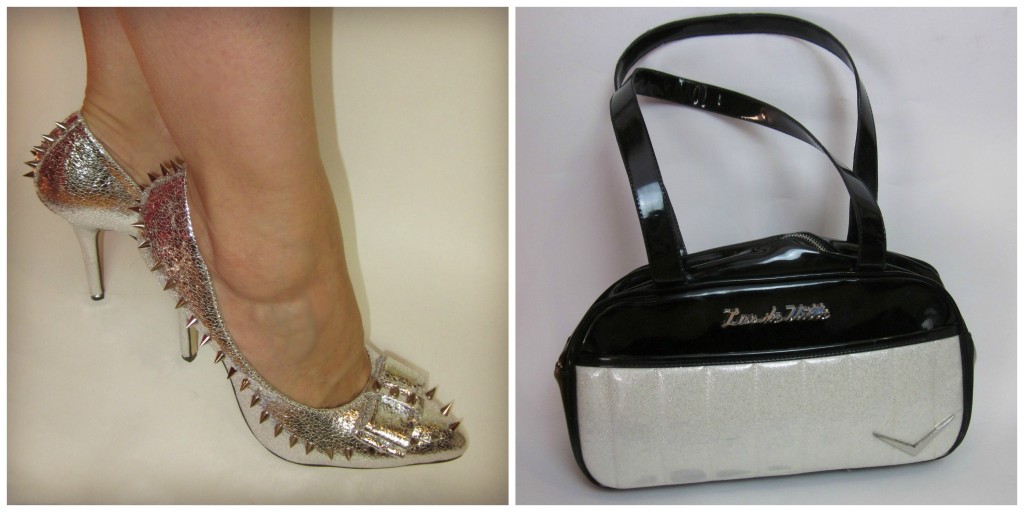 Dressing with Modern Punk Style
While you can take punk style to the full hardcore extreme of black leather and studs, it's also fun to put a girly twist on it, such as pairing a tough, studded, black, vegan leather vest with bubblegum pink studded heels. Then put the power of the press on your back with a newspaper print bag. Let the punk details shine with a muted pencil skirt in grey to add some slinkiness to the silhouette. Click the links to shop* this look!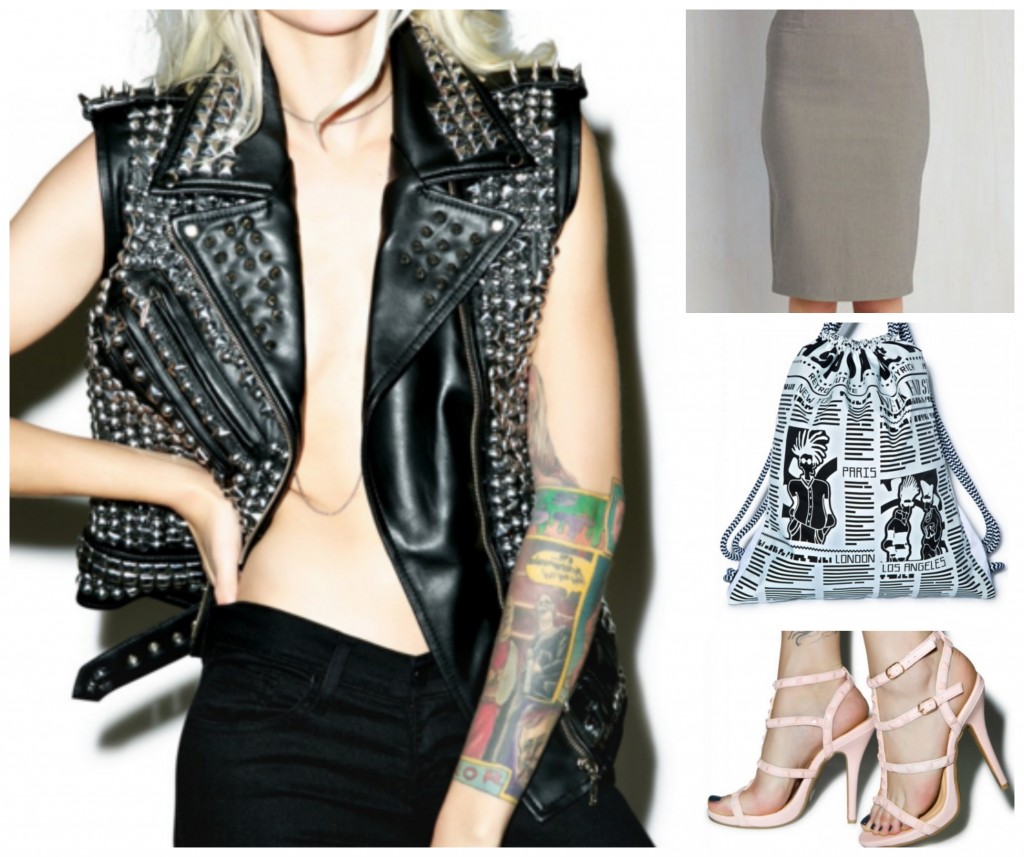 Be sure to check out Lethal Amounts to get your fill of rock 'n' roll's alternative history!
Lethal Amounts Gallery is located at 1226 W. 7th St Los Angeles Ca 90017
Ready, steady, go!
Kastle
Photos edited with PicMonkey*. Get it!
disgraceland
,
Kastle Waserman
,
lethal amounts gallery
,
lobotomy fanzine
,
Pleasant Gehman
,
punk style