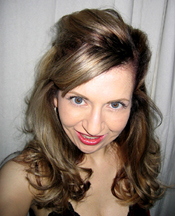 If you ever wanted to spend a decadent night in a classic old school Havana cigar bar, I found just the place. Nestled on the other side of an unmarked door on Western avenue, La Descarga stands at the end of a narrow passageway up the stairs, where some dashing dolls greet you in what looks like somebody's 1940s apartment flat. These high-heeled dames give you the once over to make sure you meet their approval to be seen in their exclusive establishment. It is then that they reveal the secret doorway behind the antique armoire that leads you down a wrought iron balcony and spiral staircase to a den of decadence where the booze flows freely and court-holding gentlemen rule the roost in the backroom cigar and rum bar.
On this particular Saturday night, I grab an icy mojito – and they make a good one here – and take a seat with my man as he chats it up with the boys to celebrate our friend's birthday. Now all this smoke and liquor is just the pre-show. The real show starts later, when the band starts up some sultry Latin sounds and all eyes turn upward as a long-legged burlesque dancer begins to slink and seduce her way across the balcony catwalk to gyrate and flirt with the band and make every man in the house drool with desire. After hearty dose of shimmying, she is gone and it's back to the smokin' and drinkin', just like a good secret speakeasy should be!
Take a tour of the place here:

On a side note, if you're planning to go to La Descarga, be sure to make a reservation through their website ahead of time. This ain't just any ol' Hollywood bar, you gotta be expected — and the doorman ain't playin' around. And be sure to dress to impress (and why wouldn't you always?) no hoodies or sneakers (yuk!) as they take the dress code seriously – you gotta make appearances, sport!
Kastle
Tags:
La Descarga